Finalmente ci siamo, si comincia il conto alla rovescia!
How To Get Away With Murder
si sta avvicinando al gran finale, e questo episodio si rivela fondamentale per uno dei misteri della stagione.
Ma facciamo un breve riepilogo con il consueto previously on: si ritorna a parlare dell'omicidio di Wallace Mahoney, padre biologico di Wes, quest'ultimo ritenuto sospettato; la sospensione della Keating; la scoperta dell'autore dei volantini diffamatori; il piccolo segreto tra Bonnie e Frank…
E nel flashforward c'è Michaela che è al telefono con Oliver, non sapeva nulla dell'incendio. Saluta la madre e corre via.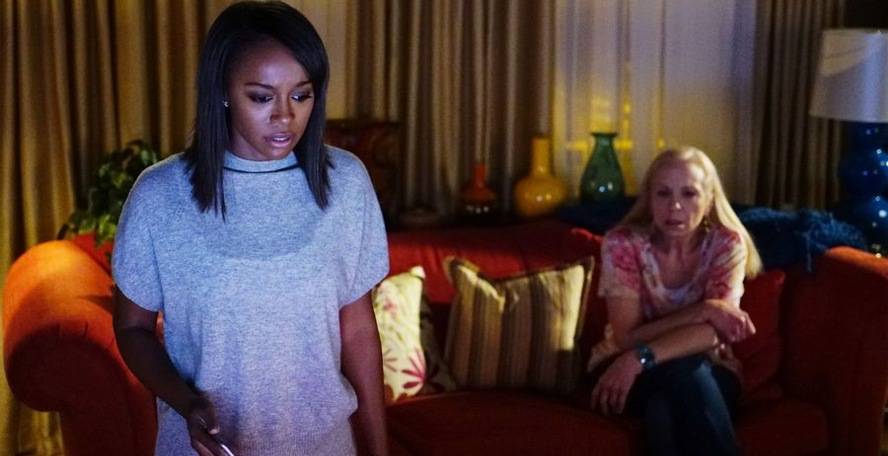 Torniamo a noi, tempo presente, tre settimane prima dell'incendio. Riprendiamo esattamente dal finale dello scorso episodio, con Bonnie che irrompe in casa Keating mentre Laurel e Wes la stanno incolpando di aver coperto Frank. E lei – sorpresona – esce fuori un nastro in cui ha registrato la confessione di Frank! E brava Bonnie, mi sembrava strano avesse ceduto così facilmente al fascino del delinquente barbuto!
Durante quest'allegra chiacchierata/accusa di gruppo, Maggy chiama Wes al cellulare per avvisarlo che c'è la polizia di New York fuori dal suo appartamento: cercano informazioni sul testimone dell'omicidio Mahoney. Panico generale, tra Wes che farfuglia di dover andare dalla polizia e Laurel che piagnucola sull'aver accusato Frank ingiustamente, mamma Annalise minaccia di incatenare tutti in cantina (stile Rebecca, ve la ricordate?) se non seguiranno gli ordini.
Well done, boss!
Alleggeriamo un po' l'atmosfera, e trasferiamoci in camera da letto con Michaela e Asher che litigano, come al solito, sulla questione sesso occasionale vs fidanzamento ufficiale, mentre uno stupendo Connor in vestaglia di seta svolazza per la stanza ridacchiando, fino a quando Ash infuriato va via offeso sbattendo la porta.
Wes e Bonnie sono ancora in castigo a casa Keating, e mentre la prof si prepara a tornare in aula dopo essere stata reintegrata, i due ragazzi si scambiano accuse poco velate circa i fatti accaduti l'ultimo anno: è tutta colpa di Wes o è tutta colpa di Frank? In effetti è una bella domanda…
Il resto dei Keating Five è in aula a studiare il nuovo caso pro bono, una veterana dell'esercito accusata di aggressione aggravata. A fine lezione piccola riunione a casa della prof per aggiornare il gruppo sul caso Mahoney e sull'inchiesta aperta su Wes. "We are good people now" – sentenzia Annalise – quindi basta segreti.
In serata Bonnie continua a sostenere l'idea che Frank non c'entri nulla con la chiamata anonima fatta alla polizia per accusare Wes, anzi, sta cercando un modo per tornare a casa. E, come vedremo in seguito, ci ha visto giusto alche stavolta. Brava Bonnie di nuovo!
Invece Laurel, accecata dalla rabbia e dalla gelosia (ovviamente non sa nulla dell'avventura dei due, ma qualcosa mi dice che sospetta…) lascia a Frank un messaggio in segreteria sputando odio e veleno.
Spostiamoci in aula, nella sua prima udienza dopo la riammissione Annalise si trova faccia a faccia con il procuratore Atwood, giusto per cominciare nel migliore dei modi! Infatti l'interrogatorio non è andato per il meglio, viste le regole ferree che deve seguire la Keating sotto la stretta osservazione dell'Ordine degli Avvocati. Ma mentre le cose sembrano precipitare e Annalise si ingozza di patatine nascosta nel bagno delle signore, quella grandissima…ficcanaso di Michaela porta buone nuove per dare una svolta al caso…
Intanto Connor va a trovare il "caro amico" Lista d'attesa ancora barricato in casa di Annalise, rinfacciandogli di aver rovinato a tutti loro la vita, per colpa della cotta per Rebecca, l'omicidio di Sam, e giù in un vortice infernale che li ha trascinati dritti all'inferno. Giusto un promemoria, nel caso gli venisse la felice idea di confessare alla polizia anche un piccolo dettaglio.
Cala la sera e la prof torna a casa, visibilmente stravolta dalla brutta giornata in aula, e si trova un Wes sul piede di guerra pronto a portare il nastro alla polizia per far accusare Frank, rischiando il c**o come gli piace tanto fare. Annalise rifiuta, e quando Wes accenna al fatto che vuole proteggere Frank lei confessa della combutta di tanti anni prima tra suo padre e Frank, l'incidente in cui perse il bambino.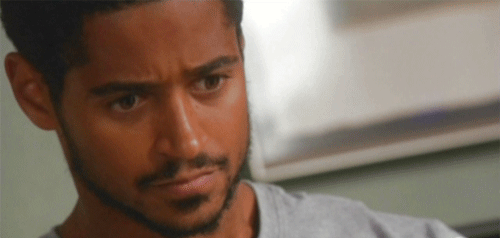 Il caso pro bono della veterana Daniela Alvodar sta per giungere al suo epilogo, e nonostante la via tortuosa che ha attraversato, sembra essersi risolto per il meglio, merito di uno dei trucchetti semi legali tanto cari ad Annalise. "Il fine giustifica i mezzi" dovrebbe essere il motto stampato sulla giacca della Keating!
E mentre un sempre in punizione Wes molla la sua tenera Maggy, Ash va a trovare Michaela (e Connor) per vantarsi di una tipa abbordata in un locale (fatto del tutto immaginario) ma ciò genera in un ennesimo litigio che stranamente porta a una riappacificazione tra i due: Michaela sembra sciogliersi un po' quando il tontolone la appella non come "sua donna", ma come "sua famiglia", cosa di cui entrambi sono sprovvisti.
Intanto Wes, preso dall'adrenalina, ruba il nastro confessione, lo porta da Laurel e lo distrugge davanti ai suoi occhi, ripetendo che ora Frank non può più ricattarli e che avrebbe confessato solo di essere un testimone involontario dell'omicidio. Eeeee, una chiacchiera tira l'altra, i due finiscono a letto insieme!!!
Super scoop in questo episodio di
How to Get Away with Murder!!!
Non sarà mica Wes il padre del bambino di Laurel???
Ricordate quando all'inizio di questo articolo ho detto che Bonnie ci aveva visto giusto su Frank?
Bene, sotto gli occhi sgranati di tutto il gruppo, Annalise e Bonnie comprese, il tg passa la notizia che è stato incriminato il figlio di Mahoney per l'omicidio del padre…
Attimi di terrore…
Nooo! Non Wes!
Charles Mahoney, con parecchi precedenti alle spalle. Un gioco da ragazzi per il tuttofare barbuto far ricadere le accuse su di lui. E sotto lo sguardo soddisfatto di Bonnie, si vede Frank che imbocca la strada per Filadelfia…
Ultimi trenta secondi con l'ultimo flashforward della sera dell'incendio, Michaela era scappata in dormitorio da Asher perché non le rispondeva al telefono: è nel salone a sbronzarsi con gli amici. Quindi, a conti fatti, di chi può essere il cadavere dell'uomo? Connor o Wes? E perché Annalise ha chiamato Asher, Connor e Laurel quella sera?
E con l'ennesimo groppone in gola per l'ansia, alla prossima!