L'ultimo episodio dell'ottava stagione di How I Met Your Mother è tanto una fine quanto un inizio.
Abbiamo ascoltato il racconto, abbiamo visto la vita di cinque amici (come ce ne possono essere tanti) svolgersi sotto i nostri occhi. Li abbiamo visti crescere e sbagliare, divertirsi e piangere. Li abbiamo guardati perdersi nei meandri dell'esistenza e riuscire a ritrovarsi diversi e comunque sempre se stessi. Ed eccoci alla fine al giro di boa.
La semplicità della vita che fa paura nei suoi infiniti cambiamenti prende la voce dei The Shins sulle note di Simple Song. E raccontati da questa canzone, i protagonisti si mettono in viaggio verso il resto della loro vita, e verso l'epilogo di How I Met Your Mother.
Barney e Robin sono diretti a Farhamptons verso il loro matrimonio. Marshall, con il piccolo Marvin, inizia il suo lungo viaggio verso la sua personale Itaca, e già sa che quella che dovrà affrontare con Lily non sarà una discussione semplice.

E poi ci sono Ted e Lily.
Lily ha scoperto della drastica decisione di Ted di lasciare New York. Quella casa di Westchester era il sogno irrealizzato del giovane architetto, il sogno di una famiglia, di una donna, di amore.
Dal primo episodio di How I Met Your Mother, Ted desidera l'amore, e ci ha provato, ci ha creduto e ha perso.
Dopo la storia del medaglione, Ted, è come se decidesse di nascondere la testa sotto la sabbia. Lui sa perfettamente di amare ancora Robin, e la ama così tanto da essere disposto a lasciarla andare, ma neanche lui può chiedere al proprio cuore di sopportare la vista dell'amore della sua vita sposato con il suo migliore amico.
Chicago è il luogo dove muoiono le speranze, è la stanza in cui nascondersi quando il mondo diventa semplicemente troppo. Certe volte l'unica cosa che vuoi fare è scappare, rifugiarti in un posto dove la realtà non possa raggiungerti se non con quei terribili e meravigliosi ricordi.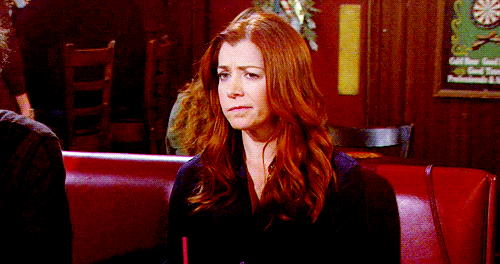 E Lily l'ha capito, lei sa che in fondo forse è davvero giunto il momento per Ted di dire addio a tutto ciò che ha dovuto sopportare, a tutti i no, a tutte le porte sbattute in faccia, a tutte quelle lacrime soffocate nel buio della notte.
Well this is just a simple song
To say what you done
I told you about all those fears
And away they did run
You sure must be strong
And you feel like an ocean
Being warmed by the sun
Questa è la fine. È quel momento prima dell'alba in cui tutto è troppo buio per riuscire a scorgervi una qualche speranza. La storia dell'amore di Ted per Robin è finito, la partita è persa.
Ma l'alba è solo lì, ad un passo, a quarantacinque maledetti minuti di distanza.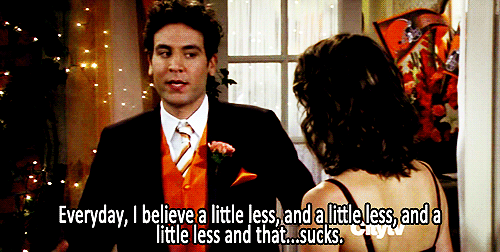 Una barca rovesciata su una scogliera può sempre  essere rimessa in mare con la pioggia giusta. C'è sempre una seconda possibilità e in fin dei conti in queste montagne russe una vera fine non esiste. Laddove si conclude un capitolo è subito pronto un altro, un altro episodio in cui la speranza continua ad ardere sotto la cenere.
Proprio in questo episodio atteso per quasi nove anni si apre un nuovo capitolo della vita di ciascuno dei protagonisti di How I Met Your Mother, più uno: Tracy.
Tracy compare sulla scena e in fin dei conti lo sapevamo che questo momento sarebbe arrivato. Sapevamo che proprio in quel momento tanto buio sarebbe giunta lei a frenare la fuga di Ted. Per quanto tu voglia scappare dalla vita, questa non potrà fare altro che continuare a inseguirti imperterrita senza darti scampo. E proprio quando le speranze sono perse eccola realizzare il tuo sogno più importante, solo non nel modo in cui te l'eri programmato.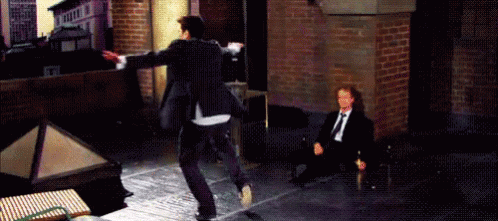 My life in an upturned boat, marooned on a cliff
You brought me a great big flood
And you gave me a lift
To care, what a gift
You tell me with your tongue
And your breath was in my lungs
And you float over the rift
Ted nella prima stagione di How I Met Your Mother voleva la sua pioggia, la sua alluvione affinché gli portasse l'amore della vita. E così è stato, sebbene con qualche anno di ritardo.
Tracy è arrivata con l"alluvione, pronta a trascinare via quella barca arenata sugli scogli dritta verso il mare aperto. E una nuova storia sta per cominciare. Una storia molto più semplice, così tanto che per la maggior parte è lasciata alla nostra immaginazione e alle poche parole di Ted. Parole di felicità, di amore e di speranza per ciò che sarebbe dovuto essere ma che non è stato del tutto.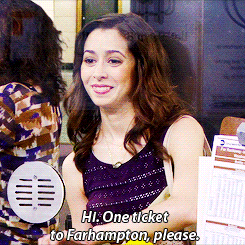 Ma in questo momento la storia deve essere ancora scritta, un nuovo capitolo sta per cominciare e non ci serve sapere altro se non che Ted tornerà a New York in treno.
E Tracy sarà lì, sotto quell'ombrello, al posto giusto nel momento giusto.
I told you about all those years
And away they did run
Passato e futuro si intrecciano qui in un turbine indistinguibile. Quegli anni trascorsi a perdere, a fallire, a sentirsi soli e persi sono stati i tasselli fondamentali perché il futuro potesse realizzarsi. Come il fantomatico battito d'ali di una farfalla che provoca un tornado dall'altra parte del mondo, così ogni singolo momento della vita di Ted diventa assolutamente fondamentale per quella felicità ormai insperata.
Love's such a delicate thing that we do, we've nothing to prove
Which I never knew
Non c'è bisogno di parole complicate, di grandi canzoni d'amore, di drammi o tragedie. Basta una canzone semplice per guidarci nel posto giusto al momento giusto.