House of Cards, serie di successo nata nel 2013 grazie allo showrunner Beau Willimon (Le idi di Marzo) e al regista David Fincher (Fight Club, The social network) che ne ha diretto la prima puntata e ne è produttore esecutivo, deve molto del suo successo, oltre alla bravura dei due protagonisti – Kevin Spacey e Robin Wright – ad una storia avvincente che ruota principalmente su un tema: il potere. Ciò che cercano i coniugi Underwood altro non è che il potere, ne vogliono sempre di più, ne sono avidi.
Le prime due stagioni di House of Cards parlano essenzialmente di questo, ossia come raggiungere il potere, con qualsiasi mezzo. Le successive trattano invece di quanto sia difficile mantenere il potere, una volta che gli Underwood sono riusciti a impossessarsene. Ma da dove viene un'idea tanto brillante ed un trama così fitta di delitti, intrighi e politica?
Ovviamente dal più grande drammaturgo di tutti i tempi, William Shakespeare. Sono innegabili, infatti, i rimandi al teatro del Bardo di Avon, soprattutto per quanto riguarda i suoi due più grandi personaggi tragici: Macbeth e Riccardo III.
Underwood sembra ricalcarne i tratti, i pensieri e le azioni. Altro punto in comune con le opere dello scrittore inglese sta nel fatto che anche Frank recita in un certo senso una parte, consapevolmente, di fronte agli spettatori della serie, con i quali parla continuamente e ai quali anticipa le mosse (la cosiddetta "rottura della quarta parete").
Ma non tutti sanno che l' House of Cards americano, oltre a prendere molto dal Riccardo III e dal Macbeth shakespeariano, deve la sua maggiore ispirazione da un omonimo antecedente oltreoceano.
Infatti il "primo" House of Cards è del 1990, ambientato in Inghilterra, e con protagonista l'attore – ovviamente di matrice shakespeariana – Ian Richardson. Questa miniserie di quattro puntate, andata in onda sulla BBC e che avrà due sequel (To play the King e The final cut), è basata a sua volta sull'omonima trilogia di libri scritti da Michael Dobbs, ex-braccio destro di Margaret Thatcher.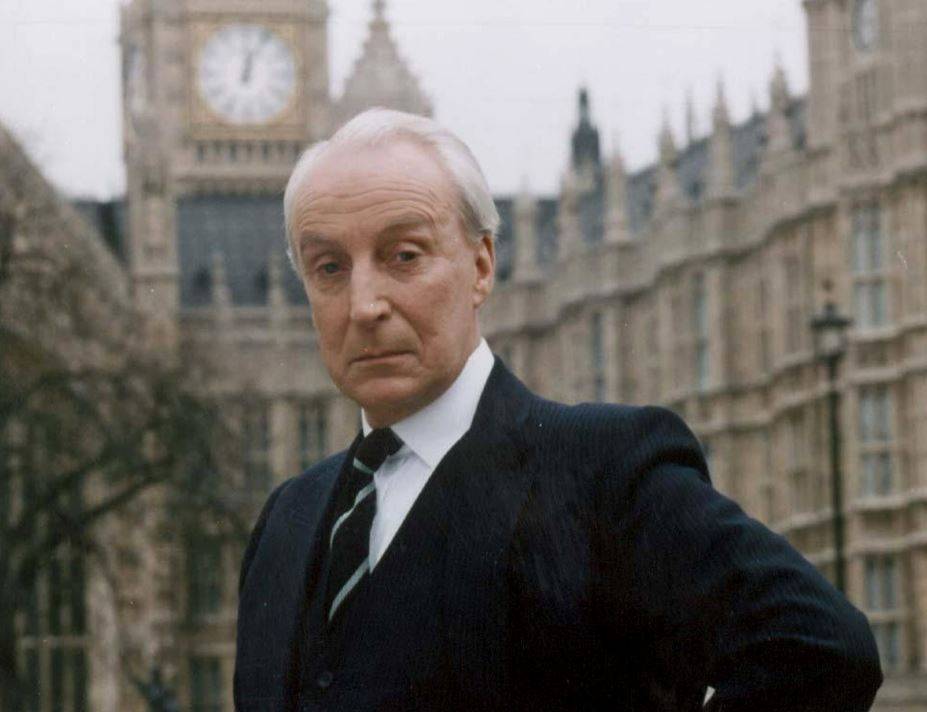 Tra le due serie vi sono molte analogie, ovviamente. Innanzitutto molti personaggi della trilogia inglese vengono riproposti nella versione americana, con nomi diversi: Frank Underwood è Francis Urquhart (rimangono comunque le emblematiche iniziali FU = Fuck You), Claire Underwood in Inghilterra diventa Elizabeth Urquhart, Zoe Barnes è il personaggio di Mattie Storin, mentre la "vittima sacrificale" Peter Russo è Roger O'Neill.
Simili sono anche lo schema con cui Urquhart e Underwood arrivano al potere: vengono traditi dal neoeletto, meditano vendetta, commettono delitti, delegittimano chi governa attraverso intrighi sottobanco, lo costringono alle dimissioni, salgono al potere.
Il rapporto tra i coniugi Underwood, soprattutto nelle prime due stagioni, prende molto da quello degli Urquhart: in entrambi i casi è la moglie che spinge sempre di più il marito a vendicarsi del torto subito, riproponendo, a proposito di quanto detto sopra, una versione moderna del personaggio shakespeariano di Lady Macbeth.
Le differenze invece, oltre ovviamente l'ambientazione e al fatto che il Regno Unito sia una monarchia parlamentare e gli Stati Uniti una repubblica presidenziale, riguardano soprattutto il tono delle due serie. Mentre quella americana è pervasa da un tono decisamente più dark, quella inglese – soprattutto Francis Urquhart – prende spesso tratti i più umoristici, senza però perdere quel velo di intrigo, anzi sottolineandolo ancora più grazie ai continui aside del protagonista verso i telespettatori.
Altra differenza sostanziale tra le due serie sta nel comportamento di Zoe Barnes/Mattie Storin nei confronti di Underwood/Urquhart: la giornalista americana è attratta come l'inglese dal protagonista, ma nonostante facciano sostanzialmente la stessa fine, Zoe si concede sessualmente a Frank solo per interessi lavorativi, a differenza di Mattie la quale arriva a chiamare Francis con il nomignolo di "papino".
E, a proposito di Zoe Barnes, mentre Underwood sembra rivivere i suoi delitti solo in un'occasione (gli episodi 4×05 e 4×06, durante il coma, in seguito dell'attentato del quale è vittima), Urquhart convive a malapena con il delitto di Mattie Storin, che rivede continuamente volare giù dal palazzo di Westminster.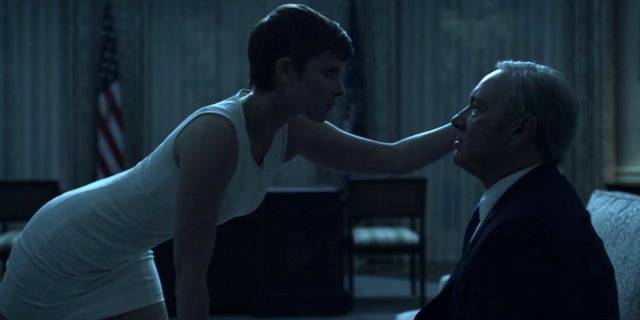 I due protagonisti, Underwood e Urquhart, si differenziano invece per un elemento molto importante, come fanno ben notare entrambi: l'americano Frank deve buona parte delle sue ricchezze alla moglie, non avendo potuto contare sulla propria famiglia, come ricorda in maniera abbastanza eloquente nell'episodio 1×03, durante una cerimonia funebre:
Mio padre è morto di infarto a 43 anni… a soli 43 anni. E quando è morto ho alzato lo sguardo verso Dio e pronunciato quelle parole perché mio padre era così giovane, così pieno di vita, di sogni e ambizioni, perché Dio ha voluto portarcelo via? [Alla telecamera] Onestamente, non ho mai realmente conosciuto né lui né i suoi sogni. Era un uomo tranquillo, timido, quasi invisibile. Mia madre lo disdegnava, sua suocera lo detestava. Non ha nemmeno scalfito la superficie della vita. Forse è meglio che sia morto giovane. Occupava solo spazio, niente di più. Ma come elogio funebre non sarebbe molto d'impatto, no?
Urquhart, invece, ha la fortuna di essere nato da una famiglia ricca, come confessa ai telespettatori nella prima puntata di House of Cards:
[alla telecamera, parlando del neopremier Collingridge] La sua moralità sa di discorso ipocrita da catechismo rigorosamente di second'ordine, raccattato a Peterborough o Rugeley… o in qualche altro posto dimenticato da Dio. Non che glielo si rinfacci, ovviamente. Ma abbiamo dato il via a qualcosa quando abbiamo messo permesso a tipi di così di scalare il successo. […] Le mie origini, come potete vedere sono piuttosto diverse. Ma il privilegio porta responsabilità.
Altro fatto non trascurabile è che i nemici con cui Underwood deve confrontarsi nelle ultime due stagioni (il premier russo Viktor Petrov, il candidato repubblicano Conway e l'associazione terroristica ICO) siano completamente diversi da quelli con cui deve "combattere" il suo predecessore inglese: Urquhart dovrà vedersela infatti, nella seconda miniserie con il Re d'Inghilterra in persona (da qui il titolo To play the King) e, nella terza miniserie, con il Ministro degli Esteri prima suo alleato Tom Makepeace.
Non si può concludere questa disamina tra le analogie e le differenze dei due House of Cards senza ritornare un'ultima volta a Shakespeare: le citazioni di William Shakespeare sono ben quattordici nella versione inglese, mentre in quella americana vengono citati due volte passi tratti da opere del drammaturgo inglese, e solo una viene esclamata da Frank Underwood, ma sintetizza in maniera significativa il personaggio e la Washington di House of Cards:
"Distruzione" gridò colui che combatteva il caos col caos "e liberate i cani della guerra"