House of Cards è una serie che stupisce. Presentandosi come serie drammatica di genere politico, fin dall'inizio cerca, attraverso vari modi, di creare una storia credibile. Due sono le principali modalità: la rottura della "quarta parete" (cioè Frank che parla direttamente agli spettatori) e il basare la storia su dinamiche temporali ed eventi che corrispondano a quelli reali (si pensi alle elezioni 2016 o al terrorismo). I casi delle elezioni e del terrorismo (emersi soprattutto nella quarta stagione) sono inoltre i massimi esponenti del realismo della serie, che in realtà perde alcuni punti di credibilità su un altro aspetto: il fatto che Frank sia un assassino. Cerchiamo di capire meglio le dinamiche.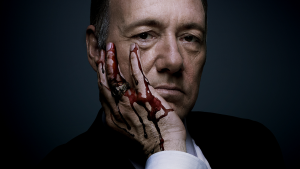 La finzione di House of Cards vive nella sua stessa esistenza: è una serie Tv. Tuttavia, ispirata a libri di successo, tocca delle corde che non possono essere considerate completamente fuori dalla realtà. Comunque, come anticipato, ci sono azioni che potremmo considerare ovviamente possibili, ma davvero improbabili: su tutte spicca proprio il personaggio principale, Frank Underwood. Costui vive una lunga e agonizzante (per i suoi nemici) vendetta maturata a causa di una mancata promessa mantenuta riguardo il posto di Segretario di Stato, rimanendo relegato alla Camera. L'ambizione e la fame di arrivare hanno fatto il resto: diventerà Presidente dopo aver eliminato tutti gli ostacoli; in realtà, alcuni ostacoli li elimina nel vero senso della parola: uccide il deputato Peter Russo simulando un suicidio e getta sotto un treno la giornalista/amante che iniziava a sapere troppo Zoe Barnes. Soffermandoci su quest'ultimo punto, è davvero molto poco credibile che un soggetto di popolarità così elevata rischi al punto di andare in metropolitana e spingere sotto un treno una giornalista. Ma nell'ottica della serie ci può stare.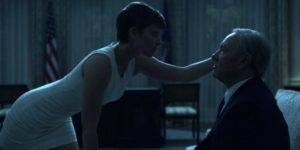 Tuttavia, gli aspetti di rappresentazione della realtà superano di gran lunga quelli di immaginazione: nessuno può indicare come inventate le tematiche che vengono rappresentate, quali la corruzione (l'affare con i cinesi che incastra Tusk è un vero colpo da maestro di Underwood), la tirannia gerarchica (quella di Frank verso la moglie in generale ma anche più specificamente ciò che fa nella quarta stagione alla Segretaria di Stato Durant), i ricatti e le minacce (che potremmo definire il mezzo preferito di Frank e di Claire per raggiungere i propri obiettivi), il ruolo dei giornalisti e le eventuali relazioni professionali (viene spesso sottolineata questa necessità per le giornaliste donne di dover concedersi ai politici per avere informazioni riservate). Insomma, tutte cose che immaginiamo quando pensiamo alla politica e che probabilmente sono realmente identificabili.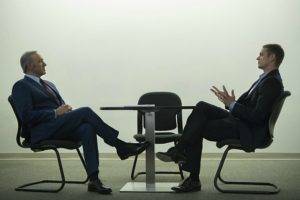 Sempre in riferimento alla realtà e alla veridicità ci si chiede: ma veramente l'ambizione di una persona può renderla così falsa da dire di tenere al suo Paese ma di fare invece solo i propri interessi? House of Cards sembra voler smentire e distruggere il mito del patriottismo dei politici americani visto che, dato ormai per scontato il totale disinteresse di Frank per ciò che non sia "se stesso", anche il candidato Repubblicano, inizialmente presentato come il portatore delle esigenze della gente, si dimostra essere semplicemente uno a cui importa diventare Presidente, costi quel che costi. Noi in Italia, di gente che ha avuto e ha poco a cuore le sorti del bel paese ne abbiamo conosciuta molta purtroppo.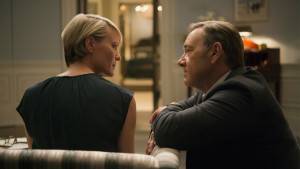 E adesso è inevitabile un breve riferimento alla realtà: come nella serie, anche nella vera America incombono le elezioni presidenziali; dal lato Democratico c'è Hillary Clinton, da quello Repubblicano Donald Trump. A proposito di quest'ultimo, nessuno, che sostenga o disprezzi Trump, può negare che l'aggettivo che meglio lo rappresenti sia "eccentrico". Tuttavia, basta questa espressione? Possiamo ritenerlo pericoloso come Underwood? Ognuno può darsi le proprie risposte, ma solo il tempo saprà darci quella reale.