# #
House of Cards è la storia della scalata al vertice del potere del suo magnetico e carismatico protagonista Frank Underwood, uno dei leader del partito democratico al congresso, che stagione dopo stagione aggiunge un prestigioso titolo al proprio curriculum, da leader dei democratici, a vice-presidente degli States fino a divenire l'inquilino della White House, in sintesi, Frank diventa l'uomo più importante ed influente dell'intero globo terracqueo. Il Presidente con larghissimi poteri decisionali, artefice e primo attore del destino di gran parte della scena politica mondiale.
# #
Due delle figure filosofico-letterarie più amate e discusse dalla critica possono essere benissimo chiamate in causa, per motivare i numerosissimi collegamenti letterari che una delle migliori serie degli ultimi anni offre. Queste figure in questione sono il Principe di Machiavelli e il superuomo secondo Nietzsche prima e D'Annunzio poi.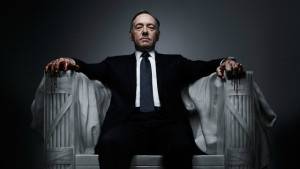 Frank Underwood (interpretato da un sontuoso Kevin Spacey) è stato per tantissimi anni un deputato del partito democratico, ma nell'orizzonte dei suoi ambiziosi progetti politici, ha ambito sempre a posizioni ben più prestigiose. F.U. non si è mai dato alcun limite. L'ambizione è sempre stata incentivata dalla moglie, la pacata e intelligente Claire ed è sempre stata supportata da Doug Stamper, capostaff, amico e segugio infallibile, pronto a cogliere ogni umore politico e ogni notizia utile riecheggiante nei corridoi della Casa Bianca. Doug sa come spegnere ed accendere ogni tipo di incendio politico-mediatico, D.S. è l'importanza vitale dell'acqua e del fuoco, per il suo capo Frank. Importante figura è inoltre Seth, portavoce ufficiale di FU ed esperto della comunicazione, lui e Doug saranno spesso in contrasto, ma essendo due seri professionisti accantoneranno le loro idee di sopraffazione.
# #
House of Cards è la serie di fantapolitica che indaga sul potenziale sconfinato dell'uomo e sulle sue imponenti ambizioni, sull' idea di fede che vacilla, sul rapporto anticonvenzionale e assolutamente non ipocrita di amore, rivalità e partnership tra due coniugi ambiziosi, lucidi e spietati : gli Underwood.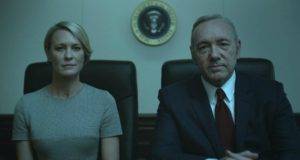 House of Cards è la prima imponente produzione Netflix, solo dopo sono arrivati i successi incredibili di Narcos, Daredevil e Bloodline
L'ego superbo di Frank Underwood e il suo staff hanno obiettivi sempre più imponenti e devono destreggiarsi tra figure sempre più pericolose : dalla blogger senza scrupoli Zoe Barnes che prova un'attrazione psicologica più che fisica per Frank, al subdolo magnate Raymond Tusk, alla strumentalizzazione del giovane politico Peter Russo passando per un rapporto di stima ma burrascoso con il Presidente in carica Garrett Walker. Proprio il rapporto di stima\rivalità tra il Presidente G.Walker e il vice-Presidente F.Underwood, è un evidente scontro tra due psicologie divergenti : il primo stima, teme il suo vice, avvertendo un complesso di inferiorità verso il suo vice, anche se la natura del ruolo dovrebbe dettare il contrario esatto; il secondo invece è convinto della sua superiorità, conosce meglio gli intrighi dei corridoi della White House, li ha frequentati per più tempo e sa di essere superiore e più abile a gestire le pressioni mediatiche ed istituzionali.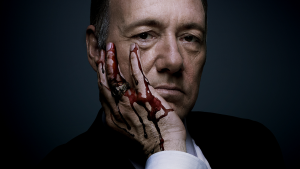 Come detto in precedenza, le due figure filosofico-letterarie ben note, possono definire la personalità borderline, l'ambizione smisurata e lo scopo assolutamente di stampo machiavellistico di F.U. Il principe secondo Machiavelli, è colui che ha l'incarico più nobile e difficile da sostenere, il Principe deve essere tanto abile nella guerra quanto nella pace, deve conservare, deve lottare e usare fini esasperati e non sempre leciti, tesi al mantenimento del potere del suo ruolo e tendenti al benessere della collettività che egli difende. Cambiano le realtà storiche, gli ordinamenti politici plasmati dal tempo e dalle diverse storie delle nazioni, ma l'obiettivo ed il ruolo di un "principe" è sempre lo stesso.
Frank è ormai il Presidente, il vate e condottiero politico degli Stati Uniti, il superuomo che ha ormai scalato la vetta più ambita. La minaccia ora ha il nome del repubblicano William Conway, giovane padre di famiglia e volto (all'apparenza) pulito. Le elezioni si avvicinano, con la scia di menzogne, sangue e compromesso che accompagnano da sempre la politica, anche quella politica descritta magistralmente dal piccolo schermo.
La brillante politica e gli intrecci sublimi di House of Cards