Cosa può succedere se si vive in un castello di carte? Tutto, semplicemente. Può capitare che l'immaginazione superi la realtà e ne faccia una reggia imponente, capace di inghiottire un intero mondo, per esempio. Oppure il tetto crolla alla prima folata di vento e scopre ogni maschera, lasciando spazio solo alla debolezza della finzione. Tutto o niente, insomma. Senza compromessi.
Questa, in fondo, è la storia di Frank Underwood e delle quattro stagioni di House of Cards, capaci di aprirci gli occhi lucidamente sulle dinamiche più becere della politica americana e probabilmente anche di quella italiana, così simili e lontane allo stesso tempo. Underwood, dopo un'inarrestabile ascesa che l'ha portato sullo scranno più ambito senza passare attraverso regolari elezioni, è costretto ora a fare i conti con il mondo che lui stesso ha costruito, trovandosi solo e ad un passo dal baratro. Ad un passo, senza cadere.
Frank, nonostante tutto, non si è arreso ed è più combattivo che mai. Nell'ultima stagione ha fronteggiato tre nemici insidiosi che hanno la sua anima, e si è trovato con le spalle al muro. La soluzione, a quel punto, è stata la più folle. Lucidamente folle. Se non si può contrastare un mondo, lo si modella a seconda delle proprie esigenze, a costo di scatenare una guerra globale nella più machiavellica delle concezioni antidemocratiche.
Underwood ha perso tre battaglie, ma la guerra, quella politica, è ancora in corso e si intreccia a stretto giro con una guerra, quella al terrorismo, populista e strumentale. Perché? Perché chi fa del potere un obbiettivo fine a sé non si sottomette al terrore, ma lo crea. L'ultima sequenza della quarta stagione, monumentale come poche altre nella storia delle serie tv, ha chiarito ampiamente il concetto.
A questo punto vi state chiedendo chi siano i tre grandi nemici a cui ci riferivamo prima, vero? Lo scopriamo insieme.
1. Frank Underwood contro Claire Underwood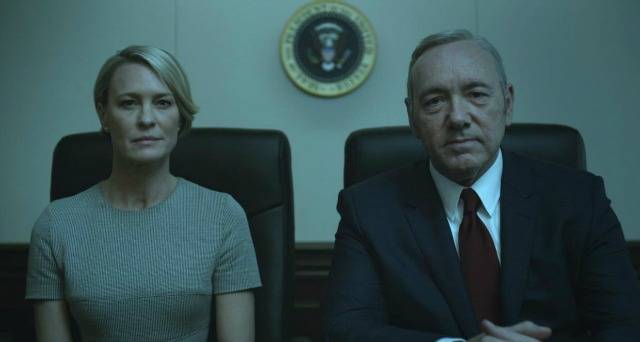 Questo non è più un matrimonio. È un'associazione a delinquere. Frank e Claire, dopo la fine dell'amore, si sono spogliati l'uno di fronte all'altro e hanno dato vita ad un'unione paradossalmente più solida. Il punto di svolta è stato l'atto di resa più plateale della vita di Frank, costretto ad indietreggiare e soddisfare la fame di potere della moglie, sempre più simile a lui e pronta a prenderne il posto. L'uno non può fare a meno all'altro, e questo è l'unico presupposto che ha portato al sotterramento dell'ascia di guerra dei primi episodi della season 4.
Il divorzio li ha uniti, la trattativa è stata furente, ma il risultato è una sinergia brutale e vincente, culminata nell'epic ending di stagione, surreale e inquietante allo stesso tempo. Claire ha dimostrato abilità politiche, astuzia e cinismo esattamente come il marito, meritando la poltrona da vicepresidente che, considerando lo stato di salute precario di Frank, vale oro colato. Il presidente ha affrontato se stesso e ha perso senza perdere. In fondo è questa l'unica sconfitta che può conoscere un vincente come lui.
2. Frank Underwood contro Will Conway
Si amano visceralmente, ma non potranno mai ammetterlo. Conway potrebbe essere il delfino ideale di Frank Underwood, ma ha un solo problema nel curriculum. L'essere un repubblicano? Macché, questa è una questione seria. La verità è che Will Conway è Frank Underwood senza essere Frank Underwood.
Avete presente il "democratico" Renzi e il "repubblicano" Berlusconi? Qualcosa del genere, ma a parti invertite. Lo squalo Underwood non concepisce nemmeno l'idea di avere un delfino. Però Will gli piace, eccome se gli piace. E lui stesso è convinto che sarebbe un presidente migliore di quanto sia lui. Intanto, però, la battaglia politica è viva più che mai e le elezioni si avvicinano impietosamente. Frank, nonostante il netto svantaggio e la sconfitta parziale, è ancora convinto di poter sconfiggere il giovane "Underwood". Ce la farà? Forse sì: la guerra appiana tutto, anche la forbice nei sondaggi. E chi se ne frega dall'ICO.
3. Frank Underwood contro i fantasmi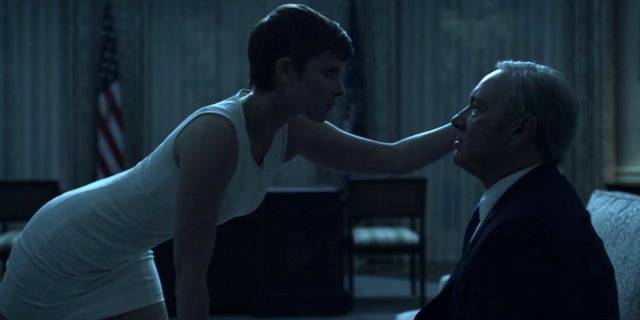 Zoe Barnes. Maledetta Zoe Barnes. Crea più scompiglio da morta che da viva. Ed è persino più sexy. E che dire di Peter Russo? Non l'avevamo mai visto così sicuro di sé. Peccato che anche lui sia morto da tempo. Oppure no? Siamo sicuri che siano passati a miglior vita? Da un punto di vista fisico sì (questo è House of Cards, non The Walking Dead), ma i fantasmi albergano nella testa di Frank ad un passo dalla morte con la forza di una realtà che va ben al di là dell'Aldilà.
Frank, nel momento della sua vita nel quale è più disarmato, ha paura di loro come non mai. E fa bene. Il passato riaffiora lentamente, l'ha sfiorato con la pallottola di Lucas che per poco non lo uccideva e l'ha colpito fatalmente grazie all'articolo di Tom, determinato come non mai nel fare giustizia.
Frank è al tappeto come un pugile sfinito alla decima ripresa, ma non accetta il k.o e si rialza sorretto dalla moglie. Risponde alla bomba giornalistica con le bombe in Medio Oriente. Anche in questo caso è sconfitto, ma non finito. Anche in questo caso Frank Underwood deve vedersela con Frank Underwood. Quello del passato e del presente, l'unico in grado di affossarlo. Ma non è finita. Il tetto del castello di carte è crollato, però le fondamenta sono ancora in piedi.
Cosa può succedere se ci si mette contro uno come lui? Può esplodere una guerra globale. Il potere è più importante di tutto, sopratutto delle vite degli altri. Prepariamoci all'ennesimo regno del terrore: il terrorismo, al confronto, è poca roba.
Antonio Casu
@antoniocasu_