Se dovessi descrivere il modo in cui questo nuovo episodio di Grey's Anatomy (qui le psicopatologie di cui soffrono i personaggi) mi ha fatto sentire, userei il titolo di una canzone di Lady Gaga, Speechless. Mi ha lasciata completamente senza parole. Una puntata dura all'incirca 40 minuti e sono strabiliata dalla maestria con la quale i creatori e i produttori della Serie hanno gestito i tempi e le storie.
Quaranta minuti possono sembrare troppo pochi per discutere appropriatamente di violenza domestica, fede e razzismo. Eppure, penso di parlare a nome di tutti, sono molto soddisfatta del risultato raggiunto in così poco tempo.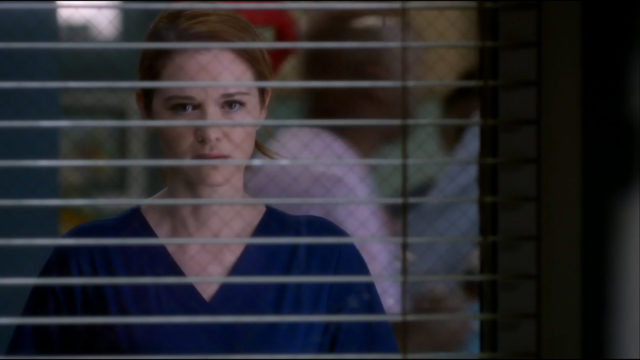 Questo decimo episodio è stato davvero emozionante. Per la prima volta dopo tanto tempo, ho continuato a pensare a ciò che ho visto anche dopo la fine dell'episodio. Mi spiego meglio. Dopo aver visto una puntata di una Serie Tv, è raro che il tema trattato ti rimanga impresso anche dopo dopo la fine della puntata. Una volta apparsi i titoli di coda, si ritorna a fare ciò che si stava facendo prima. E per almeno una settimana sei a posto. Ma non questa volta, questa volta è stato diverso. La storia non è terminata quando è terminato l'episodio. Ci sto ancora pensando e probabilmente continuerò a farlo.
Quando, all'inizio dell'episodio, ho capito che fosse incentrato su April, ho ringraziato il dio delle Serie Tv perché finalmente la Kepner avrebbe avuto l'opportunità di avere più spazio nello show. Ultimamente è stata un po' trascurata e la cosa non mi piaceva affatto. Come ho sempre detto e continuerò a dire, April è uno di quei personaggi che più di tutti, in Grey's Anatomy, è cresciuto ed è una delle mie preferite, anche perchè, – per quanto possa essere simpatica e sembrare leggera – ha uno spessore non indifferente. È uno di quei personaggi su cui bisognerebbe puntare di più perché i risultati che si potrebbero ottenere, sarebbero senza dubbio grandiosi. E basta l'episodio di questa settimana per avvalorare la mia tesi.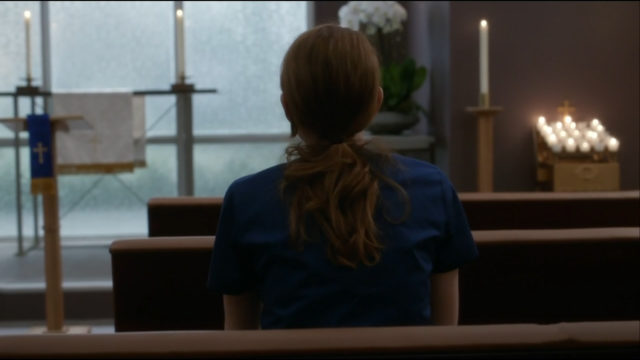 Era da un po' che non la vedevamo entrare in contatto con il suo lato spirituale, con la sua fede. Vederla mettere in discussione tutto ciò in cui crede è raro. Soltanto un'altra volta l'ho vista così combattuta ed è stato quando il piccolo Samuel, ovvero suo figlio, le è morto tra le braccia. Non so spiegare quanto mi abbia commosso vederla cercare in tutti i modi di non rompersi in mille pezzi. Era chiaramente provata da tutto ciò che le stava succedendo attorno. Con la sua bravura, Sarah Drew è riuscita a trasmettermi quella sensazione di impotenza che April stava provando quando è venuta a conoscenza delle tre terribili notizie.
Perdere un paziente non è mai facile, soprattutto quando quel paziente è un ragazzino di dodici anni il cui unico errore è stato quello di dimenticare le chiavi ed entrare nella sua stessa casa dalla finestra. Un ragazzino a cui hanno sparato solo per il colore della sua pelle. Mi si è spezzato il cuore durante la scena in cui ai genitori viene comunicata la notizia della morte del figlio. Ma soprattutto mi si è spezzato il cuore ascoltando gli stupidi tentativi dei poliziotti di coprire l'errore di un collega, errore commesso a causa di evidenti pregiudizi nei confronti delle persone di colore.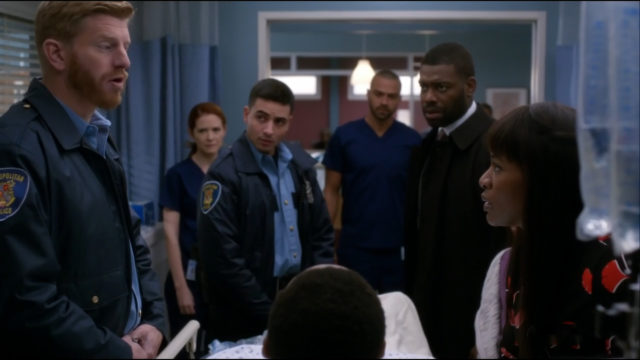 La reazione di Jackson e il suo racconto d'infanzia mi sono piaciuti moltissimo. Mi è dispiaciuto, però, il modo in cui ha evitato April e la freddezza con cui l'ha trattata. Capisco quanto l'argomento gli stesse a cuore, ma tutto ciò che cercava di fare la Kepner era stargli vicino, dargli supporto perché sapeva quanto fosse coinvolto nella faccenda e quanto lo facesse soffrire.
A inizio puntata ero felice perché credevo che finalmente Shonda ci aveva regalato un po' di Japril. Credevo che ci avrebbe fatto capire in che rapporti erano e magari, la presenza di Matt nella puntata avrebbe potuto essere un espediente per far riavvicinare la coppia (a tal proposito, mi è dispiaciuto tantissimo per la moglie di Matt. Quel poveretto non riesce proprio ad avere una gioia. Un po' come Meredith Grey). Invece no, non è successo. Anzi, sento che adesso più che mai si stiano allontanando. È come se Jackson cercasse di liberarsi di April, è come se cercasse di tenerla a distanza.
Ho cominciato a pensare questa cosa quando – molto velatamente – April gli ha detto che avrebbe traslocato perché era ancora innamorata di lui. Senza ricevere in risposta nemmeno una parola. Dopo questo piccolo confronto, la situazione si è congelata perché non avevano più avuto delle vere e proprie interazioni e, tra tutte le storyline di Grey's Anatomy, la loro era passata in secondo piano. Adesso chissà quando si ritornerà a dare spazio alla Kepner.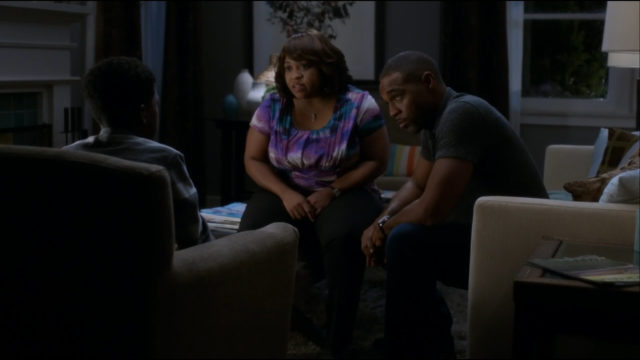 Ma andiamo avanti, un altro momento molto forte emotivamente è stato quello che ha visto protagonisti la Bailey, Ben Warren e Tucker. Non ci sono parole per descrivere la tristezza di quella scena. Una madre che deve mettere in guardia il figlio da chi dovrebbe avere il compito di proteggerlo è veramente disgustoso. Nessun genitore dovrebbe mai aver paura che un poliziotto possa sparare al proprio figlio solo per via di stupidi pregiudizi e del colore della sua pelle. Qualche mese fa, l'attrice Gabrielle Union durante un'episodio del talk show, The View, parlò della terrificante realtà di crescere un figlio di colore in America. E il suo discorso è estremamente simile a quello ricreato nell'episodio di Grey's Anatomy.
.@itsgabrielleu talks raising young black men in America today, and shares why she calls it "absolutely terrifying": https://t.co/VA4LZWXMuF pic.twitter.com/qASB7yY8i6

— The View (@TheView) 18 ottobre 2017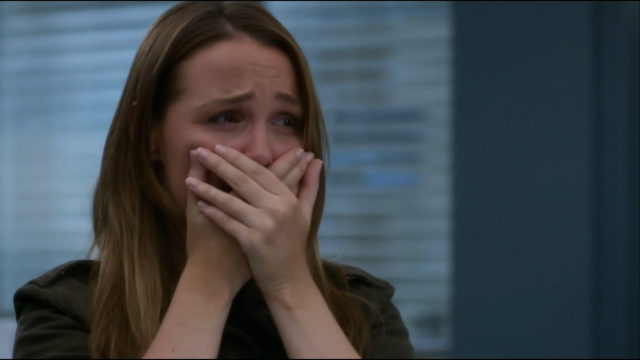 Un altro momento molto emozionante è quello che ha come protagonista Jo, la cui storia è cominciata già nella 14×08 e che finalmente vede una chiusura in questo. Nello scorso episodio l'avevamo vista affrontare il suo ex, suo marito, colui che per anni l'aveva picchiata e malmenata. Dopo il finale shock della scorsa puntata, finalmente in questa, la povera Wilson ha riesce ad avere un po' di giustizia e – allo stesso tempo – salva un'altra donna dalle grinfie di quell'animale che per anni l'aveva distrutta. Paul – l'animale, il porco – è morto cerebralmente ed è morto in un modo davvero imbarazzante. Vedere il sollievo negli occhi di Jo è stato meraviglioso. La Wilson non mi fa impazzire, ma in questi ultimi due episodi, mi è davvero piaciuta.
Ancora una volta Shonda Rhimes ci ha regalato un episodio meraviglioso. Non c'è stato niente che non mi sia piaciuto. Addirittura ci siamo liberati della Pierce, finalmente in panchina e fuori dalle consistenze. Grey's Anatomy è molto più piacevole senza di lei. Speriamo solo che April, dopo questa puntata meravigliosa, non venga di nuovo trascurata. Voglio vedere cosa le succede, voglio sapere che conseguenze avranno le sue azioni e cosa succederà ora che è andata a letto con uno specializzando.