Gomorra ha stravolto l'idea che avevano gli altri Paesi delle nostre serie tv. Più di 170 Stati hanno acquistato il prodotto italiano nato dall'idea di Roberto Saviano. C'è chi la paragona ai film di Quentin Tarantino, chi fa il confronto con quelli di Martin Scorsese e c'è anche chi la considera migliore della serie I Soprano. Insomma, Gomorra sembra piacere proprio a tutti, persino in Israele e in Mongolia. Ma cosa mette d'accordo tutti?
Nessuno sa amare come gli italiani
Un tempo ci credevano capaci di mostrare soltanto il lato tenero delle grandi storie d'amore. Grazie a Gomorra, l'Italia ha dimostrato di saper rappresentare anche un amore fatto di crudeltà e di cattiveria: l'amore che spinge a difendere la propria famiglia e la propria terra con ogni mezzo. I protagonisti della serie sono tutti capaci di compiere azioni deplorevoli, ma ognuno lo fa per un "buon" motivo. Per gli spettatori è facile trovare un punto di collegamento emotivo con i personaggi che hanno di fronte. I sentimenti sono universali. È per questo che commettere un reato può suscitare empatia, se viene fatto per vendicare un fratello, un genitore o l'amore della propria vita. Pur riconoscendo la malignità delle azioni che Genny, Ciro e gli altri commettono, ogni spettatore (italiano, americano, francese o tedesco) riconosce una parte di sé e si appassiona alla storia.
I paragoni nei giornali esteri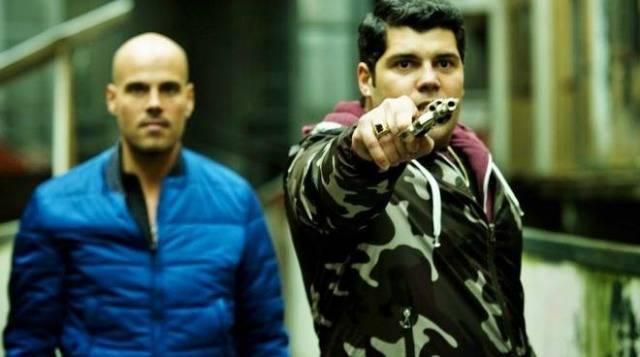 Per quanti pensano all'Italia e al suo romanticismo, questo è un altro effervescente antidoto.
Questo è quello che ha scritto il Daily Telegraph, quotidiano britannico, dopo il lancio di Gomorra nel Regno Unito. Il Guardian, altro quotidiano britannico, ha paragonato la serie a The Wire e a Quei bravi ragazzi di Scorsese. Anche The Indipendent ha voluto giocare con i paragoni, sottolineando come i protagonisti somiglino molto ai gangster di Quentin Tarantino.
Perfino i tedeschi hanno espresso la loro opinione a riguardo. Il Der Spiegel, una rivista settimanale, ritiene che Gomorra abbia raggiunto un livello superiore e quello della serie I Soprano.
L'America le ha aggiunto una 'h', ma ha riconosciuto tutti i pregi della versione originale di Gomorra. La serie è stata sulla bocca di tutti fin dall'inizio, tutti i giornali più importanti le hanno dedicato uno spazio in prima pagina. Il Wall Street Journal, il New York Times e l'Hollywood Reporter sono solo alcuni esempi di periodici americani che hanno dimostrato l'entusiasmo e la sorpresa dopo la messa in onda di Gomorra. Gli USA hanno sempre pensato di essere i migliori nella produzione di nuove serie tv, invece adesso hanno capito che anche l'Italia ha qualcosa da insegnare al mondo.
Il coraggio di fare scelte diverse

Pensate alla maggior parte delle serie tv realizzate in Italia. Se ci fate caso, le scelte ricadono sempre sugli stessi attori. I produttori, per andare sul sicuro, tendono a scegliere i soliti professionisti. All'estero sono abituati diversamente, i cast variano spesso, anche perché il numero di serie tv prodotte, soprattutto in America, è nettamente superiore a quello del nostro territorio. In questo modo, gli spettatori non sono costretti a vedere sempre gli stessi volti in televisione e sono più incuriositi dalle novità. Ecco perché ha funzionato Gomorra.
Sky, Cattleya, Fandango, LA7 e Beta Film si sono unite per creare qualcosa di completamente innovativo, puntando su attori quasi sconosciuti dal pubblico. Così facendo, i produttori hanno rischiato, ma hanno evitato inutili pregiudizi o grandi aspettative.
Quella del cast non è stata l'unica decisione vincente.
Saviano e il resto della troupe hanno capito che, se volevano far uscire Gomorra dai soliti confini, dovevano cambiare approccio. Le serie italiane vengono spesso progettate per andare in onda in prima serata e tenere compagnia alle famiglie per qualche ora. Questa concezione all'estero non funziona. Ormai il pubblico vuole episodi più brevi e un numero ridotto di stagioni. Pensate che Squadra antimafia è composta da otto stagioni e ogni episodio dura in media 100 minuti.
Gomorra ha puntato su una struttura più universale, con episodi da 50 minuti circa, e questa decisione è stata molto apprezzata all'estero. I Paesi stranieri si sono dimostrati entusiasti anche per la possibilità di seguire le scene in dialetto napoletano sottotitolate. La lingua originale è una caratteristica da non sottovalutare, specialmente in una serie tv che vuole mostrare la realtà in maniera fedele e senza filtri.
La quarta stagione di Gomorra arriverà il 29 marzo sugli schermi italiani e alcune scene saranno ambientate a Londra. Questa scelta aiuterà sicuramente a incrementarne l'aspetto internazionale.