Game of Thrones si sta avviando verso la sua ultima e imperdibile stagione. Un fantasy iniziato otto anni fa e diventato un fenomeno mediatico incredibile. La storia ruota attorno a sette nobili famiglie che vogliono conquistare e prendere il controllo del Trono di Spade di Westeros.
Tanti personaggi popolano l'universo creato da George R. R. Martin, tutti accomunati dal desiderio di potere e dalla voglia di rivincita. Molti di quelli sono anche degli abili combattenti.
C'è il signore dei Dothraki, Khal Drogo, un bestione possente e muscoloso che sa muoversi con grazia. Prima che perdesse la mano, Jaime era considerato uno dei migliori combattenti di Westeros. I fratelli Clegane sono praticamente impossibili da battere. Oberyn è stato l'unico capace di stendere la Montagna. Brienne invece ha impartito una bella lezione al Mastino e ha battuto molti più uomini di quanto possiamo immaginare. Syrio è l'artefice dell'Arya Stark che conosciamo oggi. Abbiamo Jon Snow, a cui Ramsay Bolton ha detto con scherno: "Si dice che tu sia il miglior spadaccino del Nord". Purtroppo per Ramsay le voci erano vere. C'è Bronn, Robert Baratheon, Daario Naharis, Verme Grigio, Barristan Selmy, Rhaegar Targaryen, Ser Arthur Dayne, ecc…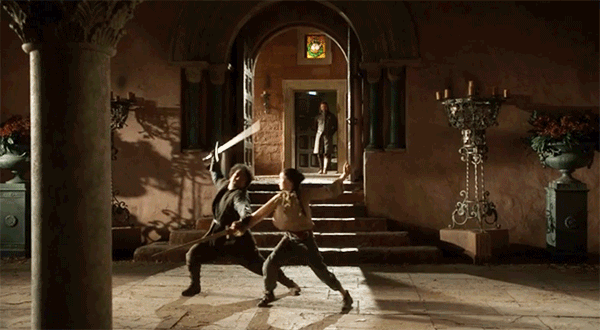 Ma che cosa succederebbe se questi guerrieri dovessero sfidare i vichinghi o i gladiatori? Chi avrebbe la meglio tra queste tre fazioni?
Due serie tv sono dedicate a queste due tipologie di guerrieri: Vikings e Spartacus. La prima narra le avventure del vichingo Ragnar Lothbrok che, sfidando il suo stesso capo, decide di fare razzie verso l'inesplorato Ovest. Da semplice fattore e contadino diventerà il re di tutti i Norreni. Un'eredità pesante che penderà sulle spalle dei suoi figli. Spartacus è un trace accusato di tradimento per essersi ribellato agli ordini dell'esercito di Roma. Viene condannato a morte nell'arena dei gladiatori ma, grazie alla sua abilità, riesce a vincere e a guadagnarsi così la grazia. Diviene uno schiavo al servizio di Quinto Lentulo Batiato. Inizia la sua carriera da gladiatore mentre cerca di recuperare la sua libertà.
Partiamo con l'analizzare il ceto sociale dei personaggi presi in esame.
 I vichinghi erano un popolo di contadini e navigatori molto abili nel combattimento. Regolarmente si radunavano per compiere razzie in territori vicini, esplorando sia l'est che l'ovest. La guerra era nel loro sangue. Sostanzialmente quelli che ci vengono mostrati in Vikings sono uomini e donne benestanti per la cultura vichinga. Anche i personaggi di Game of Thrones sono benestanti. Anzi, provengono dalle nobili famiglie che si contendono il potere a Westeros, eccetto Khal Drogo. I gladiatori (il cui nome deriva dalla piccola spada romana usata dai guerrieri che combattevano nelle legioni) si trovavano invece sul gradino più basso della scala sociale. In genere erano schiavi, prigionieri, condannati a morte, ma anche uomini liberi che combattevano per saldare un debito o semplicemente per la gloria.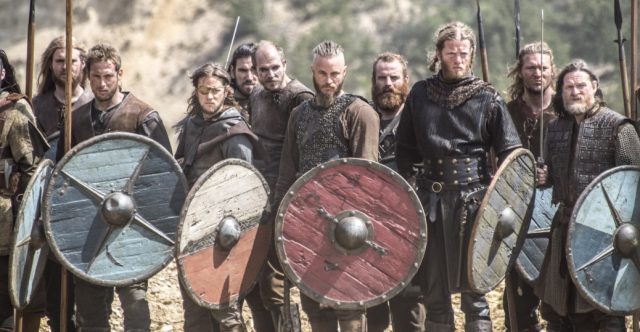 Passiamo alle armi e alle armature.
In Game of Thrones i soldati dell'esercito e i vari guerrieri menzionati  sono ben armati ed equipaggiati. Hanno una solida armatura a protezione del corpo corredata da un resistente elmo e delle belle spade affilate. L'unico che si esenta da tutto questo è Khal Drogo che combatte con un abbigliamento e delle armi che ricordano più quelli dei gladiatori ma con la ferocia dei vichinghi. 
Questi ultimi avevano uno dei più avanzati sistemi metalmeccanici della propria epoca. La loro "industria delle armi" era particolarmente sviluppata. A tutti i norreni liberi veniva richiesto di possedere armi. Se prendiamo Ragnar, ad esempio, lui era un capo e non sarebbe mai sceso in battaglia senza un grande scudo di legno, un elmo di ferro, forse un usbergo di maglia, due giavellotti, una lancia, un lungo coltello e un'ascia. Sopra i pesanti vestiti, chi poteva permetterselo, indossava cotte di maglie di ferro.
Per i gladiatori invece il discorso è ben diverso. Essendo stati ai margini della catena sociale, avevano solo accesso ad attrezzature molto rozze. Nonostante le armature fossero diffusissime al tempo dei Romani, a Spartacus e compagni ne sarebbero toccate solo piccole quantità, così come le armi: qualche spada di bronzo o di ferro, forse una lancia.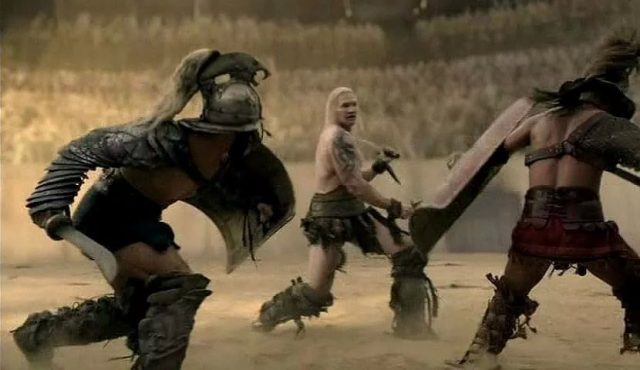 Se fino a questo momento i gladiatori sembrano i più svantaggiati, tutto cambia quando si parla di addestramento. C'erano delle scuole apposite dove i gladiatori si allenavano. Spartacus viene portato in quella di Batiato dove è sottoposto a una dura disciplina e a un addestramento faticoso dal maestro Enomao, senza dover contare l'astio che Crisso continua a rivolgergli. Gradualmente erano introdotti all'arte del duello prima con sagome, poi contro veri avversari ma con armi fittizie, fino a ottenere dei veri e propri combattenti.
Un uomo del nord, soprattutto di alto rango, viveva per la battaglia. Grazie alle incursioni e alle razzie, acquisiva ricchezza e prestigio. È proprio così che Ragnar è diventato il re di tutti i norreni, oltre che per la sua abilità e il suo ingegno. Fin da bambini i vichinghi venivano istruiti all'uso delle armi e addestrati in modo da diventare dei potenti guerrieri. Nella serie tv infatti osserviamo come Bjorn e i vari figli di Ragnar vengano avviati alle armi proprio da piccoli per diventare combattenti fenomenali. Anche le donne combattevano al pari degli uomini e guerriere come Lagertha venivano soprannominate "shield maiden".
Anche in Game of Thrones abbiamo visto alcuni allenamenti che ci fanno capire perché quei soldati siano temuti da tutti. Basta aver osservato con che determinazione Jaime Lannister impari a usare la spada con l'unica mano che ha. Allenamento che poi ha dato i suoi frutti sul campo. Non dimentichiamoci che Game of Thrones è piena di incontri epici: Brienne vs Il Mastino, Jaime Lannister o Arya Stark, Il Mastino vs La Montagna, Oberyn vs La Montagna, ecc… Per non parlare delle battaglie come quella dei Bastardi, della Acque Nere e molte altre ancora.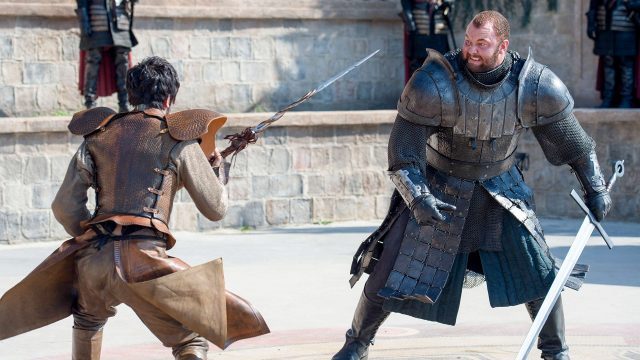 In conclusione, dopo l'attenta analisi fatta e per rispondere quindi alla domanda iniziale: ad avere la meglio sarebbero i gladiatori di Spartacus.
Nonostante siano meno equipaggiati degli altri guerrieri, hanno dato prova di come, anche quello più debole, fosse più forte di tanti Romani armati di tutto punto.
Ricordiamoci di Ashur, il siriano che si è difeso da sei soldati. Spartacus ne doveva valere almeno venti. Sono molto più piccoli dei vichinghi. Basta vedere le dimensioni di Rollo, Bjorn e dello stesso Ragnar. Anche il più piccolo vichingo è comunque enorme, ma l'imponenza fisica non è un vantaggio così clamoroso in uno scontro con dei violenti gladiatori, basta vedere come Crisso e Spartacus hanno abbattuto Theokoles. La brutalità dei vichinghi è difficile da eguagliare. Eppure Spartacus e i suoi gladiatori hanno messo quasi in ginocchio Roma partendo dal gradino più basso della società, costringendo Crasso – uno dei comandanti più importanti della città – a entrare in scena.
I gladiatori hanno dimostrato di essere fenomenali sia in singolar tenzone che in un esercito. I personaggi di Game of Thrones sono degli straordinari solisti mentre i vichinghi sembra diano il loro meglio quando combattono tutti assieme.
In poche parole: i gladiatori sono delle macchine da guerra difficili da abbattere.