Game of Thrones sta per giungere alla sua conclusione. Una serie tv leggendaria il cui successo non è quantificabile solo con numeri e statistiche. La sua popolarità si deve non solo alla complessità della trama, ma anche alle caratterizzazioni dei personaggi che popolano l'universo creato da George R.R. Martin. Sono profondi, complessi, in crescita e mai perfettamente inquadrabili in un tipo di essere umano. Proprio per queste qualità lo spettatore riesce a immedesimarsi in loro, nei loro sentimenti e a capire le loro azioni, per quanto discutibili possono essere.
Una grande cura è stata posta nella rappresentazione delle quattro protagoniste: Cersei Lannister, Sansa Stark, Arya Stark e Daenerys Targaryen. Dalla prima alla settima stagione ognuna ha compiuto un percorso che le ha portate a essere quello che sono oggi. Vediamo come sono cambiate.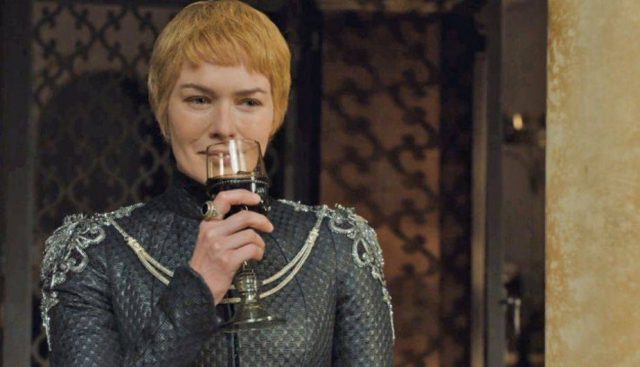 Cominciamo con la Regina dei Sette Regni. Cersei Lannister ci viene presentata come una donna dura, impenetrabile, piena di risentimento e disillusione. Vuole dimostrare al marito e al padre che è la degna erede dei Lannister ma il suo carisma non viene riconosciuto. Il motivo è semplice: è una donna. Per raggiungere la sua ricompensa si è trovata a rinunciare al suo essere donna perché era un ostacolo. Quella femminilità che invece non nasconde con suo fratello Jamie e con i suoi figli. Cersei è una madre compassionevole, dolce e permissiva. Avrebbe fatto di tutto per i suoi bambini.
Il suo punto più basso è la camminata della vergogna. Cersei è sfinita e costretta a raccogliere ciò che resta di sé. Ha perso tutto ma proprio per questo inizia la sua rinascita. Diventa una madre che non è più madre, una donna con il potere e senza più rivali. Robert e Tywin sono morti così come i suoi figli, gli unici che potevano calmare il mostro dentro di lei. Tyrion se ne è andato e Jaime non sembra esserle vicino come un tempo. Le rimane il suo essere donna e quell'impedimento si trasforma in un jolly. È disposta a vendersi pur di ottenere quello che desidera: mantenere e proteggere il suo regno a tutti i costi. E se gli Estranei uccideranno qualcuno dei suoi nemici, tanto meglio!
Cersei è stata il modello di riferimento di una giovane Sansa. La maggiore delle due Stark ha assorbito gli insegnamenti di Cersei come una spugna, nonostante l'odio che provava nei confronti della donna.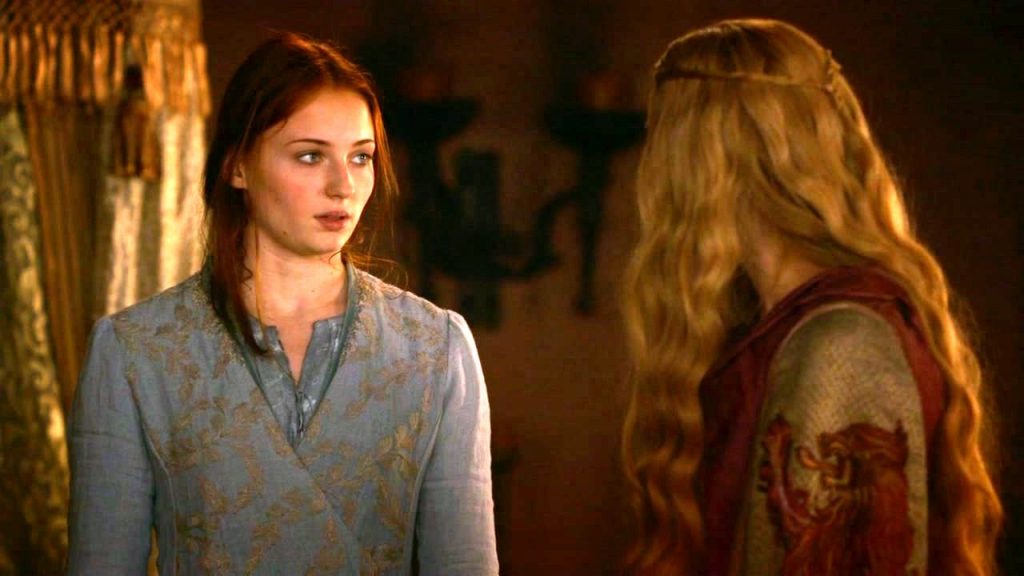 All'inizio di Game of Thrones Sansa era una ragazzina viziata, ingenua, altezzosa e sognatrice. Disprezzava quello che aveva, desiderava di più. Voleva il suo principe azzurro, un matrimonio bellissimo e una vita migliore. Ma la vita le ha sbattuto contro con tutta la violenza che aveva. Joffrey si è rivelato un sadico psicopatico che si divertiva a giocare con la vita di Sansa. Ditocorto l'ha salvata dal suo aguzzino per poi venderla a Ramsey Bolton, che l'ha trattata in maniera orribile.
L'hanno imprigionata, ricattata, picchiata, violentata e torturata. Tutto questo l'ha fatta crescere e le è servito per capire un insegnamento fondamentale. Se vuole salvarsi, deve farlo da sola.
È lei che convince Theon a farla fuggire e Jon Snow a combattere per la casa che aveva sempre detestato ma che ora rimpiange con tutto il cuore. Nella settima stagione si è temuto che Sansa cadesse nuovamente nelle trame costruite da Ditocorto. Proprio da lui ha imparato come difendersi e come contrattaccare. I suoi aguzzini sono diventati i suoi insegnanti e da vittima Sansa è diventata carnefice. Ora è forte e sicura di sé, riuscendo a ribaltare a suo favore le regole del gioco pur partendo da una situazione di svantaggio.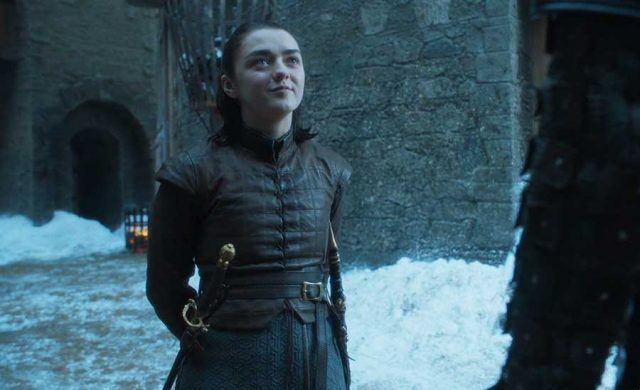 Arya e Sansa non sono andate sempre d'accordo. Sono due sorelle così diverse ma allo stesso tempo più simili di quanto non si pensi. All'inizio la minore delle sorelle Stark era una ragazzina vivace e irrequieta con il sogno di diventare un cavaliere. Suo padre l'ha sempre appoggiata tanto da assumere Syrio Forel per insegnarle a combattere. Non solo la salverà dagli uomini di Joffrey ma le impartirà una lezione importante: per sopravvivere a Westeros è importante rendersi conto della vera natura delle cose che ci circondano.
Con la morte di Ned, l'infanzia di Arya finisce e inizia un lungo viaggio. Si ritroverà prima alla corte di Tywin Lannister dal quale apprenderà che cosa significhi sacrificare tutto per un ideale, giusto o sbagliato che sia, facendo qualsiasi cosa pur di raggiungerlo. Successivamente il Mastino la cattura per ottenere un riscatto da Robb Stark. In maniera del tutto involontaria le insegnerà a controllarsi e ad agire al momento opportuno. Il suo percorso di crescita si conclude a Braavos. L'addestramento con Jaqen è difficile e Arya tocca il fondo: distrutta, cieca e piangente, rischia di rovinare il suo percorso per le sue debolezze, ossia la vendetta e l'amore per il padre e la famiglia.
Arya trasforma quella fragilità in forza, rinascendo come una fenice dalle sue ceneri dopo essere stata quasi annientata.
Ora è un'assassina senza scrupoli nei confronti di chi ha distrutto la sua famiglia, ma resta sempre profondamente umana. Uccidere è diventato facile per Arya. Ciò che le interessa non è il potere ma eliminare i nomi della sua lista.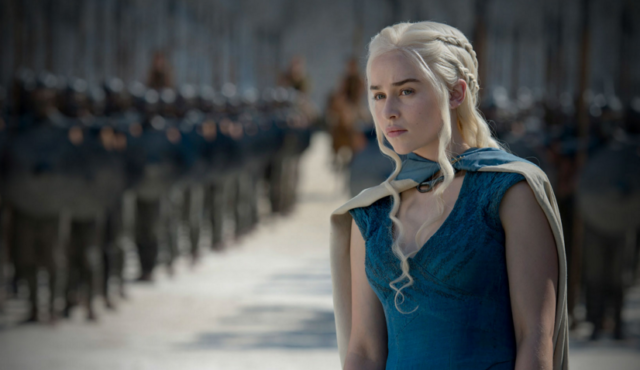 E siamo arrivati all'ultima protagonista di Game of Thrones. Daenerys Targaryen ha decine e decine di titoli che elencano tutte le sue vittorie. Eppure di sconfitte ne ha avute tante. Esiliata fin da quando era una neonata, Daenerys ha dovuto subire le angherie di un fratello che la trattava come una schiava da usare per i propri scopi. Ha perso suo marito Khal Drogo e suo figlio per una stupida vendetta. Si è dovuta arrendere alla consapevolezza di non poter controllare i suoi draghi, prendendo la dolorosa decisione di rinchiuderli per un po' di tempo.
Ha affrontato un rapimento e diverse rivolte che sembravano impossibili da sedare. È stata tradita dalle persone che amava e, a sua volta, ha tradito. Ha compiuto scelte difficili come abbandonare, nel finale della sesta stagione di Game of Thrones, l'uomo che l'amava in nome di un obiettivo più grande. Si è fatta strada in una società dedita al patriarcato come quella Dothraki.
Da ragazzina fragile e insicura è diventata una donna forte, risoluta e indurita da tutto quello che ha subito, rivelando il temperamento tipico dei Targaryen. Ma quella stessa insicurezza non l'abbandonerà mai nel corso di Game of Thrones. Il dubbio di non essere all'altezza della situazione o non abbastanza ferrata nella diplomazia è un tarlo difficile da estirpare. Daenerys è colei che oscilla costantemente tra l'assoluta padronanza di sé e la paura di non farcela.