Le serie tv ci hanno abituato già da un po' a non dare per scontato che il protagonista debba sopravvivere sempre e comunque. E alcune di quelle che hanno osato lungo questa strada, come Game of Thrones, hanno saputo giocar bene le proprie carte godendo comunque di ampio successo. Purtroppo questo non è il caso di Vikings. Vikings non ce l'ha fatta a colmare l'enorme vuoto lasciato dal suo protagonista dopo l'abbandono. Quando nella quarta stagione abbiamo assistito alla tragica morte di Ragnar Lothbrok tutti abbiamo temuto che la serie avesse appena firmato la sua condanna. Tuttavia, la speranza che così non fosse c'era ed era riposta in personaggi altrettanto carismatici e nell'eredità lasciata da Ragnar dopo la sua morte.

Ma a quanto pare gli sceneggiatori di Vikings non hanno saputo sfruttare il potenziale di questi elementi.
Eppure si trattava di piste intriganti. Un battaglione di vichinghi capeggiati dai figli di Ragnar, più inca****i del Conte di Montecristo, che invade l'Inghilterra per vendicare il suo re asfaltando chiunque si ponga sul suo cammino. Una Lagertha che ridefinisce il concetto di rancore togliendo di mezzo Aslaug per averle rubato marito e trono vent'anni prima e ristabilisce le gerarchie di Kattegat. Ivar il Senz'ossa: furia incontenibile, affamato di rivalsa, pronto a far guerra anche al vento se avesse un corpo. La morte di Ragnar è stato un colpo duro per Vikings, ma la possibilità di alleviare la pena della sua perdita c'era.
E invece ci siamo ritrovati nella quinta stagione un mash up tra i Tudors e Game of Thrones. Riuscito neanche troppo bene.
Volendo essere buoni si potrebbe considerare la prima parte tutto sommato passabile. Anche se priva della suggestiva atmosfera dei tempi d'oro di Vikings, ci ha regalato diversi momenti apprezzabili. Cosa che riesce davvero difficile dire della mid-season in corso. In ogni puntata è sempre più chiaro che gli sceneggiatori, non sapendo più dove andare a parere, buttano nel calderone un po' di tutto riuscendo nell'incredibile impresa di non "azzeccare" nulla.
In ordine sparso.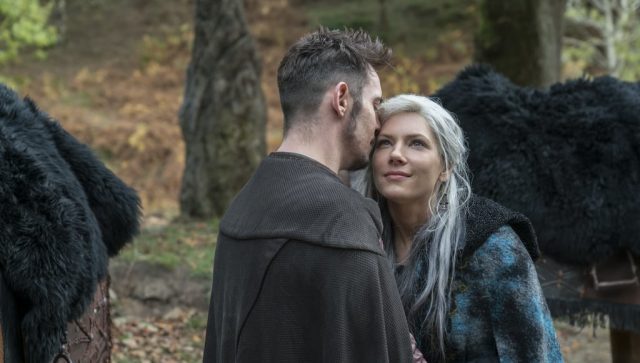 Lagertha, la shield-maiden più ca**uta della storia, si abbandona a una fuga che sembra più che altro una luna di miele. La sua nuova fiamma, il soldato di Dio che avrebbe dovuto essere la novità di questa stagione, altri non è che un fanatico con un concetto un po' distorto della fede (comunque coerente con i vescovi dell'epoca). Questo perché il curriculum di Jonathan Rhys Meyers in effetti mancava di un omicida esaltato. Rollo si lancia in un viaggio che si presume duri settimane solo per fare il gradasso con i nipoti e rivendicare dubbie paternità. Mangia cosce di pollo facendo accordi con Ivar mentre strizza l'occhio a Lagertha. La quale è comunque ancora decisa a non dargliela.
Bjorn si arrabbia e urla.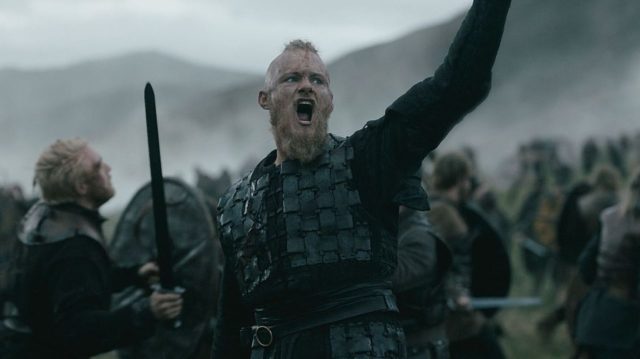 Ma a ancora per tutti noi: Ivar sposa una bionda che ci fa riconsiderare Aslaug. Perde finalmente la verginità e aver ingravidato l'amante lo fa sentire Dio. Insomma, c'è chi scappa in Messico e chi si fa adorare come fosse Odino. Hvitserk va in giro e dice cose ad Ivar. Intanto, nel Wessex, la corte di Re Alfred si mostra socievole quanto la tribù di Sentinel. Bjorn si arrabbia e urla.
Ci tocca tutto l'intreccio di complotti medievali che sta a Vikings come il parmigiano sta alla pasta col tonno.
La congiura capeggiata dal confusissimo Aethelred dura meno di un bicchiere di vino nelle mani di Tyrion Lannister. Sua madre, la regina Judith, ristabilisce l'ordine e la giustizia come se avesse appena finito un training con Cersei Lannister. Tranne per i funghi velenosi nel cibo del figlio, quello non è molto da mamma Cersei. Ubbe se ne sbatte degli dei norreni e inizia a fare politica. Bjorn si arrabbia e urla. Re Harald perde il pelo ma non il vizio. Intanto, in quello che dovrebbe essere il centro della storia di Vikings, il Senz'Ossa è una mina vagante. Hvitserk va in giro e dice cose a Ivar. Questi uccide lo storico indovino e lì capiamo che il carisma ha ceduto il passo all'esaltazione in via definitiva.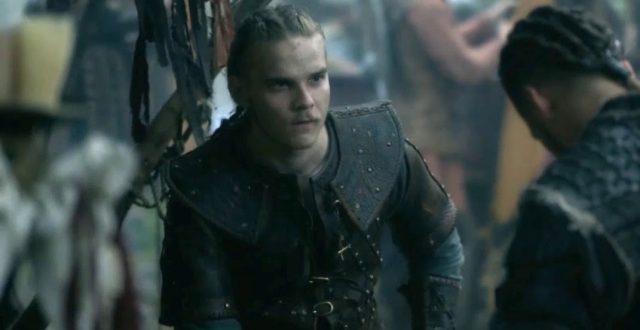 Insomma è tutto un pastrocchio di storyline che non seguono uno sviluppo appropriato o anche solo coerente con le radici di Vikings.
Certo, la deriva di Ivar ha una logica molto chiara che sarebbe risultata di gran lunga più avvincente se non si fosse risolta solo a una serie di dialoghi invasati con Fredys e Hvitserk. Il quale continua ad andare in giro e poi a dirgli cose. La dicotomia geografica che in questa quinta stagione mette così tanta distanza tra i pochi perni rimasti in Vikings purtroppo crea una voragine narrativa davvero difficile da superare. Inoltre, se da una parte svuota completamente Kattegat, dall'altra impregna eccessivamente i protagonisti di temi già triti e ritriti in altre serie tv che con Vikings hanno davvero poco da condividere.
Vikings è assalti feroci, navi che veleggiano verso terre sconosciute, battaglie a colpi di asce. È quel nucleo di principi in cui risiede la veracità dell'essere vichinghi. È la curiosità, la scoperta, la voglia di conquista, la sovrumana assenza di paure. Tutto ciò cui abbiamo quasi per nulla assistito in questi ultimi episodi.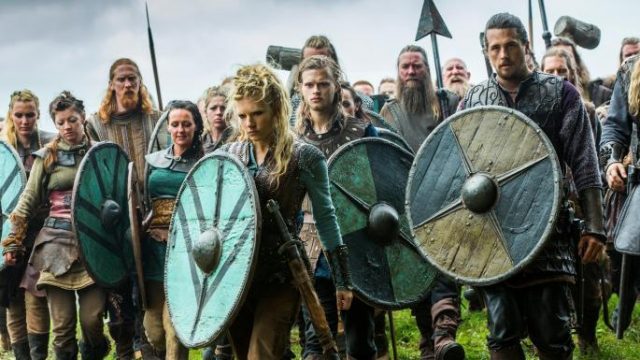 Certo, qualunque serie necessita fisiologicamente di un'evoluzione. Pretendere di portare avanti Vikings creando semplicemente dei cloni di Ragnar dopo la sua morte sarebbe stato inutile quanto ridicolo. Ma trasformarla in un qualunque period drama medievale non è stata di certo una soluzione brillante. L'inserimento così profondo di personaggi chiave della serie nelle dinamiche del Wessex ha del tutto snaturato quella che era l'essenza di Vikings. Un'essenza che sembra compromessa anche nella capacità di sviluppare appropriatamente nuove linee narrative. Il sodalizio nato tra Ubbe e Alfred, basato sull'aiuto reciproco, sui sogni dei padri e sulla fede cristiana, non è che un pallidissimo ricordo della magia che fu il rapporto tra Ragnar e Athelstan. L'amore tra Ivar e Fredys non è che sterile frutto della voglia di riscatto di entrambi. Magnus non riesce a insediarsi in maniera risoluta e tantomeno utile nella storia.
Ma soprattutto…
Qualcuno per cortesia metta le didascalie alle scene che hanno luogo in Islanda.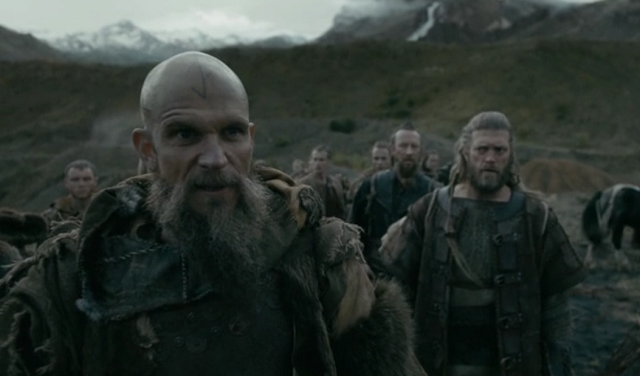 Il sogno della pacifica colonia di vichinghi nella terra promessa (?) sembra ormai Romeo e Giulietta girato a Foggia. Floki, glorioso personaggio delle passate stagioni, perde ragione d'esistere a ogni puntata in modo devastante. Ma ciò che è ancora più devastante è pensare a come una serie di tutto rispetto si stia trasformando sempre più in una specie di soap opera sudamericana. Da fan ci si ritrova ogni giovedì a premere play sul monitor sperando che la sceneggiatura riconquisti un barlume di dignità. In attesa del prossimo episodio tutte le speranze sono riposte proprio in Ivar, che sembra aver deciso di smettere di trastullarsi sul trono e invadere l'Inghilterra. Sempre che Hvizterk non continui ad andare in giro e poi gli dica cose.
Ma nonostante ciò, in fondo al tuo cuore (spezzato), lo sai che Vikings è morto in quella botola piena di serpenti assieme a Ragnar Lothbrok.