Quello che la stagione finale di Game of Thrones si è trascinata dietro, a poche settimane dalla messa in onda del suo episodio conclusivo, The Iron Throne, è una miriade di discussioni, dibattiti, polemiche e interrogativi (persino una petizione) che sembrano destinati a restare aperti almeno fino all'uscita degli ultimi due volumi delle Cronache del ghiaccio e del fuoco di Martin.
Ma se c'è una cosa che questa stagione ha saputo regalarci con tutta la sua potenza emotiva e nello stile che ha sempre contraddistinto GoT, è l'ultimo, commovente saluto tra Jaime e Tyrion.
Che poi, a pensarci bene, una cosa sulla quale la sceneggiatura di Game of Thrones non ha mai deluso è proprio la trama costruita attorno al rapporto tra i due fratelli Lannister, i leoni dorati di Castel Granito. Dai primissimi episodi fino alle battute conclusive, il duo Jaime-Tyrion è sempre stato vincente. Almeno dal punto di vista della scrittura.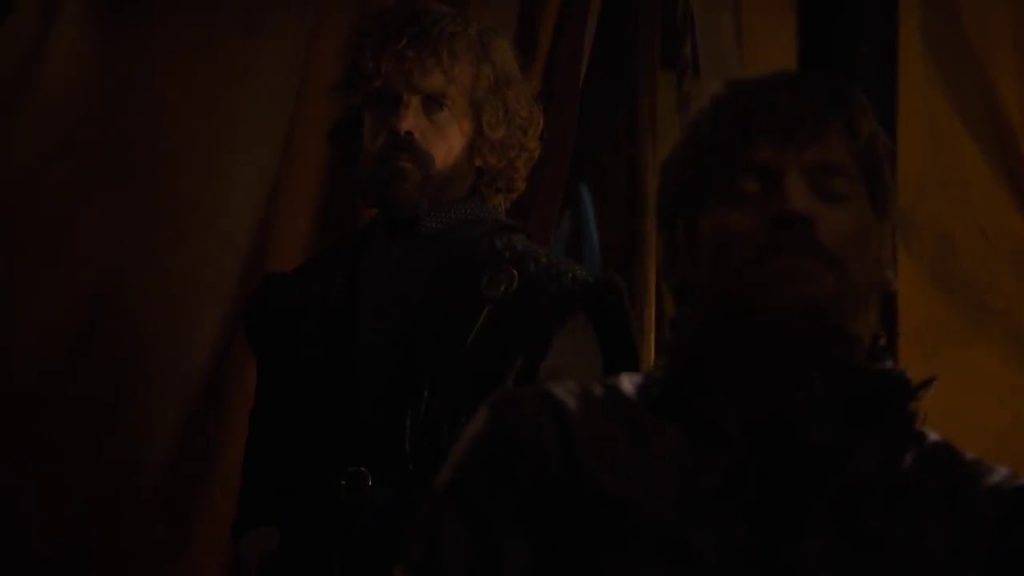 Seppur spesso relegato a melodia di sottofondo, subissato da una marea di altri filoni, trame e vicende di più immediato interesse, il rapporto tra i fratelli Lannister è tra i più autentici mai raccontati dalla serie.
Due personaggi imperfetti, ciascuno con il proprio carico di errori, macchie e ombre, che trovano nel vincolo fraterno un qualche sorprendente tipo di perfezione.
Due personaggi così diversi tra loro, eppure così straordinariamente simili.
Uno, Jaime, che si batte per l'amore e la sopravvivenza della famiglia. L'altro, Tyrion, che lotta per costruire un mondo migliore. Uno l'erede di Castel Granito e il figlio prediletto di Tywin Lannister, l'altro un nano deforme odiato dal suo stesso padre e dalla sua stessa famiglia. Il fratello bello e quello intelligente, direbbe il Folletto. Ma è insieme che Tyrion e Jaime Lannister hanno dato forma a uno dei legami più spontanei e genuini di tutta la saga.
E il commiato definitivo tra i due è decisamente uno degli aspetti più riusciti dell'intera ottava stagione.
Forse perché quando si guardano negli occhi e si abbracciano stretti, da qualche parte nel profondo dei nostri cuori, lo sappiamo che sarà per l'ultima volta. Perché stavolta è davvero la fine ed è fin troppo chiaro che uno dei due non potrà sopravvivere all'altro. Forse perché ce lo sentiamo e basta. Dopotutto, con questa serie abbiamo trascorso gli ultimi otto anni della nostra vita.
Probabilmente per tutto questo o per mille altre ragioni, quelli della 8×05 di Game of Thrones sono cinque minuti di pura poesia.
In primo piano vediamo Jaime, incatenato a un palo come nella seconda stagione, quando era prigioniero del giovane lupo Stark. Il viso è invecchiato, barba e capelli sono meno folti, ma la posa del leone in gabbia è la stessa. Sullo sfondo, Tyrion scosta i lembi della tenda e viene avanti. Sa già che quello che sta per fare gli costerà la testa, ma non arretra di un passo.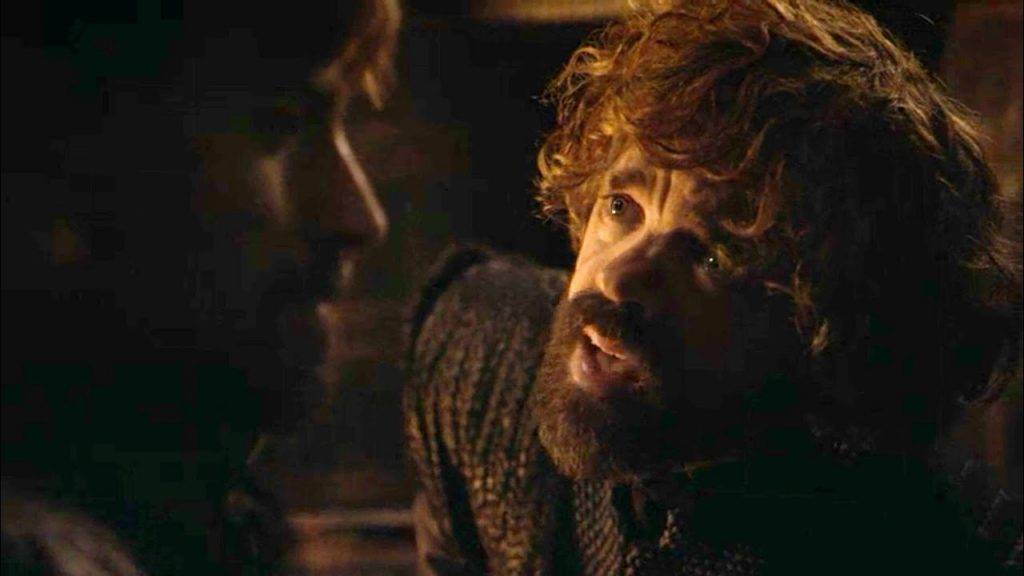 Il Primo Cavaliere di Daenerys illustra con perfetta lucidità la situazione. Sa che per Approdo del Re non c'è speranza. Sa che Cersei ha le ore contate e che la regina Targaryen conquisterà la città prima che le difese della capitale azzardino un qualsiasi tipo di contrattacco. Tyrion stavolta non beve, ma sa comunque le cose (That's what I do. I drink and I know things). E, alla vigilia della battaglia finale, cerca di salvare la propria famiglia e gli abitanti di Approdo del Re, illudendosi che i rintocchi delle campane possano arginare la follia della Mad Queen ormai vittima di se stessa.
Non credevo che ti avrei restituito il favore.
È questo che dice subito dopo aver liberato suo fratello dalle catene e aver concretizzato in parte il tradimento nei confronti della Madre dei Draghi. E a noi, che intanto siamo sul punto di esplodere, torna alla mente in un lampo il finale della quarta stagione: in quel caso fu Jaime a liberare Tyrion e ad accompagnarlo per mano a riassaporare la libertà. Anche quella volta i due fratelli si abbracciarono e si dissero addio. Ma stavolta è diverso, lo sappiamo.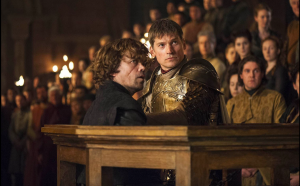 Lo sai che verrai giustiziato per questo?
È Jaime a parlare adesso, consapevole del prezzo che il fratello minore dovrà pagare in cambio della sua vita.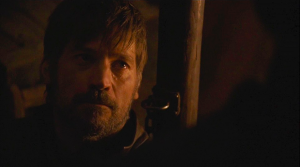 Decine di migliaia di vite innocenti e un nano che di innocente ha ben poco. Mi sembra uno scambio equo.
Silenzio. Solo silenzio e occhi che si dicono tutto. Poi Tyrion distoglie lo sguardo. E lo dice:
Se non fosse stato per te… non sarei mai sopravvissuto alla mia infanzia. Tu sei stato l'unico che non mi ha trattato come un mostro. Eri tutto ciò che avevo.
Un pugno dritto nello stomaco. La luce delle torce illumina per un attimo gli occhi bagnati di Jaime. Un momento dopo Tyrion crolla nella sua spalla. Un lungo, lunghissimo abbraccio in cui si sciolgono tutte le lacrime che avevamo avuto la forza di non tirare fuori fino a quel momento. Jaime stringe a sé suo fratello. Si guardano per un ultimo secondo, l'ultimo per sempre, poi Tyrion corre via senza voltarsi. Mai più.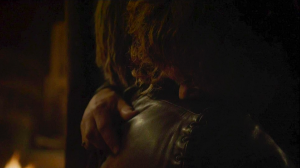 Di lì a poco, The Bells seguirà il suo corso: lo Sterminatore di re troverà la sua fine e il Folletto maturerà la decisione di abbandonare Daenerys, ma intanto, nel mezzo, ci vuole una bella garza bianca per coprire la ferita. I leoni dorati di Castel Granito non staranno mai più insieme. Mai più.
Ed è un altro pezzo di noi che scivola via.
L'ottava stagione di Game of Thrones, con tutti i suoi alti e bassi (qualcuno si è anche scusato), ci ha regalato uno degli addii più belli di sempre. Commovente nella sua inevitabilità, straziante nella sua assoluta semplicità. Ed era esattamente ciò che due personaggi come Jaime e Tyrion meritavano, e che due straordinari attori come Peter Dinklage e Nikolaj Coster-Waldau non potevano non concederci.