Sophie Turner e Joe Jonas sono belli, giovani e innamorati. Sono ormai 2 anni che hanno preso la decisione di compiere il grande passo finito il duro lavoro di Game Of Thrones.
Joe Jonas tempo fa ha dichiarato i loro progetti: i due giovani si sarebbero sposati nell'estate 2019 in Francia, ma c'è stato un cambio di programma ed il matrimonio è stato celebrato a sorpresa!
Sophie Turner e Joe Jonas si sono sposati a sorpresa a Las Vegas subito dopo i Billboard Music Awards 2019.
Il cantante e la star di Game Of Thrones hanno optato per un matrimonio lampo ufficiato dal classico Elvis di Las Vegas in tenuta rosso fuoco.
Era una cerimonia in gran segreto fino a quando il DJ americano Diplo ha postato sulle sue Instragram Stories l'arrivo della sposa e l'attesa all'altare dello sposo.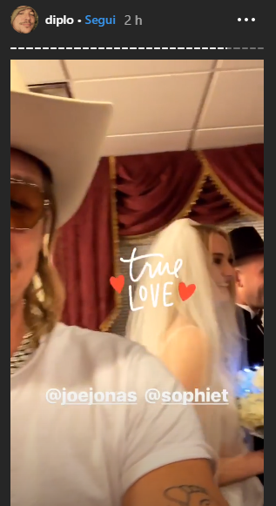 E del divertentissimo matrimonio estivo in Francia che cosa ne è stato?
Viste le presenze (e le assenze) a questo matrimonio lampo è molto probabile che la coppia ripeta le proprie promesse in una cerimonia più ufficiale e che quindi il grande matrimonio di cui hanno sempre parlato si farà.
Non era infatti presente Maisie Williams, collega in Game Of Thrones, ma anche grande amica e damigella d'onore ufficiale di Sophie.
Le ultime puntate di Game Of Thrones stanno andando in onda, Sophie con questa bella sorpresa ci sta distraendo dalla brutte sensazioni che ci provoca la fine dello show.
Lei è lo spirito della festa, le Instragram Stories di Diplo lo confermano, Sophie aveva l'espressione raggiante, nonostante la scelta leggermente kitsch del matrimonio.
Se avete voglia di vedere qualche video originale, correte sul profilo del DJ di cui vi parlavo sopra, perchè sappiamo che le Instagram Stories durano solo 24 ore!
Non è ancora chiara la motivazione che ha spinto i due novelli sposi a celebrare il loro matrimonio a Las Vegas, proprio non potevano aspettare, il loro amore stava traboccando!
Attendiamo le future dichiarazione, o almeno qualche news sulla luna di miele! Stay Tuned!
LEGGI ANCHE – Game of Thrones 8×03 – Non oggi