Se Game of Thrones tra pochi mesi volgerà al termine dopo la diffusione della data ufficiale di uscita e il teaser trailer (che puoi trovare qui), l'universo creato da George Martin ha ancora molto da dirci.
Da molti mesi ormai è stata diffusa la notizia della produzione da HBO di un prequel, che dovrebbe chiamarsi "The Long Night".
Il prequel, essendo ambientato molti anni prima delle vicende di Game of Thrones, si occuperà di spiegare i fatti relativi alla Lunga Notte (da qui il probabile titolo sopracitato), l'origine degli estranei e la consequenziale nascita del Re della Notte.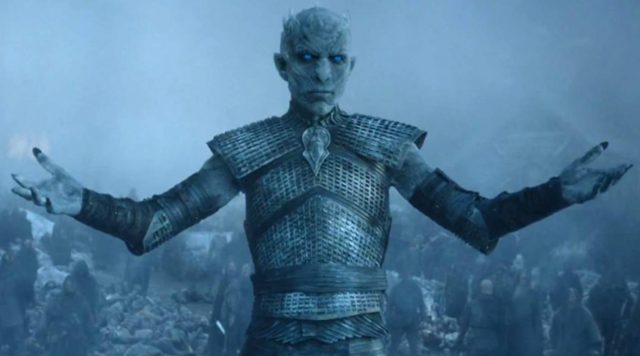 Tutto molto interessante, ma ancora molto lontano e teorico, anche se in questi giorni una delle attrici prescelte ha rivelato qualcosa di più concreto (ed era ora).
Naomi Watts, protagonista indiscussa del prequel, ha dapprima dribblato la domanda diretta di Variety rispondendo così:
Pensi davvero che ti dirò la trama? Stai cercando di prendermi alla sprovvista?
In seguito però rivela le sue impressioni a caldo dopo la ricezione dello script di questo primo spin-off di Game of Thrones:
Game of Thrones è un mondo fantastico, no? Penso che ci siano così tanti elementi geniali in quella serie che la rendono molto eccitante, molto attraente. Non voglio scavarmi una fossa qui con te. Tutto quello che voglio dire è che sarà molto eccitante, lo dirò ancora e ancora e ancora senza aggiungere nient'altro.
Il genio di George R.R Martin sembra aver creato uno script eccitante per Naomi Watts che di certo di sceneggiature accattivanti ne ha lette parecchie nella sua carriera.
Il cast di questo prequel è stato annunciato non molto tempo fa, tra attori che avevano già toccato con mano gli ambienti di Westeros come Jamie Campbell Bower (di cui non si è vista la partecipazione nelle scene definitive, come abbiamo evidenziato qui) e altri completamente sconosciuti (in questo articolo tutto il cast già confermato).
Naomi Watts è sembrata esaltata per questo nuovo progetto che ancora viene accolto con diffidenza. Adesso siamo tutti sintonizzati su Game of Thrones, la serie madre: obiettivo 14 aprile 2019!