L'attesa per Game of Thrones è tanta: finalmente potremo scoprire come si concluderanno le vicende di Westeros. L'ottava e ultima stagione arriverà infatti sulla HBO il 14 aprile 2019.
Man mano che ci avviciniamo alla fatidica data iniziano a emergere anticipazioni: la HBO ci ha mostrato il primo incontro tra Sansa e Daenerys a Grande Inverno (Winterfell). Ha inoltre rilasciato anche un teaser con protagonisti Sansa, Jon e Arya nelle cripte degli Stark.
In attesa degli episodi dell'ottava stagione di Game of Thrones, la HBO ha rilasciato anche un teaser alternativo. I personaggi che conosciamo e amiamo diventano protagonisti di un arazzo.
Il video è stato realizzato dalla Mirari + Co., studio specializzato negli effetti speciali. Loro, come affermano sul sito, "hanno elaborato e realizzato ogni scena e personaggio prima su carta, per poi unirla in un pezzo d'arte epico". Poi, insieme a citazioni dalla serie tv, hanno "utilizzato avanzati effetti di rendering per mostrare il processo di tessitura e realizzare un arazzo realistico negli spazi della CG".
Il risultato è un video in cui vengono mostrati alcuni dei momenti più importanti della serie tv. Vediamo la nascita dei draghi di Daenerys (Emilia Clarke), gli Immacolati, Tyrion (Peter Dinklage) in catene e Cersei (Lena Headey) sul trono. Ci mostra anche il matrimonio tra Rhaegar Targaryen e Lyanna Stark e Jon Snow (Kit Harington) con il metalupo Spettro.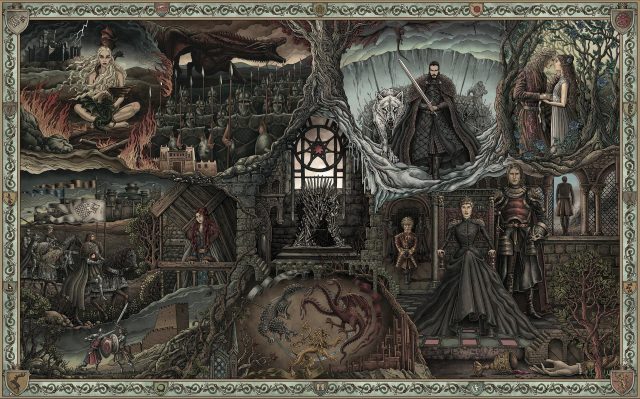 L'illustrazione dell'arazzo è stata realizzato da Bubug, artista che trovate su Deviantart con le sue opere, molte a tema Game of Thrones.
Questo non è l'unico arazzo dedicato alla serie tv. Infatti, all'Ulter Museum di Belfast c'è un arazzo che porta in vita le battaglie e gli eventi di Westeros. Game of Thrones ha un posto speciale nel "cuore" dell'Irlanda del Nord, dato che molte scene sono state filmate in varie località nordirlandesi e negli studi di Belfast.