Attenzione: evitate la lettura se non volete imbattervi in spoiler su Game of Thrones
In Game of Thrones ci sono molte relazioni significative. Ma in particolar modo, non è facile parlare di questa relazione, perché bisogna innanzitutto dimenticarci a chi ci stiamo riferendo. In che senso, vi chiederete voi. Perché questa non è una relazione tra due cavalieri del Re piuttosto brutali, due uomini fatti e finiti che fanno della violenza la loro unica bussola in un mondo terribile: è la relazione tra un violentatore e la sua vittima. Ed è ancora molto difficile – quasi stigmatizzante – parlare di "vittima" quando di fronte abbiamo uno come Sandor Clegane, chiamato il Mastino.
"Alcuni ragazzi fortunati nascono con un talento nella violenza".

Ditocorto
Gregor Clegane è uno dei personaggi più sfuggenti di Game of Thrones. Descritto da giovane solo nel suo puro atto di violenza contro il fratello minore, da adulto non ne sapremo molto di più. Sappiamo che è molto violento, che gode di questa violenza e non sopporta perdere. Quest'ultima caratteristica è fondamentale, perché la vediamo sia nel primissimo fotogramma in cui lo conosciamo (il torneo del Primo Cavaliere nella prima stagione) sia nel primo ricordo che Sandor ha di lui, quando appunto gli spinge la faccia sul fuoco vivo perché gli ha preso un giocattolo. Da quel poco che sappiamo, Gregor potrebbe essere uno psicopatico sadico.
Sandor Clegane è il prodotto di quella violenza, in qualche modo è il rappresentante-simbolo di tutte le vittime della Montagna, nonché probabilmente la sua prima vittima. Il Mastino soffre di chiari sintomi di Stress Post-Traumatico, un disordine mentale che si sviluppa dopo un forte trauma. Il Mastino, infatti, vive e rivive costantemente il trauma subito dal fratello attraverso sogni, flashback, ricordi e prova una sincera, profonda e atavica paura per il fuoco. Se già il Disturbo da Stress Post-Traumatico porta a sentimenti di depressione, irritabilità, ira, violenza, la relazione tra il Mastino e la Montagna è molto più complessa di così.
Il mondo di Game of Thrones: homo homini lupus
"La cosa peggiore è che è stato mio fratello a fare questo e mio padre lo ha protetto".

Sandor Clegane, il Mastino – Game of Thrones
Il fatto che sia stato proprio un membro della famiglia – una di quelle persone che dovrebbe amarti senza condizioni e dovrebbe proteggerti – a ferire il Mastino ha causato un trauma profondo nel Mastino non solo di carattere psicologico, ma anche comportamentale. L'idea che anche nella famiglia non esista amore ma solo violenza, ha portato Sandor a crescere con l'idea che l'uomo sia profondamente e irrimediabilmente cattivo. Avremo continui indizi di quest'aspetto psicologico del Mastino lungo tutto Game of Thrones: il Mastino dice ad Arya che l'odio è un ottimo modo per andare avanti e cerca d insegnare a Sansa la verità sulla vera natura dell'essere umano.
"Il mondo è costituito di assassini".

Il Mastino a Sansa – Game of Thrones
Ma non è tutto, perché quello che affligge Sandor Clegane più di tutto è che, nonostante la sua perversa violenza senza scopo, suo fratello abbia successo: ha ereditato le proprietà di famiglia (probabilmente uccidendo i loro genitori) e è diventato cavaliere. Questo ha portato il Mastino ad accumulare nel tempo sempre maggiore rancore non solo nei confronti di Gregor, ma del mondo in cui vicino: quale mondo può premiare un mostro del genere? Ecco quindi che sviluppa una seconda idea, che lo perseguiterà per gran parte della vita: peggio sarai e più verrai premiato. Ecco che il Sandor Clegane che conosciamo, il Mastino del Re, prende forma plasmato dalla brutale violenza di suo fratello.
Così Sandor Clegane diventa un violento a sua volta, si fa chiamare "Il Mastino" – come un cane da guardia agile, grosso, potente e che non si arrende mai. Ma l'altra caratteristica del cane come animale è l'essere fedele in ogni caso, senza fare domande, senza discutere gli ordini. Sandor mette il pilota automatico e comincia ad agire come suo fratello, e il mondo, gli hanno insegnato: con violenza e disonestà, bevendo il più possibile per anestetizzare quella parte di sé che ancora sente qualcosa. La rabbia furibonda cresce parallelamente al suo cinismo e alla sua visione assolutamente sprezzante del mondo.
Il fuoco: terrore e salvezza
Il fuoco è parte integrante della relazione perversa tra il Mastino e la Montagna. Gregor ha, suo malgrado, plasmato Sandor attraverso il fuoco e come tale l'ha battezzato come il Mastino, servo muto e fedele di un qualsiasi padrone, animale rabbioso da tenere a freno. La paura traumatica di Sandor per il fuoco è disseminata lungo tutto Game of Thrones, eppure il fuoco non è solo è soltanto ferita per lui. Ironicamente il Mastino si ritroverà spesso a contatto col fuoco e con la Fratellanza Senza Vissilli. La prima volta è quando affronta Beric Dondarrion e la sua spada di fuoco, l'ultima è quando ha una visione proprio osservando intensamente il fuoco. Quest'elemento è simbolicamente importante perché rappresenta la necessità di Sandor di dover affrontare la sua paura, attraversandola. Cosa che farà alla fine della serie, quando affronterà finalmente la Montagna in una battaglia finale che li vedrà entrambi morti, probabilmente bruciati dal fuoco che sta attanagliando Approdo del Re.
Ancora una volta il fuoco: elemento di perverso battezzo alla violenza nell'infanzia, elemento di cambiamento del mezzo, ultimo elemento di purificazione e forse espiazione alla fine della vita.
La Montagna e il Mastino: un legame che va oltre la morte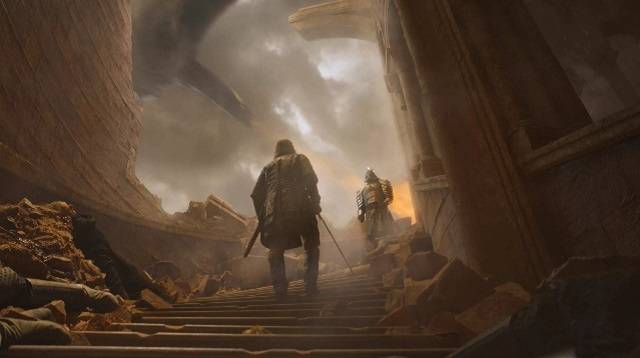 Il legame tra la Montagna e il Mastino è così contorto e visceralmente profondo da seguire entrambi oltre i confini naturali della vita. Vale la pena sottolineare infatti come questi due personaggi – che in realtà s'incroceranno poco nel corso della serie – vivranno uno sviluppo parallelo e quasi contrapposto davvero affascinante. Entrambi i personaggi muoiono, in qualche modo, ed entrambi subiscono un cambiamento radicale che sono uno il rovescio negativo dell'altro. Se la Montagna muore piuttosto palesemente a causa del veleno della Vipera alla fine della quarta stagione, il Mastino muore metaforicamente alla fine della quinta stagione e viene lasciato a morire da Arya Stark.
Da qui in poi i loro destini si rovesceranno: Gregor si trasformerà nello zombie silente, guscio vuoto di violenza che già era in vita, compiendo la sua naturale e abominevole trasformazione. Sandor si trasformerà invece in un umile contadino, specchio esterno della sua anima profondamente gentile e anche indifesa. Fino a questo momento il Mastino non aveva fatto altro che perpetrare il trauma che gli era stato inflitto, esattamente come una vittima di abusi che perpetra gli stessi su qualcun altro. Conoscere delle anime gentili porta Sandor a spezzare quella che era la sua visione cinica del mondo e fa nascere in lui la speranza. Speranza che in realtà esisteva già in lui nell'incontrare anime spaurite, buone e bisognose d'amore come in realtà è lui, come succede con le due sorelle Stark.
Purtroppo l'idillio durerà poco, perché lo sterminio della sua nuova comunità gli ricorderà il rancore sopito in lui per tanto tempo e il sangue versato dai corpi di quella anime buone tornerà a macchiargli l'anima, questa volta per sempre. Purtroppo questa può essere considerata l'unica vera volta in cui il Mastino proverà a rompere il cerchio di violenza e distruzione in cui è nato e cresciuto. Sebbene si unirà nuovamente alla Fratellanza e contribuirà alla salvezza del mondo, la vendetta verso la Montagna tornerà a mordergli lo stomaco e non si sopirà fino allo scontro finale.
La battaglia della Montagna e del Mastino sulle mura di Approdo del Re assume più il significato di uno sfogo definitivo dell'anima ferita di Sandor che un vero scontro tra i due, perché la verità è che il Mastino si rende conto che suo fratello non è già più lì. Tutte le sofferenze che quest'ultimo ha patito durante la morte per il veleno e la trasformazione cosciente in zombie dovrebbe essere sufficiente, ma la speranza ha ormai abbandonato Sandor che capisce quanto suo fratello, la violenza, la rabbia e il fuoco siano tutto ciò che ha. Dopo aver dissuaso Arya a non essere come lui, Sandor va comunque incontro alla sua stessa morte con sicurezza e, quando si rende conto che quel guscio vuoto è potenzialmente immortale, non ci pensa due volte a buttarsi nel vuoto, pur di ucciderlo e liberare il mondo di un poco di violenza.
Perché qualunque cosa avesse provato a dimostrare Sandor Clegane, quello che noi abbiamo visto davvero di lui sono i piccoli gesti di pietà e amore che si nascondevano dietro all'immagine butterata e alle battute rudi; il disperato desiderio di cambiare vita e buttarsi tutto alle spalle; l'inespresso bisogno di essere amato dalla famiglia insieme alla consapevolezza che non avrebbe mai ottenuto una vera risposta al "perché l'hai fatto?" e, di conseguenza, non avrebbe mai ottenuto davvero la pace. Così, in un solo istante, ha deciso di lanciarsi in braccio alla sua atavica paura e nel fuoco espiare tutte le colpe di cui entrambi i fratelli si sono macchiati nel corso della vita e cancellare, col sangue in fiamme, i rancori e le violenze i un'intera esistenza.