Suvvia, la love story di Jon Snow e Daenerys Targaryen non poteva finire bene. E non solo perché il bastardo di casa Stark era il nipotino preferito della Madre dei Draghi. La loro era una relazione che, se non fosse finita con la morte di uno dei due, avrebbe probabilmente ammazzato tutti noi di noia.
Lei un'esiliata in cerca di rivalsa, una regina in cerca del suo trono. Lui un ragazzo semplice del Nord, cresciuto in mezzo ai lupi e alla neve, con pochi principi cardine da seguire e un alto senso del dovere. In Game of Thrones abbiamo visto anche coppie peggiori, ma quella tra Jon e Daenerys era un'accoppiata destinata al fallimento. Se non altro perché c'era una grossa sedia di ferro a frapporsi tra i loro sentimenti.
E poi, diciamocela tutta, Jon Snow prima del She's my queen aveva tutto un altro appeal.
Quando era ancora giovane e spensierato – si fa per dire – il suo cuore batteva per qualcun'altra. No, non la Confraternita dei Guardiani della Notte. O, almeno, non solo quella.
Prima di diventare il legittimo erede al Trono di Spade, Jon Snow era solo il bastardo di Grande Inverno, un corvo che aveva condiviso il desco con i Bruti oltre la Barriera.
E quella tra lui e Ygritte è una delle storie più romantiche di Game of Thrones.
Due temperamenti diversi, due mondi agli antipodi, eppure così magneticamente compenetranti. La verità è che Jon Snow è sempre stato perfetto per Ygritte. E Ygritte è sempre stata perfetta per Jon Snow, non ce ne voglia la Madre dei Draghi.
Ma scopriamo perché.
1) Nelle loro vene scorre il sangue del Nord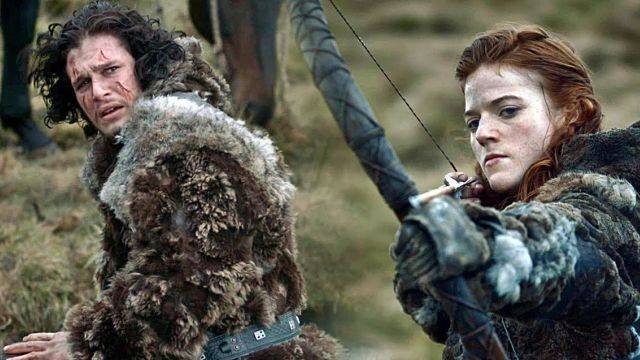 Sarà pure venuto al mondo nel cuore del Sud, sarà pure Aegon Targaryen il suo vero nome, ma Jon Snow è ed è sempre stato un uomo del Nord. Ha tutti i tratti degli uomini del Nord: il carattere un po' schivo e ombroso, senza fronzoli, quel modo di fare così essenziale e sobrio, attento alla sostanza più che alla forma. La fedeltà, il senso dell'onore e quel coraggio che sa di libertà e quella libertà che sa di coraggio.
Ma l'indole di Jon Snow si colloca ancora più a Nord di Grande Inverno. Il suo è uno spirito libero e puro, adatto a girovagare tra le immense distese innevate oltre la Barriera e non a sottostare alle regole e alle dinamiche degli uomini del Sud. Ygritte questo lo aveva capito dal primissimo istante. Se tra loro è subito scoccata la scintilla, è perché sono entrambi spiriti che appartengono al Nord. Al Nord libero e senza frontiere.