Attenzione: evitate la lettura se non volete imbattervi in spoiler sulla settima stagione di Game of Thrones 
Tyrion lo sa fin troppo bene: quando si parla di Game of Thrones, l'amore è un pericolo mortale. Noi, alla ricerca di una risposta allo sguardo enigmatico col quale si era chiusa la settima stagione, avevamo analizzato questo elemento con una teoria suggestiva (trovate il link in fondo al pezzo), e ci abbiamo ripensato negli ultimi giorni, nel vano tentativo di contrastare lo stress post traumatico da season finale. Dove vogliamo andare a parare? L'obiettivo è sempre lo stesso: scoprire come si concluderà questa meravigliosa storia. E quello sguardo si rivelerebbe essere un sinistro presagio anche nel caso in cui si concretizzasse l'ipotesi che svilupperemo oggi.
I protagonisti sono ancora loro, Jon e Daenerys. E lo è più di tutto l'amore che li unisce, esploso in una notte in mare dalle mille sfumature. Ci regalerà un lieto fine? Forse sì, ma, clamorosamente, per mano di una tragedia. Se ci pensate, entrare nei meccanismi di Game of Thrones implica la necessità di non contemplare in alcun caso un'idea di felicità che prescinda da un prezzo da pagare. Il bicchiere non è mai pieno, e non ci resta altro che non vederlo mezzo vuoto. Qualcuno vivrà felice e contento, qualcun altro no. E non si può escludere a priori che gli Estranei non possano uscire vincitori dalla Grande Guerra. Se guerra sarà. Perché un matrimonio potrebbe salvare l'umanità e lasciarci in balia di una miriade di emozioni contrastanti. Non ci credete? Approfondiamo la questione.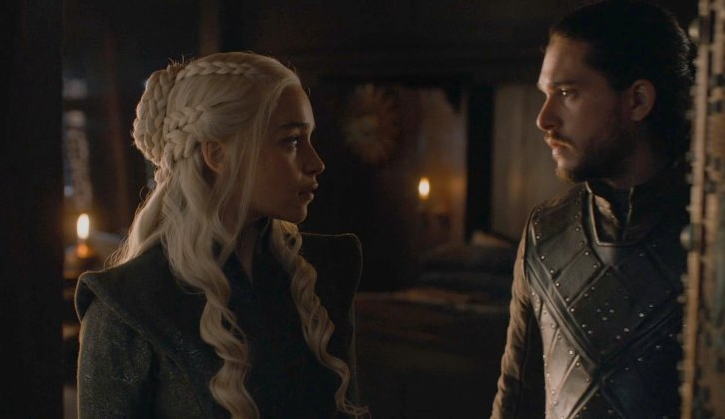 Ci giriamo intorno da tempo: il legame tra Jon e Daenerys è la chiave di volta che ci porta dritti al finale di Game of Thrones e, forse, dei romanzi di Martin. In occasione dell'ultima recensione della settima stagione, avevamo ipotizzato che l'unione potesse portare alla nascita di un erede e ad una morte di parto di Daenerys che sovrapporrebbe il figlio di Rhaegar al leggendario Azor Ahai e l'ultima Targaryen all'amata Nissa Nissa, ma un utente di Reddit ha proposto una teoria (qui trovate la versione originale) che ci convince maggiormente, arrivando con presupposti diversi alla stessa conclusione. Se la suggestione diventasse realtà, Jon sarebbe costretto ad uccidere Daenerys per stringere un patto con gli Estranei, mettere fine ad una guerra che danneggerebbe ambo le parti e (ri)scrivere una storia fatta, ancora una volta, di corsi e ricorsi. La Portatrice di Luce non sarebbe l'arma di distruzione che abbiamo sempre immaginato, ma il mezzo di costruzione di una nuova era.
In fondo sappiamo poco sia dell'Azor Ahai che delle reali intenzioni degli Estranei. Perché il primo si è trovato costretto a "spingere la spada fumante nel cuore pulsante di sua moglie" affinché "il sangue, l'anima, la forza e il coraggio di lei diventassero una cosa sola con l'acciaio"? È solo una metafora come abbiamo pensato più volte? Oppure andrà realmente così? E, riguardo i secondi, siamo sicuri che siano i nemici giurati di questa grande storia? Vogliamo escludere a priori che, come ipotizzato dal nostro Alessandro Fazio in un articolo di qualche tempo fa, la loro non sia altro che una risposta ad un'invasione umana al di là della Barriera? Possiamo non tenere in considerazione l'idea che la prima Lunga Notte si sia conclusa con un accordo pacifico tra le due parti? Non possiamo farlo, e l'ideatore di questa teoria pensa altrettanto.
Martin, d'altronde, ha più volte dichiarato che i suoi libri, a differenza degli altri romanzi fantasy, non celebrano la "gloria della guerra". E allora che senso avrebbe chiudere la saga con quella che diventerebbe una delle battaglie più maestose della storia della narrativa? Un armistizio sarebbe maggiormente coerente con quel che ha affermato l'autore. Partendo da questo presupposto, la teoria afferma quindi che gli Estranei stiano salvaguardando la propria sopravvivenza, messa a repentaglio dalla violazione di due dei punti dell'ipotetico accordo stipulato al termine della prima Lunga Notte.
Quali sarebbero? La donazione di frequenti sacrifici umani che portino avanti la specie estranea (altrimenti incapace di riprodursi), e la cessazione dell'utilizzo della minacciosissima magia del fuoco. Il primo punto è venuto meno con la morte di Craster, il quale donava al Night King tutti i suoi figli maschi, poi trasformati in Estranei. Il secondo, invece, è stato violato inconsapevolmente da Daenerys con la nascita dei suoi draghi. Non a caso, la marcia del presunto grande nemico di Game of Thrones è iniziata dopo questo evento.
Come si può uscire da un'impasse del genere? Se davvero Game of Thrones è una storia fatta di corsi e ricorsi (e lo è), è lecito immaginare che un secondo armistizio (fondamentale per tutti) possa ricalcare il primo, gli umani mettano fine alla magia del fuoco, concedano dei sacrifici per evitare l'estinzione degli Estranei e questi si ritirino oltre una (nuova) Barriera. E a quel punto l'unica opzione possibile sarebbe l'uccisione di Nissa Nissa da parte dell'Azor Ahai ma, a differenza di quanto si è pensato finora, "spingere la spada fumante nel cuore pulsante di sua moglie" la trasformerebbe… in un'Estranea, come sarebbe già successo alla prima incarnazione. Il matrimonio tra i due, come sempre accade nel mondo di Game of Thrones, suggellerebbe l'accordo tra le due parti e ripristinerebbe gli equilibri rotti dalla violazione dei punti prima citati, eliminando la minaccia più pericolosa per il Night King e riportando la pace nei due mondi. Aggiungiamo inoltre che, a ulteriore dimostrazione della bontà delle intenzioni dell'Azor Ahai, il figlio che probabilmente nascerà dall'unione di Jon e Daenerys potrebbe essere trasformato a sua volta, come succedeva agli eredi di Craster.
La teoria crea un parallelismo intrigante con le origini del primo Night King (raccontate nei libri). Il Re della Notte in questione, infatti, è un leggendario Lord Comandante dei Guardiani della Notte (chi vi ricorda?). A un certo punto, l'uomo (uno Stark, secondo molti. Chi vi ricorderebbe?) si innamora di una donna "dalla pelle bianca come la luna e gli occhi come stelle azzurre", proclamandola poi sua regina. Di questa donna si afferma anche che abbia la pelle "fredda come il ghiaccio", spingendo molti a pensare possa essere un'Estranea. Il Re della Notte è una figura spietata e malvagia, fautrice di svariati sacrifici umani. Per questo motivo, quando viene sconfitto, il suo nome è bandito e il suo ricordo cancellato. Ma se la realtà fosse un'altra? Le vicende più scomode, d'altronde, sono soggette al revisionismo storico: perché escludere l'opzione? E se questa fosse la riedizione del matrimonio capace di sancire la pace tra uomini ed Estranei? E se la presunta storia del Night King fosse invece la vera storia dell'Azor Ahai? La teoria diventerebbe molto più convincente.
Alla luce di questa teoria, inoltre, un elemento presente nella seconda stagione di Game of Thrones potrebbe esser riletto sotto una nuova luce. Ricordate cosa udì Daenerys nella Casa degli Eterni? Tra le altre cose, si sentì definire "Madre dei Draghi, figlia della morte", "Madre dei Draghi, uccisore di menzogne" e "Madre dei Draghi, sposa del fuoco". Se la teoria si rivelasse vera, si riferirebbero al suo destino da Nissa Nissa. Nello stesso "sogno", peraltro, Khal Drogo la chiamò, come faceva in vita, "luna della mia vita", creando una pericolosa assonanza con il riferimento alla "sposa cadavere" riportato in precedenza ("dalla pelle bianca come la luna"). Tre indizi non fanno una prova e talvolta è così anche quando sono trenta, ma la teoria è ben articolata e rappresenta indubbiamente una grande suggestione.
Il ghiaccio, incarnato da Jon, si fonderebbe col fuoco dell'Azor Ahai, mentre il fuoco, rappresentato da Daenerys, si unirebbe al ghiaccio degli Estranei, dando vita ad un'ultima pagina delle Cronache che ci regalerebbe delle sensazioni contrastanti. Per lo più, paradossalmente, positive. Piangeremmo per la triste sorte di un amore che riuscirebbe tuttavia a sopravvivere alla morte, sorridendo al pensiero di un intero mondo salvato dal martirio della donna che ha vissuto un'intera vita in funzione della sua conquista. Soprattutto, usciremmo indenni (o quasi) dal famigerato Inverno, la cui minaccia alberga da anni nelle nostre menti. L'enigmatico Tyrion, questo, non può saperlo: l'amore è un pericolo mortale, ma stavolta potrebbe trasformarsi nella più grande arma di salvezza di massa che l'uomo abbia mai conosciuto. E il bicchiere, nonostante tutto, sarebbe mezzo pieno.
Antonio Casu