Le campane del penultimo episodio dell'ottava stagione di Game of Thrones sono suonate un'altra volta. Segnano la fine di un uomo che aveva capito tutto, prima di chiunque altro. Non Jon, impotente di fronte alla pazzia della sua amata. Non Tyrion, accecato dalla fiducia incondizionata in Daenerys.
Dopo aver saputo che Jon era un Targaryen, Varys aveva subito riconosciuto in lui un sovrano migliore di Daenerys. Sapeva che non sarebbe uscito vivo se avesse provato a rovesciare Daenerys in favore di Jon ma, nella sua mente, era la cosa giusta da fare. È pronto a sacrificarsi in nome di un potere che dovrebbe aiutare il popolo, non servirsene. Un tradimento che la Madre dei Draghi punisce in maniera brutale e fredda.
"I hope I deserve this. Truly, I do. I hope I'm wrong. Goodbye old friend"
Sono parole profetiche di un uomo che non si è mai proclamato eroe ma che resta fedele ai suoi ideali fino alla fine. Nei suoi ultimi momenti non temeva la morte, ma di aver contribuito a consegnare Westeros a uno spietato dittatore. Quello che dice Varys, il suo sacrificio, è essenziale per far aprire gli occhi a Tyrion. Lo saluta nello stesso modo in cui lo aveva fatto quando i due si erano riuniti a Meereen nel finale della quinta stagione di Game of Thrones.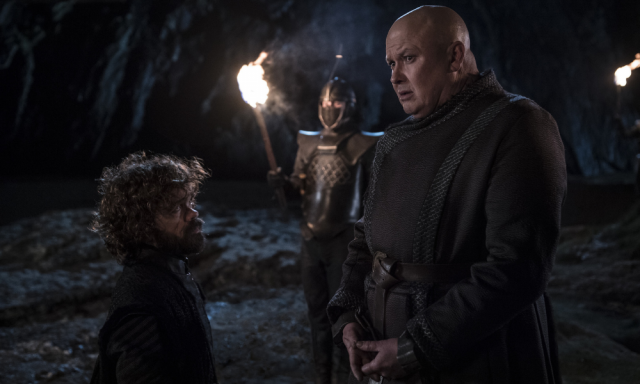 La storia e l'amicizia di questo dinamico duo parte da lontano.
Tyrion Lannister è noto per la sua intelligenza tanto quanto per il suo aspetto. Accetta la sua condizione, il suo essere un nano, e lo usa spesso a suo favore. Più volte Primo Cavaliere, si è occupato di finanza, di politica, ha preso decisioni militari astute e ha offerto discorsi stimolanti e incoraggianti quando necessario.
La sua storia lo ha reso sorprendentemente umile. Certo, gli piacciono i vantaggi della sua posizione ma non dimentica mai il suo passato. La sua famiglia non lo ama, eccetto Jaime, ed è stato costretto a fuggire per evitare di essere ucciso. Ha un straordinario superpotere: riesce a trarre il meglio dalle peggiori circostanze.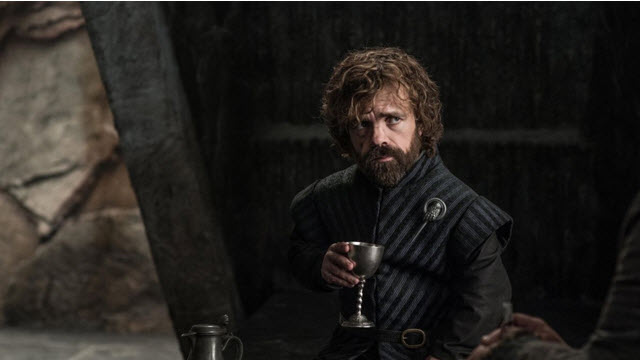 Le origini di Varys sono tutt'altro che nobili e il suo titolo è puramente onorifico. Gestisce una fittissima rete di spie composta principalmente da bambini e difficilmente qualche notizia sfugge al suo orecchio. È un grande pianificatore e una delle persone più empatiche di Game of Thrones. È stato al servizio di diversi re e regine, cercando di attenuare la loro cattiveria e i loro impulsi peggiori. Non è incline ai vizi, rappresenta l'equilibro di Westeros. Ha il coraggio di fare le domande che nessuno osa chiedere e comprende i bisogni della gente più di ogni altro.
Tutto quello che fa di bello o di brutto è per il bene del Regno. Non di re, di regine o di lord, ma delle milioni di persone che moriranno se il trono finirà nelle mani sbagliate. Non sa i loro nomi, ma sono reali, meritano di vivere, meritano il cibo per i loro figli. Lo dice a Tyrion prima di tradire Daenerys. Lo dice a Ditocorto nella terza stagione e a Ned Stark nella prima stagione di Game of Thrones.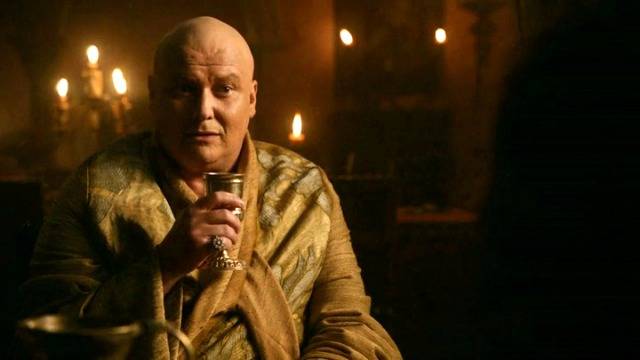 Non vuole il Trono di Spade, come del resto nemmeno Tyrion. I due si rispettano molto nelle prime stagioni di Game of Thrones ma non si fidano completamente l'uno dell'altro.
Tyrion: "Lo sai una cosa, Lord Varys? Certe volte ti vedo come il mio migliore amico in tutta Approdo del Re. Altre volte credo che tu sia il mio peggior nemico."

Varys: "Ma che stranezza, mio lord. Anch'io penso esattamente la stessa cosa di te"
Varys è sempre stato un importante alleato politico quando Tyrion era il Primo Cavaliere del re. Però non si espone mai in prima persona, agisce nell'ombra, tiene le sue aspirazioni e i suoi segreti ben nascosti. Per questo è così difficile fidarsi di lui. D'altro canto, l'enunco ha visto immediatamente in Tyrion un complice pieno di risorse e dalla mentalità giusta, che poteva aiutarlo a rendere il mondo un posto migliore. Lo ha aiutato nel Gioco del Trono, facendogli capire che il potere non deriva da una corona in testa. Il potere risiede dove gli uomini credono che sia. Sono le persone del popolo che scelgono di obbedire, per un motivo o l'altro, e dare quel potere a qualcuno.
La loro alleanza si trasforma in qualcosa di più, soprattutto dopo che Varys ha aiutato Tyrion a scappare da King's Landing, evitando così di essere ucciso. Diviene comprensione reciproca, affetto e amicizia profonda tanto che i due non hanno paura di parlare a cuore aperto l'uno all'altro.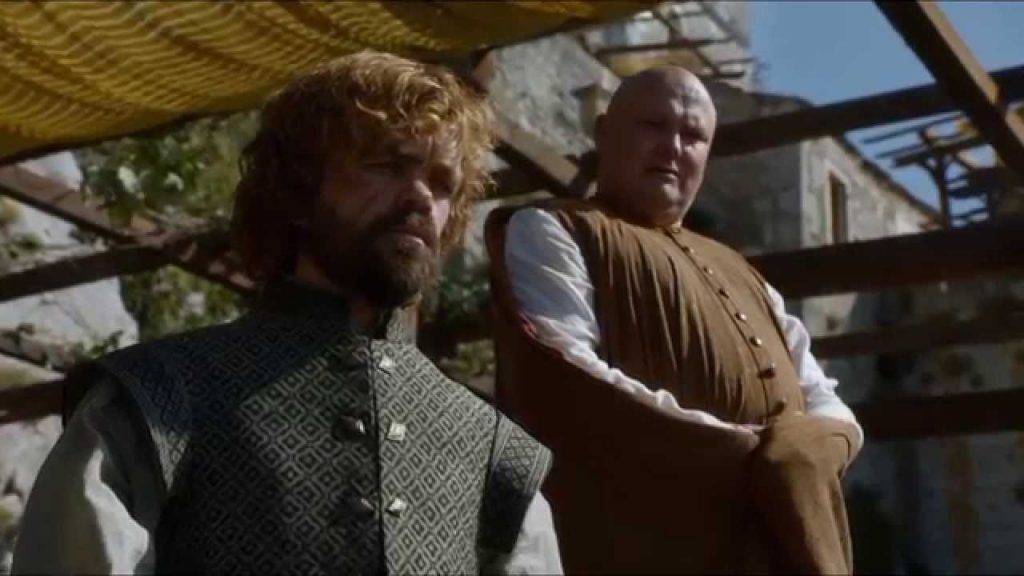 Il loro rapporto possiede qualcosa di più profondo delle semplici battute. Lavorando insieme sia a King's Landing, sia a Essos, hanno imparato a capire come funziona la mente dell'altro, si guidano reciprocamente, si completano a vicenda e riempiono gli elementi mancanti dell'altro.
Tra tutti i compagni di Tyrion, Varys è in un certo senso il suo spirito affine, un pensatore di mente alta che si preoccupa veramente del bene del regno e che vede il valore in Tyrion, quello che gli altri hanno trascurato. Entrambi sono dei sopravvissuti, perseguitati per tutta la vita a causa di quello che sono, a differenza di chi sono e lo riconoscono nell'altro.
Varys ha rischiato tutto per salvare Tyrion perché "gli uomini di talento avranno un ruolo importante nella guerra imminente". Tyrion ha il genio di suo padre, è compassionevole e gli piace il Gioco del Trono. Però nella premiere della quinta stagione di Game of Thrones lo vediamo come un uomo distrutto, senza più voglia di vivere. I due omicidi lo hanno segnato più di quello che pensava e ora ha perso tutto. Varys gli dà un nuovo scopo in uno dei dialoghi più belli di Game of Thrones: aiutarlo a portare sul trono una persona che possa davvero portare una pace duratura. Quella persona è Daenerys Targaryen.
Se non fosse stato per Varys, Tyrion non sarebbe mai stato in una posizione o in una mentalità tale da permettergli di migliorare il loro mondo.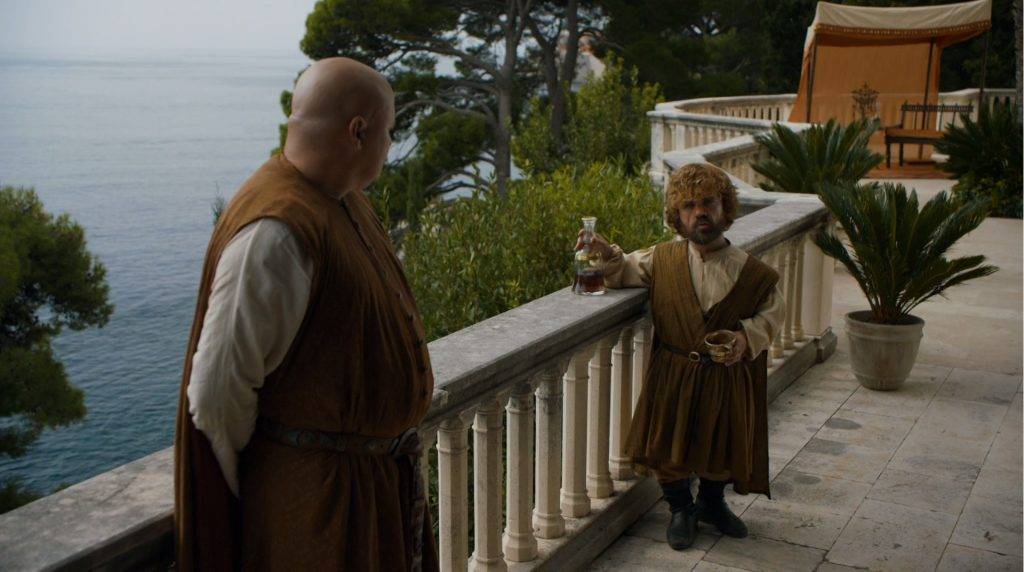 Tyrion è una delle poche persone a cui Varys rivela la sua storia e i suoi piani. Collaborano nel gestire Meereen, facendo vedere come questi due sarebbero dei regnanti perfetti, e nell'ascesa di Daenerys al Trono di Spade.
Quando si fugge all'estero con qualcuno e si passa tanto tempo con quella persona, è naturale formare un legame profondo e genuino, come hanno fatto Tyrion e Varys. Non importa come sia finita, non importa del tradimento di Tyrion.
L'amicizia tra questi due leader è di certo una delle migliori non solo in Game of Thrones, ma anche nel panorama seriale.