Questo pezzo contiene spoiler sull'ottava stagione di Game of Thrones!!!
Daenerys Targaryen è uno dei più complessi personaggi di Game of Thrones. Da ragazzina ingenua e spaventata si trasforma in una donna forte, determinata e fiera. Tra guerre, potere e tradimenti, Daenerys ha trovato spazio anche per l'amore.
Forse nemmeno lo so quello che sei per me

Quello che mi toglie, quello che mi dai

Talmente tanto che semplicemente non lo so vedere per intero

Come l'Universo
Tutti hanno lasciato un'impronta indelebile in Daenerys, anche se lei non ne è sempre stata consapevole del tutto. La storia con Khal Drogo è una delle più belle di Game of Thrones. Lui le ha donato la forza di ribellarsi al fratello, le ha insegnato che cosa sia una leader forte, l'ha immersa nella cultura Dothraki e le ha dato quell'esercito di feroci combattenti necessario per la riconquista di Westeros.
Se Khal Drogo era la forza, Jon Snow è l'equilibrio. Un uomo cauto, riflessivo, concreto, che non si lascia controllare facilmente dalle emozioni. Jon è uno dei pochi che riesce a domare il temperamento irrequieto, istintivo e spericolato di Daenerys. Almeno finché la regina non sprofonda nella follia e nemmeno lui riesce più a fare niente.
Daario rappresenta la lealtà, così come Jorah. Il leader dei Second Sons abbandona tutto pur di seguire Daenerys, la corteggia e la fa sentire compresa e adorata. Ma Daario è anche il piacere, quell'amore spontaneo, semplice, senza ragionamenti. Jorah invece rappresenta la voce della coscienza, anche se Daenerys non l'ha sempre ascoltato. Ha fatto di tutto per lei, proteggendola fino alla propria morte.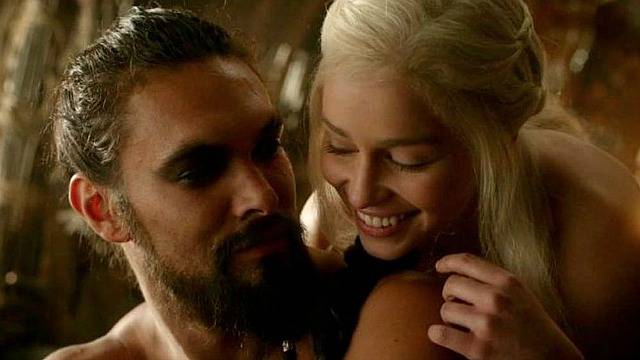 Quello stato di euforia, di confusione

Sì di confusione quando trovi tutto quello che avevi perso

E bruciare per te…
A un certo punto in Game of Thrones l'amore e la passione scoppia tra Daenerys e i suoi uomini (eccetto il povero Jorah). Arde dentro di loro come il fuoco di un drago, un vulcano inarrestabile che non si può fermare.
Quella con Drogo esplode in tutta la sua forza animalesca. È primordiale e potente ma allo stesso tempo dolce e romantica. La forza di Daenerys lo conquista e lo fa sciogliere d'amore. La celebra per questo e la protegge se qualcuno osa farle del male. Con Daario è quasi solo passione focosa. Iconiche sono le loro scene a letto dove riescono a raggiungere una grande sintonia, parlano e si ascoltano.
Con Jon la fiamma brucia lentamente. I loro sguardi mostrano che non sono indifferenti l'uno per l'altra. Daenerys sembra quasi intimorita, torna a essere una semplice ragazza innamorata. L'attrazione tra i due cresce, diventa naturale e genuina. Daenerys è rapita quando Jon accarezza Drogon e preoccupata quando deve andare oltre la Barriera. Anche se è sbagliato, anche se ci saranno delle grosse conseguenze, Jon bussa alla sua porta. Quello che hanno passato nella settima stagione di Game of Thrones li ha avvicinati come non mai.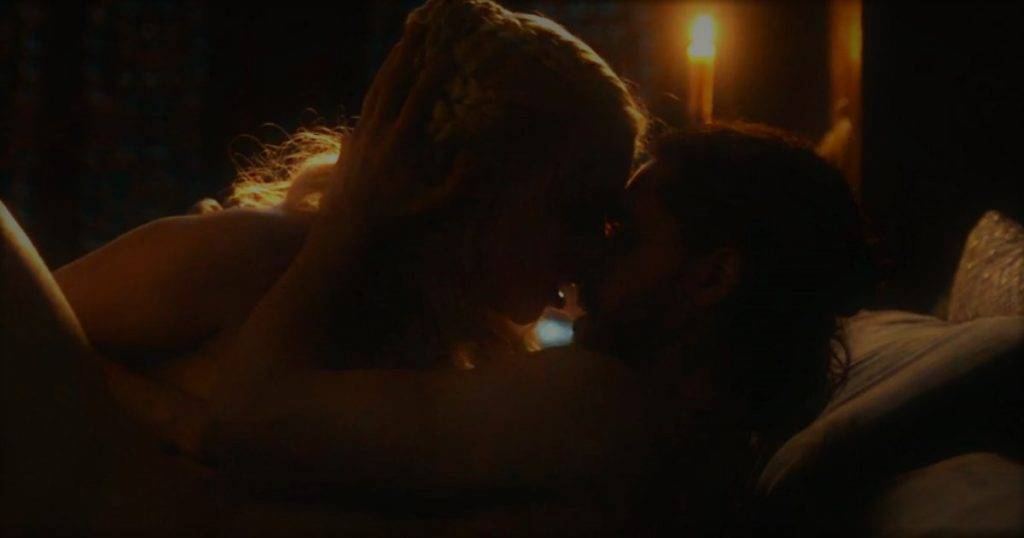 Mai, avrei creduto mai

Che fosse tutto così

Forte così fragile, forte da resistere

Leggero come l'aria, come nuvole

Mai avrei sperato, mai

E invece è tutto così

Forte così fragile, forte da resistere

E io insieme a te scriver le pagine
La passione brucia come la voglia di condividere i propri sogni e i propri progetti. Daario e Jorah, sudditi devoti, hanno sempre avuto lo stesso obiettivo di Daenerys. Quest'ultima e Khal Drogo, invece, non erano sulla stessa lunghezza d'onda all'inizio. È solo dopo il tentato omicidio di Daenerys da parte di uno sgherro di Re Robert che Drogo decide di fare un regalo a sua moglie e al figlio che porta in grembo: il Trono di Spade.
Con Jon c'è stato attrito inizialmente. Lui aveva la sua battaglia contro gli Estranei, lei quella contro Cersei. Nessuno voleva piegarsi. Alla fine riescono a capirsi e guardare insieme verso la stessa direzione.
Jon riconosce Daenerys come sua regina e lei mette a disposizione tutte le sue risorse per sconfiggere il nemico comune. Come dice a Sansa, il suo obiettivo è sempre stato riprendere il trono strappato alla sua famiglia. Eppure, ora è lì, a combattere la guerra di Jon, per Jon, al suo fianco. Forse non è lei che lo ha "manipolato" ma il contrario. E Jon l'ha ricambiata, appoggiandola nella lotta contro Cersei, indipendentemente dal fatto che lui fosse l'erede legittimo e la sua amata lo sapesse.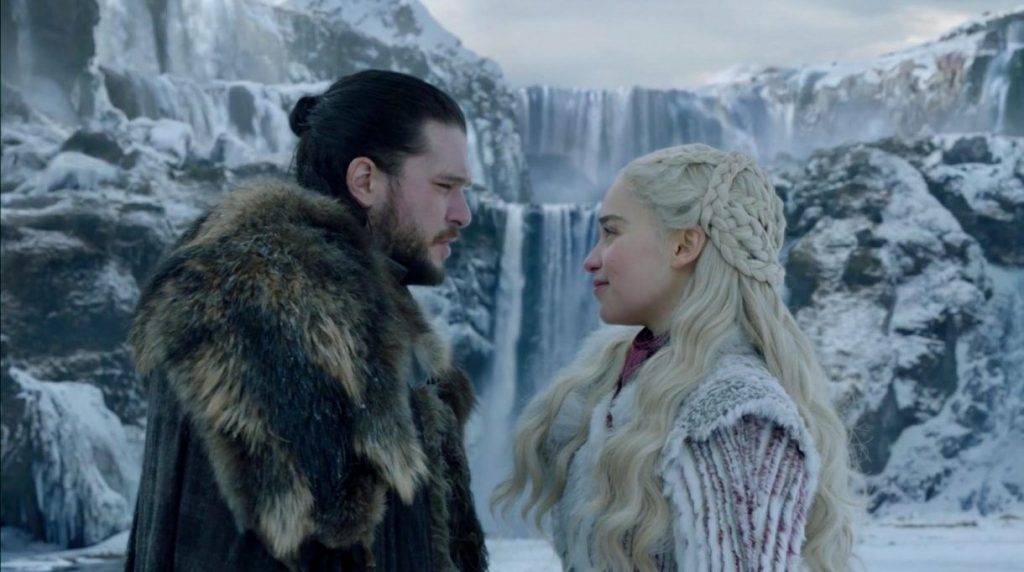 E immagina che buffo se lo capirò

Così tutto d'un tratto, poi guardandoti

Che mi hai cambiata per sempre

Come il primo giorno avevo quei bagliori

Che avevi sul viso, lì sospeso sulla curva del tuo sorriso

E bruciare per te…
L'amore ha cambiato Daenerys in un modo che nemmeno lei si sarebbe immaginata. Del resto, era difficile pensarlo dal primo incontro con Khal Drogo. Lei si avvicinò e guardò terrorizzata quest'uomo rude e brutale. Era sola e spaventata, conosceva poco la lingua e lui non era proprio gentile. Daario era solo un giovane tenente, arrogante, intelligente e strategico. È rapito da Daenerys tanto da uccidere i suoi capi e promettere eterna fedeltà alla Khaleesi.
Il primo incontro con Jon Snow è teso, formale e conflittuale. Si rispettano ma c'è asprezza nelle parole dei due, molta concretezza e una certa diffidenza perché non si conoscono. Si rifiutano di riconoscere il titolo dell'altro, pensano solo a quello che è meglio per loro senza trovare un punto d'incontro. I due ne hanno passate di ogni, sono dei sopravvissuti, risorti una dal fuoco e l'altro dal ghiaccio. Non devono rendere omaggio a nessuno.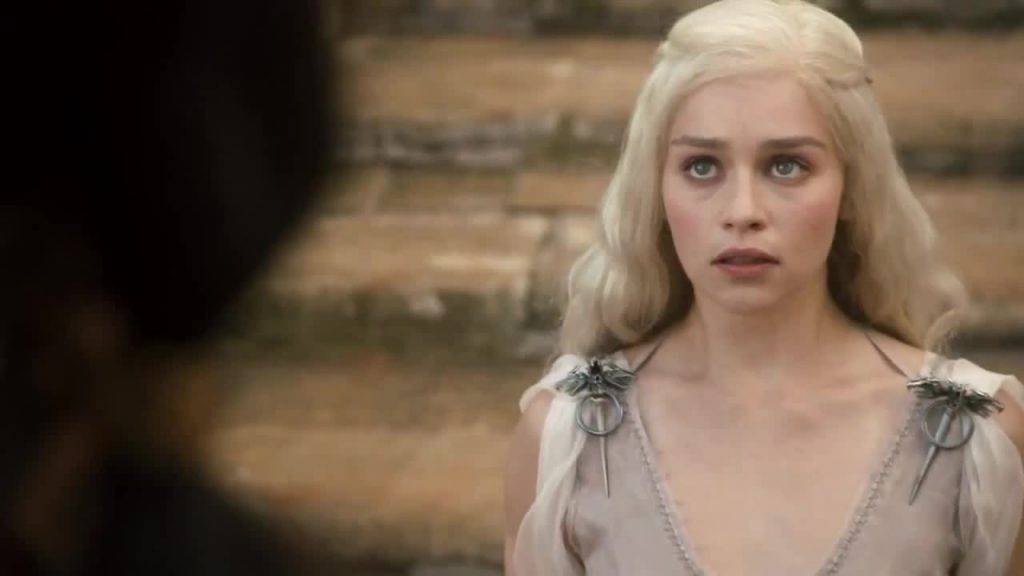 Poi lo capirò forse, poi

Che ti ho dato tutta me stessa senza chiedere niente in cambio

Niente che tu non avessi già dentro di te
Daenerys non si è mai risparmiata per amore. Persino con Jorah: si separa da lui per permettere al suo più fidato consigliere di trovare una cura per il Morbo Grigio. Anzi, gli ordina di guarire perché non vuole perderlo. Gli occhi di Daenerys dicono tutto.
Drogo è tutto il suo mondo ma decide di porre fine alla sua vita dopo che Mirri aveva compiuto su di lui uno strano rituale di guarigione. Un uomo come Drogo non può vivere da vegetale, un guerriero del suo livello merita una morte dignitosa. Nell'ultima puntata della prima stagione di Game of Thrones, Daenerys gliela dà. Vuole condividere con lui anche il momento della sua morte. Sulla pira, mentre il fuoco arde, si getta nelle fiamme, dalle quali rinasce come Madre dei Draghi.
Per Jon ha perso tutto. Il suo esercito è stato decimato, due dei suoi draghi sono morti, Jorah è caduto tra le sue braccia. Al Nord non la amano, nonostante avesse contribuito enormemente a salvare il mondo. Ha perso la legittimità al trono, anche se Jon non lo voleva. Proprio questo, l'essere imparentati, li ha allontanati e Daenerys si è sentita ancora più sola.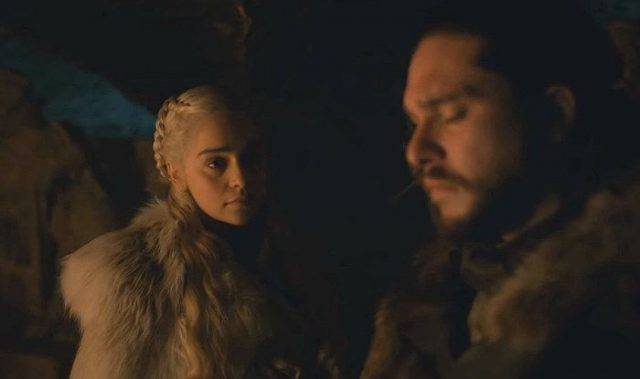 "I'm here because I love your brother… and I trust him. And I know he's true to his word". Le parole di Daenerys a Sansa rispecchiano quanto Jon significhi per lei, quanto non sia importante che lui sia il nipote ma piuttosto che lui rimanga al suo fianco perché lo ama. La sua fiducia per Jon è sconfinata, così tanto che abbassa la guardia. Ed ecco che arriva il terzo tradimento, quello per amore.
Eppure quella fiducia in lui e nel suo amore non se ne è andata nemmeno quando lui l'ha tradita, pugnalandola al cuore e spegnendo il suo fuoco per sempre.