In Game of Thrones, sostanzialmente vediamo Tyrion Lannister in tre situazioni tipo: impegnato a sproloquiare in modo intelligente e ironico, sorseggiare vino rosso e fare sesso con la qualunque.
Ma è tutto qui? Cioè, Tyrion Lannister, Terzo della progenie della Casata senza Debiti, il Beneamato, Quello che non deve morire, Padre dei vigneti, Protettore di prostitute, l'Ammazzapadri, che altro fa, oltre a bere, fare sesso ed elaborare strategie militari?
Vediamo la sua giornata tipo.
Prima di tutto, Tyrion si alza tardi, mica come noi comuni mortali di fantozziana memoria, sveglia caffè, barba bidè, presto che perdo il tram e via dicendo. No, lui dorme alla grandissima fino a tardi, diciamo verso mezzogiorno, perché le sue notti durano a lungo.
Si alza, o meglio, apre gli occhi e resta un altro po' a letto, perché si deve riprendere.
D'altronde, la sera precedente è stata parecchio impegnativa.
Fa colazione, presumo con qualcosa di ipercalorico e poco salutare. Poi si veste e si prepara alla giornata.
Passa davanti alla stanza ove "riposano" Jon e Daenerys e lancia uno sguardo languido, che poi è anche un po' di felicità: perché finalmente Dany ha l'amore che si merita.
D'altronde, povera, ha sofferto così tanto, se lo merita.
Tyrion è fedele, è il suo consigliere e appoggia Dany nella sua scelta. Incestuosa e discutibile, ma chi è lui per giudicare?
Caspita, sono le 12:30 e lui non ha ancora bevuto neanche un goccetto, va alla ricerca di Missandrei, ma è alle prese con Verme Grigio, quindi ripiega su Varys, che, in quanto a logorrea, non gli è secondo.
Bevono tre decanter di sauvignon, due di lambrusco e sedici birre, ma quelle del Baffo, quindi non so se valgono.
In compenso il dialogo è vivacissimo e, alla fine, non si capisce bene di cosa stiano parlando, ma è un sontuoso pareggio, con tanti gol.
A pranzo si riunisce con Missandrei, un po' più scapigliata del solito e Verme Grigio sempre più taciturno. Dany e Jon visibilmente effervescenti, ma Tyrion deve mangiare, o col tasso alcolico così elevato, rischia di star male.
S'abbuffa come pochi, perché è un convinto sostenitore delle teorie di Lorenzo De' Medici, ossia, chi vuol esser lieto sia, del doman' non v'è certezza. Lui non è più così giovane, ma pazienza, almeno è lieto, più o meno.
Mentre tutti sono convinti che sia troppo ubriaco anche solo per camminare, lui, in realtà, sta mentalmente muovendo le pedine di Game of Thrones ed elabora nuove arzigogolate strategie per mettere la Madre dei Draghi sul trono. Mica scemo, il folletto.
E complimenti per la tenuta, perché ormai ha esaurito le scorte alcoliche di tutte le vinerie del regno.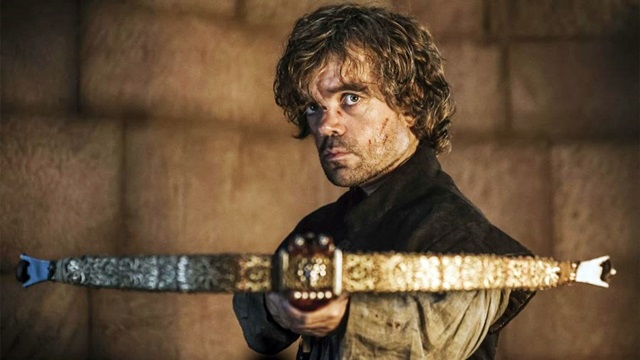 S'è fatto pomeriggio e, mentre tutti fanno una sacrosanta pennichella, che pure Drogon s'è placato e fa la nanna, lui è lì che rimugina il proprio passato, lancia due o tre maledizioni alla sorella, nutre sentimenti contrastanti nei confronti di Jaime, gongola ripensando a quando ha fatto fuori il padre sulla tazza del water. Una passeggiata sul viale dei ricordi che, inevitabilmente, lo porta a farsi un cicchetto.
O dieci.
Imperterrito, li regge benissimo e continua col suo Risiko di Game of Thrones.
La vita si riaccende a palazzo e lui, annoiato da tutti questi noiosi che lo circondano, organizza veloce veloce un festino a base di sesso, droga e rock and roll, che van bene le strategie e la vendetta, la fedeltà e il desiderio di vittoria, ma ogni tanto un poveraccio deve pur svagarsi.
Il festino inizia alle ore 18 e finisce alle ore 4 del giorno successivo.
Tyrion va in arresto cardiaco tredici volte, ha, circa, ventiquattro rapporti sessuali, molti promiscui e le sue battute al vetriolo alleggeriscono l'atmosfera, perché può cascare il mondo, ma lui non perderà mai il senso dell'umorismo, che Dio lo benedica.
Si trascina, o viene trascinato, non importa, in stato di incoscienza a letto, tanto ormai dorme da un po'.
La vera rockstar di Game of Thrones, fino al giorno successivo, in cui ricomincia tutto da capo.