Game of Thrones ha rappresentato un fenomeno televisivo e mediatico senza precedenti. Tratta dai romanzi di George R. R. Martin, la serie HBO ha conquistato il pubblico globale, catapultandolo in un universo complesso e variegato in cui spesso anche i fan più accaniti faticano a orientarsi. Per questa ragione abbiamo cercato di riassumere tutti gli elementi fondamentali di Game of Thrones in un articolo che potesse rappresentare un piccolo bigino che raccolga gli elementi essenziali della serie e della narrazione per aiutare chi ne avesse bisogno a navigare con più facilità nelle tormentate acque dei Sette Regni.
Partiamo dalle basi: che cos'é il Trono di Spade? E il Gioco dei Troni?
Ebbene sì, il Trono di Spade è effettivamente un trono fatto di spade. Per la precisione, dalle mille spade di coloro che si sono arresi davanti ad Aegon il conquistatore, primo re Targaryen (non temete, dopo capirete cosa significa, tenete duro ancora per qualche riga). Forgiato dal fuoco del più grande dei draghi, il trono di spade è la scomoda – fisicamente e figurativamente – seduta di colui o colei che detiene il potere sui Sette Regni che compongono Westeros, ossia il vincitore del famigerato gioco dei troni. No, il gioco dei troni non è un vero gioco, anche se a questo punto ci rendiamo conto che niente può essere dato per scontato.
Infatti, l'espressione "game of thrones", il gioco dei troni, viene impiegata per la prima volta da Cersei Lannister (personaggio di grande carisma di cui vi abbiamo parlato qui) nella prima stagione della serie, quando afferma con la sua consueta, spietata ferocia che
"Quando si gioca al gioco del trono, o si vince o si muore"
Nessuna regola, nessuno sconto. Il metaforico gioco dei troni è una partita aperta di astuzia e crudeltà, in cui è necessario essere sempre cento passi davanti agli avversari. Sempre se sarete in grado di individuarli.
La geopolitica di Game of Thrones
L'universo di Game of Thrones si divide in due continenti: Westeros ed Essos.
Westeros è situato a ovest ed è diviso in nove territori, anche se in realtà la persona che li governa, ossia quella che siede sul trono di spade, è chiamato il "Re (o la Regina) dei Sette Regni", perché la divisione in nove è successiva alla conquista dei regni da parte di Aegon Targaryen. I nove territori non sono dunque dei veri e propri regni, piuttosto regioni amministrative sotto il comando di signori locali, mentre vi è un sovrano unico il cui potere si estende sopra tutti. Le regioni in cui si divide Westeros sono:
La Valle
L'Altopiano
Il Nord
Le Terre dell'Ovest
Le Terre della Corona
Le Terre della Tempesta
Le Terre dei Fiumi
Le Isole di Ferro
Dorne
Sebbene tutti i nove territori in un momento o nell'altro di Game of Thrones assumano un'importanza cruciale, quelli più rilevanti ai fini della trama sono le Terre della Corona, in cui si trova Approdo del Re, la capitale dei Sette Regni nella quale è ubicato il trono di spade e il Nord, dove l'intera vicenda prende il via. A Nord il territorio dei Sette Regni è delimitato da un'imponente fortificazione che prende il nome di Barriera, la quale è stata costruita migliaia di anni prima dell'inizio di Game of Thrones per proteggere gli uomini da un esercito di non-morti composto dagli Estranei, creature considerate ormai quasi leggenda guidate dal mitico Re della Notte. Oltre la Barriera vive il Popolo Libero, il quale non è sottoposto al controllo del sovrano dei Sette Regni.
Nonostante la maggior parte dell'azione in Game of Thrones si svolga a Westeros, anche Essos è al centro di alcune fondamentali vicende. In particolare sul continente orientale troviamo nove città libere, impegnate in scambi commerciali con i Sette Regni. Inoltre si trova a Essos il popolo Dothraki, nomadi temuti per le loro razzie, con un ruolo fondamentale per la storia di una delle protagoniste della serie, la futura Madre dei Draghi Daenerys Targaryen.
Tanto a Westeros quanto a Essos il susseguirsi delle stagioni è profondamente irregolare, poiché le estati e gli inverni possono durare anche diversi anni. L'inizio di Game of Thrones coincide con la consapevolezza che una delle estati più lunghe mai verificatesi stia per concludersi e che, come recita il motto di casa Stark, "L'inverno sta arrivando".
Le cose si fanno complicate: guida molto schematica ai personaggi principali
Game of Thrones ha uno dei cast principali più ampi della storia della televisione, anche in virtù dell'impronta fortemente corale della narrazione. Non soltanto incontriamo decine di personaggi fin dall'inizio della serie, ma durante le otto stagioni che compongono quest'epopea fantasy vi è un ricambio di storie e ruoli che non ha pari in televisione: tanti personaggi muoiono quanti di nuovi ne vengono introdotti, alcuni scompaiono per intere stagioni per poi ricomparire in luoghi misteriosi, altri invece vivono destini che non vedremo mai compiersi. Inutile dire che presentare una guida completa ed esaustiva dei personaggi di Game of Thrones è un'impresa quasi impossibile e decisamente confusionaria, pertanto vi presenteremo qui un breve riassunto dei protagonisti principali delle prime stagioni, procedendo nel modo più semplice possibile, ossia a partire dalla casata di appartenenza.
Gli Stark
Gli Stark amministrano il Nord e sono forse la famiglia più importante in Game of Thrones, poiché quasi tutti i membri diventeranno personaggi principali della serie. Il capofamiglia è Eddard "Ned" Stark, uomo di grande lealtà e onesti principi, sposato con Catelyn Stark, della quale è profondamente innamorato. I due hanno cinque figli: Robb, Sansa (di cui vi abbiamo parlato qui), Arya, Bran e Rickon. Ned ha inoltre un figlio bastardo, Jon Snow, cresciuto a Grande Inverno – la dimora di famiglia – insieme ai fratelli, ma inviato alla Barriera all'inizio della serie perché si unisca ai Guardiani della Notte. L'identità della madre di Jon Snow è custodita gelosamente da Ned Stark, che non l'ha mai rivelata nemmeno alla moglie Catelyn, e rappresenta uno dei misteri centrali nella narrazione di Game of Thrones. Oltre ai sei figli di Ned Stark si trova a Grande Inverno anche Theon Greyjoy, figlio minore del Lord delle Isole di Ferro, amico fraterno degli eredi del Nord.
I Baratheon
Robert Baratheon è il Re dei Sette Regni all'inizio della serie, dopo aver in precedenza spodestato Aerys Targaryen, detto il Re Folle. Robert è soprannominato l'Usurpatore, poiché ha deposto il legittimo sovrano dopo una ribellione che ha avuto inizio quando Lyanna Stark, sorella di Ned e promessa sposa di Robert fu rapita dal figlio di Aerys Rheagar Targaryen.
Robert ha due fratelli, Stannis e Renly Baratheon. La loro famiglia controlla le Terre della Tempesta.
Dopo aver conquistato il Trono di Spade, Robert ha sposato Cersei Lannister, dalla quale ha avuto ufficialmente tre figli: Joffrey, Myrcella e Tommen. Inoltra ha numerosi figli bastardi, tra cui il successivamente legittimato Gendry Baratheon.
I Lannister
Ricchissimi protettori delle Terre dell'Ovest, i Lannister sono i veri strateghi del gioco dei troni, coloro che controllano realmente i Sette Regni. Il capofamiglia è l'anziano vedovo Tywin Lannister, il quale ha tre figli che ricoprono un ruolo da veri e propri protagonisti in Game of Thrones: i gemelli Cersei, moglie di Robert Baratheon e Regina dei Sette Regni, e Jamie, colui che uccise il precedente sovrano Aerys Targaryen, e il nano Tyrion Lannister, probabilmente il più abile di tutta la serie nel gioco dei troni.
I Targaryen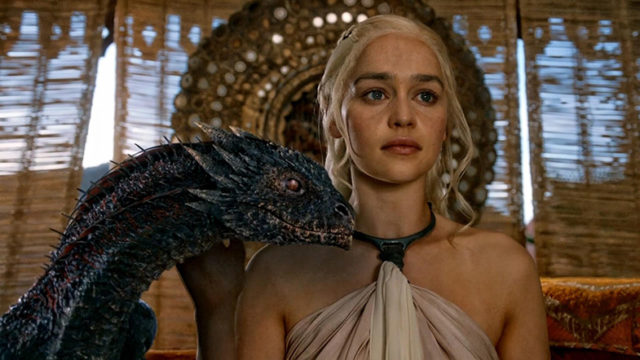 Dopo la conquista del Trono di Spade da parte di Robert Baratheon, i Targaryen, fino ad allora sovrani dei Sette Regni, sono stati quasi del tutto eliminati. Sopravvivono soltanto l'anziano Aemon Targaryen, che fa parte dei Guardiani della Notte, e i due figli minori di Re Aerys Targaryen, Viserys e Daenerys. All'inizio di Game of Thrones i due figli superstiti si trovano a Essos, dove Viserys progetta di dare in moglie la sorella a Khal Drogo, uno dei leader del popolo Dothraki, perché questi lo aiutino a riconquistare il trono occupato dall'usurpatore Baratheon. Al fianco di Viserys e, sopratutto, di Daenerys, si trova Jorah Mormont, ex cavaliere dei Sette Regni in esilio.
I Guardiani della Notte
I Guardiani della Notte sono una confraternita il cui compito è la difesa della Barriera, per proteggere i Sette Regni dalle due minacce che si trovano al di là di essa: il Popolo Libero, genti nomadi sotto il comando di Mance Ryder che avremo modo di conoscere approfonditamente nel corso delle stagioni, e gli Estranei, minaccioso esercito di non-morti che tuttavia i più considerano scomparso, se non addirittura una leggenda. I membri della confraternita non possono sposarsi e spesso tra coloro che ne riempiono le fila si trovano criminali e traditori che hanno preferito la vita sulla Barriera alla galera.
Tra i più importanti Guardiani della Notte troviamo Jon Snow, Benjen Stark, Samwell Tarly, Jeor Mormont e maestro Aemon Targaryen.
Altri personaggi importanti
Tra gli altri personaggi principali non nominati in precedenza troviamo Lord Varys, Petyr Baelish, Sandor "Il Mastino" Clegane, Brienne di Tarth, e Melisandre.
Varys, soprannominato il "Ragno Tessitore", è l'eunuco che ricopre il ruolo di Maestro dei Sussurri, ossia capo delle spie, per la corona dei Sette Regni sia sotto i Targaryen che sotto i Baratheon. La sua straordinaria abilità e la sua astuzia senza pari hanno fatto sì che rimanesse in carica nonostante il cambio avvenuto ai vertici del potere, rendendolo uno dei giocatori più preziosi del gioco dei troni.
Lord Petyr Baelish detto "Ditocorto", Maestro del Conio sotto i Baratheon, è l'unico realmente in grado di tenere testa a Varys, sebbene i due non siano rivali diretti. Abile manipolatore, Ditocorto si nasconde dietro alcune delle più importanti cospirazioni che hanno luogo in Game of Thrones ed è spesso lui a mettere in moto eventi fondamentali per lo svolgersi della trama.
Il Mastino è invece uno dei guerrieri più temuti dei Sette Regni, il cui volto sfigurato durante l'infanzia lo fa apparire ancora più spaventoso. Guardia del corpo del principe Joffrey Baratheon, Sandor Clegane svolgerà un ruolo fondamentale durante la serie.
Brienne di Tarth fa la sua comparsa nella seconda stagione, quando entra a far parte della Guardia di Renly Baratheon. Successivamente la sua lealtà sarà al servizio degli Stark.
Melisandre, nota anche come la "Donna Rossa", è una sacerdotessa dai poteri straordinari, fedele è al suo dio. Le sue visioni la porteranno a svolgere un ruolo senza pari all'interno di Game of Thrones.
Nel corso della serie di incontreranno decine di altri personaggi, alcuni dei quali assumeranno una rilevanza fondamentale per la storia. Tuttavia è difficile nominarli senza fare grossi spoiler o fornire una spiegazione dettagliata degli eventi che li riguardano, dunque abbiamo deciso di non complicare ulteriormente la descrizione dell'universo di Game of Thrones inserendoli in questa lista.
Ma quindi, di cosa parla Game of Thrones?
Game of Thrones è essenzialmente un poema epico che ricorda le vicende dell'Europa medioevale, nella quale la partita per il potere prende le forme di un gioco complesso di alleanza e tradimenti, guerre e trattati, amore e violenza. I personaggi sono pedine o giocatori all'interno di una scacchiera complessa che vede contendersi il Trono di Spade, ossia la sovranità sui Sette Regni, mentre parallelamente eventi fuori dal controllo umano si mettono in moto, fino a minacciare l'esistenza stessa del gioco dei troni.
Il filone fantasy della serie parte in sordina per acquistare un ruolo sempre più centrale, sebbene nonostante la comparsa dei draghi, degli Estranei o della magia, rimanga sempre secondario, ancillare rispetto allo svolgersi umano e complesso della lotta per il potere.