# #
Le polemiche continuano ancora, a due anni dalla fine di Game of Thrones. Non è bastato affossare completamente l'ottava stagione e farla arrivare ultima nei rank IMDb (qui la classifica completa episodio per episodio). E neanche firmare una petizione per girarla di nuovo. Non sono bastate neanche le critiche degli stessi attori, scontenti di come sono stati conclusi i loro personaggi. No, tutto questo non è bastato. Molta gente vorrebbe dimenticare le ultime sei puntate e tornare indietro nel tempo.
# #
Un fan americano lo ha fatto davvero, immaginando un finale alternativo per Game of Thrones. Un'intera stagione riscritta per filo e per segno, tenendo conto degli stessi tempi della produzione di HBO: sei puntate da più di un'ora. La nuova sceneggiatura è stata scritta da Daniel Whidden, anch'egli sceneggiatore, e pubblicata sul suo canale YouTube con una video spiegazione.
Il video in poco tempo è diventato talmente popolare da fare il giro del mondo, e oggi siamo qui, con voi, a commentare una stagione alternativa di Game of Thrones . Una stagione che non vedrà mai la luce. Nella fattispecie alcuni passaggi della trama sono interessanti, e i nostri protagonisti si ritrovano a fare scelte completamente diverse da quelle che abbiamo visto.
# #
Un tunnel oscuro, quello di Game of Thrones. Lo show, nonostante i suoi altissimi ascolti, non si aspettava che il suo fan made prendesse questa direzione. Una notte che sembra non finire mai, proprio come la grande battaglia di Winterfell tra gli Estranei e i nostri protagonisti.
Il primo dei tanti stravolgimenti della trama infatti è proprio in The Long Night, la puntata che per molti è stata il "punto di non ritorno". I civili, nella versione dei fatti di Daniel Whidden, sono radunati nella Sala Grande della fortezza, per evitare il disastro dei non morti resuscitati nelle cripte. Inoltre, in questa versione della storia, è Jon Snow a combattere contro il Re della Notte, in un bellissimo duello. Tuttavia Jon Snow scoprirà con rammarico e stupore che il vetro di drago è completamente inutile contro il Re della Notte.
Anche il ruolo di Bran nel nuovo Game of Thrones sarà diverso. Il piccolo Stark prenderà il controllo di Viserion e tenterà di uccidere con la fiamma blu del drago il Re della Notte. Tuttavia, il villain ne uscirà illeso e ucciderà il drago con una lancia, catapultando il corvo a tre occhi in uno stato catatonico. A seguito di questi avvenimenti gli Estranei vinceranno la battaglia, costringendo gli uomini, ormai sconfitti, ad arretrare verso Approdo del Re. Perdendo il controllo del Nord.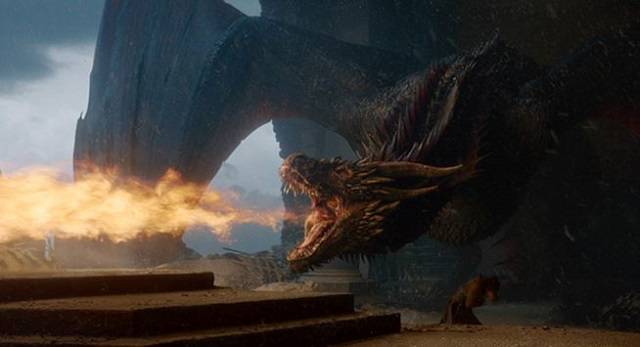 Giunti ad Approdo del Re, Jaime tenterà di convincere, con successo, la sorella ad accogliere Daenerys e i civili dentro le mura. Così facendo la regina dei draghi si sarebbe dovuta piegare a lei in segno di riconoscenza. E sempre nella capitale di Westeros, si è combattuta l'ultima epica battaglia tra gli Estranei e gli uomini. E anche questa volta gli Estranei avranno la meglio.
Arrivati a questo punto, proprio quando tutto sembra essere perduto, Bran si risveglia dal suo stato catatonico e rivela la chiave per sconfiggere il Re della Notte: bruciare con il fuoco di drago l'albero dove secoli addietro il secolare nemico fu creato dai figli della foresta. Un piano all'apparenza perfetto anche se non privo di controindicazioni: bruciare l'albero infatti porterebbe con ogni probabilità alla scomparsa della magia nel mondo (compresa quella che aveva riportato in vita Jon Snow). E parlando del bastardo di Grande Inverno, in questa versione lo vediamo morire da eroe, e il corpo seppellito nelle cripte della famiglia.
A questo punto inizia l'ultima folle corsa di Game of Thrones. Bran, avendo una connessione con il Re della Notte, informa involontariamente il villain del suo piano, il quale tenta di sventarlo in una corsa contro il tempo. Nel frattempo Daenerys si accorgerà di essere incinta di Jon Snow, e andrà sul campo di battaglia per un ultimo e definitivo scontro. Ne uscirà vincitrice, pugnalando il nemico con l'acciaio di Valyria. Il tutto si consumerà tra le fiamme dell'albero, confermando per la terza volta il suo epiteto di Non Bruciata.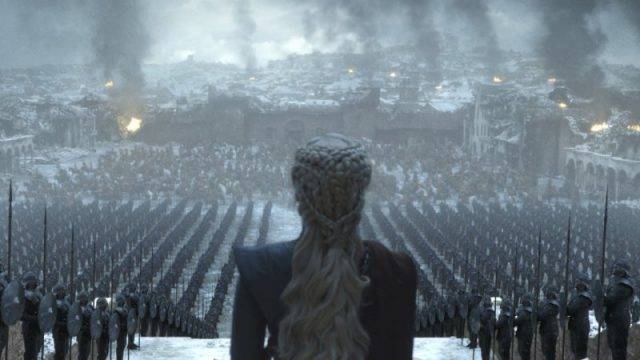 Nel frattempo, ad Approdo del Re, Arya Stark con il volto di Jaime prova a uccidere Cersei. Tuttavia fallisce a causa di Ellaria Sand, la quale fuggita dalle prigioni, voleva a sua volta vendicarsi della donna che l'aveva imprigionata. A questo punto la regina diventa talmente folle e furiosa di rabbia da uccidere ogni persona fedele a Daenerys. Inoltre rivela a Jaime che la sua gravidanza è un falso; un'idea architettata in modo da controllarlo e averlo al suo fianco. Sarà così che, nell'idea di Daniel Whidden, si compirà la profezia del valonqar e Jaime ucciderà sua sorella.
Per quanto concerne il finale abbiamo una Daenerys Targaryen sovrana dei Sette Regni con suo figlio che si chiamerà Jon (come suo padre) e sarà l'erede al trono.
Qui si conclude questa storia alternativa di Game of Thrones. Sebbene presenti molti spunti interessanti, non è priva di incongruenze. Il ruolo dell'albero, ai fini della trama, non è mai stato specificato né giustificato. Inoltre non si comprende come questo albero possa modificare qualcosa che coesiste da sempre in natura con gli uomini.
La figura di Daenerys Targaryen, salvatrice ed eroina, risulta quasi più banale e ingiustificata della sua reale fine. La sua ossessione per il trono e la sua follia che per sette stagioni si è andata definendo, scompaiono completamente, ridipingendo una Khaleesi senza macchia, buona e giusta. Al contempo Cersei Lannister, personaggio macchiavellico e con una sua specifica morale, viene completamente demolita, azzerando anni di evoluzione e di scrittura del personaggio.
Apprezzabile l'avverarsi della profezia del valonqar, per la quale Jaime Lannister avrebbe avuto una chiusura più coerente con la sua evoluzione. La storyline di Arya Stark è in linea con lo scopo che è stato descritto per lei dagli albori. Con il tentativo di uccidere l'ultimo nome della lista, la piccola Stark è liberata da questo interminabile ciclo. Intrigante anche la nuova direzione dei fatti presa nel terzo episodio dell'ottava stagione. Una battaglia, quella in The Long Night, sicuramente più apprezzata per la regia e realizzazione tecnica piuttosto che per i suoi snodi narrativi.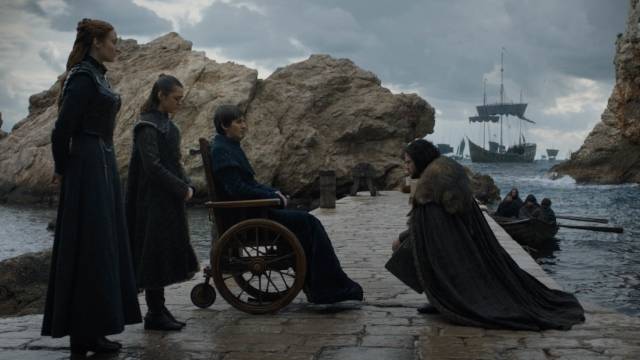 La scelta di far avere un figlio a Daenerys risulta in contraddizione con la maledizione lanciata dalla strega anni addietro, alla morte di Khal Drogo. Inoltre, in questo finale, nessun circolo viene spezzato: i Targaryen tornano sul trono e tutto torna come era stato prima, come se non ci fosse stato nulla in mezzo. Un finale prevedibile e piatto che personalmente non mi sarei augurato di vedere.
Il finale agrodolce si trasforma in un racconto dei fatti quasi del tutto positivo, per il quale possiamo dispiacerci solo relativamente (per la morte di Jon Snow). Un finale in cui i "buoni" vincono e in cui traspare la volontà dell'autore di accontentare i fan. Un finale voluto e desiderato più che giusto e coerente con la storia.
Nonostante ciò, seppur con i suoi difetti e un finale discutibile, questa stagione alternativa di Game of Thrones presenta spunti interessanti. Se non fossimo a conoscenza del vero epilogo, e quindi spogli da preconcetti, potrebbe essere un'alternativa valida, apprezzata anche da un modesto ventaglio di spettatori. Come dimostrano i milioni di visualizzazioni e le migliaia reazioni positive al video.
A questo punto viene spontanea la domanda: quale sarebbe stato il miglior finale di Game of Thrones? La risposta probabilmente, è dentro ognuno di noi.