Fin dai primi episodi di Game of Thrones abbiamo conosciuto Jason Momoa e i suoi muscoli. Chi l'avrebbe detto fino dove si sarebbero spinte le sue qualità fisiche?
Nei progetti a cui partecipa, oltre che in Game of Thrones anche in Aquaman, Jason sfrutta sempre appieno le sue indubbie doti fisiche che sono inevitabilmente parte integrante dei personaggi che interpreta. è così in Game of Thrones, in Aquaman e anche in Frontier.
Charlotte Holmberg, una ragazzina americana ha deciso di sfruttare il fisicone di Momoa facendolo comparire sulle scatole dei biscotti che doveva vendere per beneficenza.
@girlscouts Please tell me this is a real thing! If so, I'll take a whole case! 😍🤤😂 I'd order a truck load if #jasonmamoa delivers it in person! #cookies #mamoa #drooling pic.twitter.com/E73hf2XU0J

— Dragon (@HufflepuffFire) 2 febbraio 2019
Momoas è il nome utilizzato per i biscotti, invece che Samoa, e le conseguenze sono state fenomenali!
Il gruppo di Girl Scout di Charlotte non solo ha venduto tutte le scatole di biscotti in brevissimo tempo. Ha anche incassato parecchi fondi tanto che la ragazzina è stata nominata Top Cookie CEO ovvero una delle migliori venditrici.
Intervistata da 9 News, Charlotte ha dichiarato:
Le mamme sono davvero prese bene e dicono che ne hanno bisogno. Le ragazze compreranno i biscotti perché c'è Jason Momoa sulla confezione. E anche i ragazzi li vorranno, perché lui è il loro supereroe preferito.
Se i compagni di scuola di Charlotte sono stati attratti dai biscotti per le foto di Jason Momoa nelle vesti di Aquaman, possiamo affermare con tranquillità che mamme e papà hanno invece rivisto il Khal Drogo di Game of Thrones.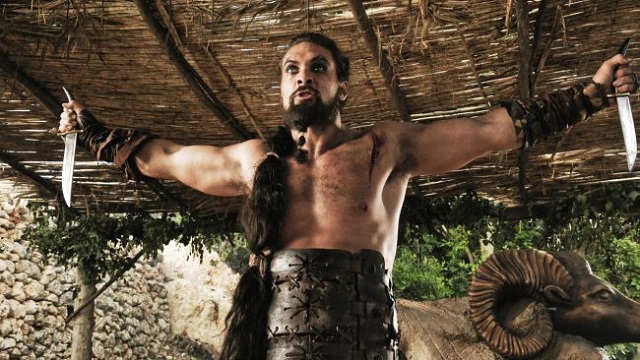 Game of Thrones ha lanciato Jason Momoa e l'ha fatto conoscere per le sue qualità fisiche oltre che per la sua recitazione: l'attore sta decisamente sfruttando bene le sue doti, ma anche Charlotte Holmberg non è stata da meno.
Tuttavia, dopo il successo della vendita dei Momoas, i genitori della ragazzina si sono preoccupati perché sono state utilizzate delle foto coperte da copyright senza autorizzazione.
L'associazione delle Girl Scout ha assicurato che la produzione dei biscotti è limitata e che la trovata di Charlotte aveva fini scherzosi, pertanto tutto è finito nel migliore dei modi.