C'è chi dice di conoscere un falegname che Game of Thrones 8 con 30 mila lire la faceva meglio. C'è chi firma la petizione, metodo ormai inflazionato, per far girare una versione diversa dell'ultima stagione della serie HBO più vista di sempre… e poi ci siamo noi. Noi che tra meme e commenti abbiamo riso tanto da riuscire a digerire meglio qualsiasi imperfezione.
Anche questa settimana il popolo del web ci ha regalato un lungo elenco di gioie. Tra commenti epici, immagini imperdibili e meme che resteranno nella storia. Allora, iniziamo?
1) Aldo, Daenerys e Giacomo in Game of Thrones 8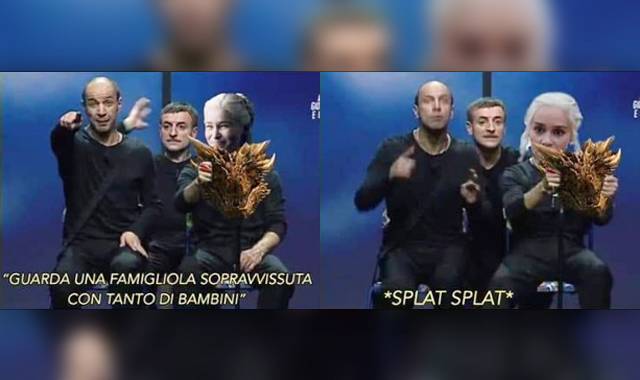 Sulla pagina JustAldoGiovannieGiacomoThings è stata rinvenuta questa perla che descrive con una scena celeberrima tratta da Tel Chi El Telun il lievissimo esaurimento nervoso di Daenerys. Lievissimo.
2) Daenerys ragiona fuori dagli schemi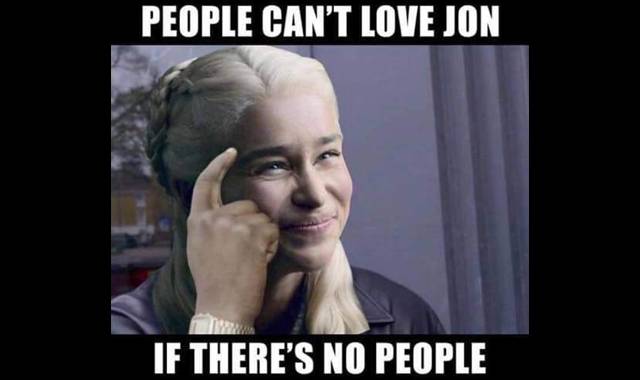 Un ragionamento che non fa una piega, no? Se il popolo non esiste più non può certo amare Jon! Questo famoso meme rivisitato con il volto di Daenerys è GENIALE!
3) Missandei Misunderstood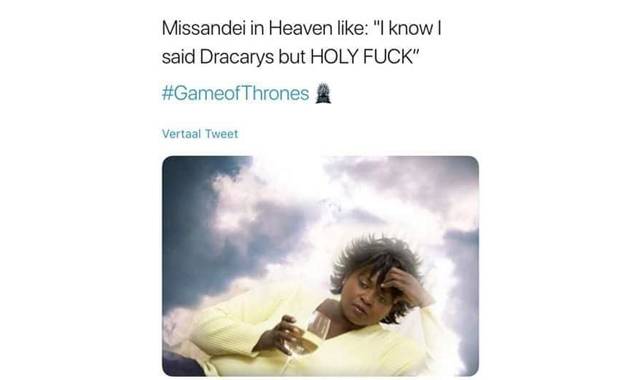 Missandei dall'alto dei cieli potrebbe ritenere che Daenerys l'abbia fraintesa. Quel "Dracarys" pronunciato prima di essere decapitata era indirizzato solo a Cersei forse, ma la Madre dei Draghi ha messo decisamente troppa carne al fuoco!
4) Scelte discutibili ne abbiamo?
Le alternative erano queste: volare su Cersei e uccidere solo lei, oppure distruggere tutta la città e trucidare migliaia di innocenti lasciando che Cersei venisse uccisa da una roccia?
5) Showruiner?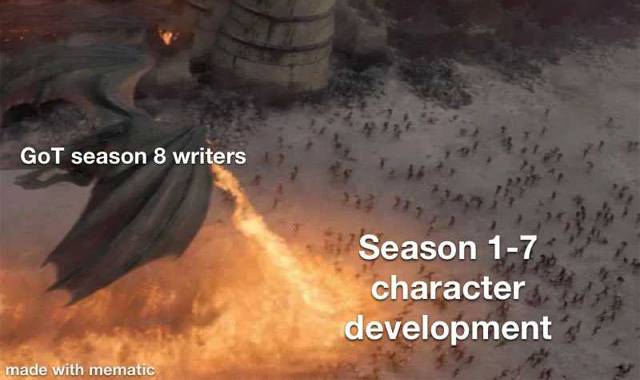 A detta di molti fan di Game of Thrones 8, gli showrunner della serie avrebbero commesso non pochi errori nella stesura dell'ultima stagione. Secondo i più, il percorso di crescita di alcuni personaggi nelle scorse stagioni sarebbe stato messo da parte. Questa immagine presa da TvTime rende l'idea?
6) Next Stop, Termini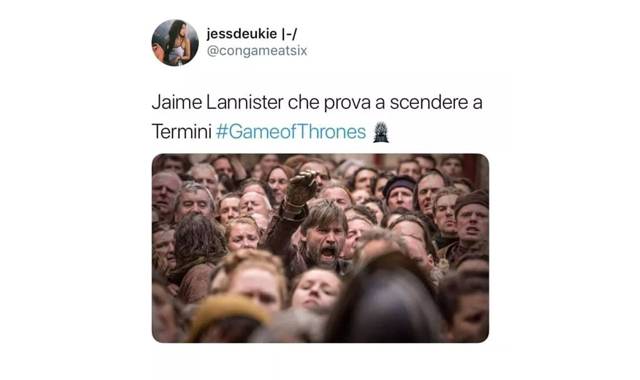 Da romana ho sputato un polmone alla vista di questa geniale rivisitazione della scena in cui Jaime tenta di entrare nella Fortezza Rossa.
7) Spoiler senza contesto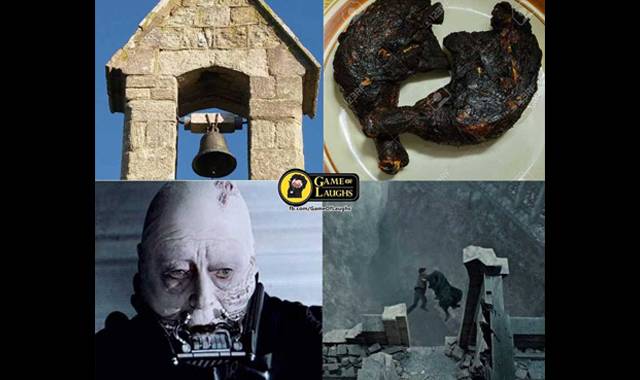 Gli spoiler senza contesto sono oramai una delle poche certezze della vita per gli spettatori di Game of Thrones 8. La pagina Game of Laughs ha pubblicato questa sua rivisitazione di alcuni dei momenti salienti dell'episodio.
8) Tra fratelli non mettere il dito!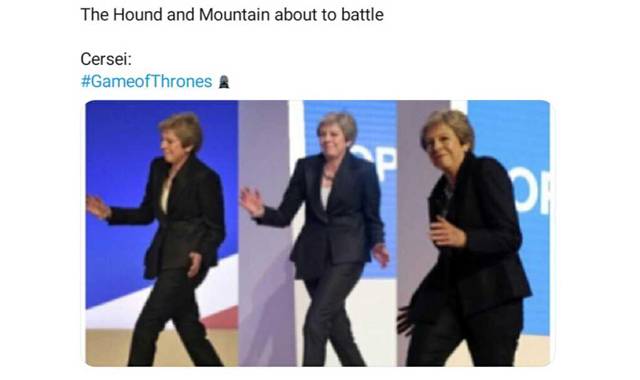 La scena in cui Cersei si dilegua all'inizio del Cleganebowl rivisitata da qualche genio assoluto dell'internet con il meme di Theresa May. Chiunque tu sia, grazie!
9) Euron si è rammollito!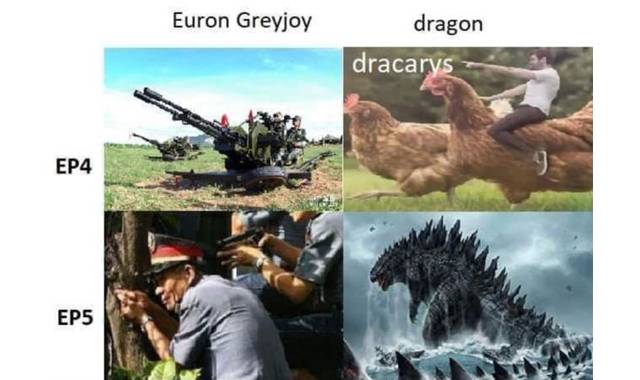 Nel giro di un singolo episodio Euron Greyjoy ha perso tutta la sua sicurezza. Nella 8×04 ha fatto fuori Rhaegal con un colpo solo. Nella 8×05 sembrava quasi un pulcino spaurito. Mah!
È l'ora di passare ai tweet migliori sull'episodio 5 di Game of Thrones 8.
Anche qui si inizia con un attestato di stima agli showrunner della serie!
La dura verità di #GameofThrones pic.twitter.com/PjuH87n0Ik

— oikiwi 💣 (@unyxing) 15 maggio 2019
Forse qualcuno avrebbe bisogno di un intervento alla How I Met Your Mother. Per la serie "i crossover che non ti aspetti".
8×05 anche nota come grigliata di Pasquetta #GameofThrones pic.twitter.com/DJkOmir27p

— Celeste Guerrina (@Guerrins_) 15 maggio 2019
Ora noi chiediamo a gran voce questa scena nell'ultimo episodio di Game of Thrones 8…
Quando i meme su #GoT diventano più belli di Got stesso#GameofThrones pic.twitter.com/m3x8rU3Pdx

— Laura Petretta (@LauraPetretta1) 16 maggio 2019
Non sapevo che Jaime e Cersei fossero accumulatori seriali…
Ho sputato un polmone #GameOfThrones pic.twitter.com/UwfL3z6040

— salvolo🐡 (@salvolo_) 16 maggio 2019
Non si direbbe, ma ora Tyrion ha un motivo per sorridere: è senza dubbio il Lannister più alto!
when you realize you're the tallest Lannister #GameofThrones pic.twitter.com/kDWLwWXCXg

— wisē (@Wise809) 16 maggio 2019
Come sarà l'ultimo episodio di Game of Thrones 8?
Io che mi immagino come sarà l'ultima puntata di #GameofThrones pic.twitter.com/FPyzV3cIut

— Suzette | Ti amo 3000 🌠🌤️🌈 (@Susy34392240) 15 maggio 2019
Next Stop: i commenti migliori del Web all'ULTIMO EPISODIO di Game of Thrones.