Partire!
Non tornerò mai,
non tornerò mai perché mai si torna.
Il luogo ove si torna è sempre un altro,
la stazione a cui si torna è diversa.
Non c'è più la stessa gente, né la stessa luce, né la stessa
filosofia.

Fernando Pessoa
Se fossimo onesti fino in fondo, il titolo di questo articolo dovrebbe essere: Quella volta che eravamo tutti a Grande Inverno (tranne Cersei), ma non è proprio questo il punto.
Mi accingevo, con colpevole ritardo, a guardare la 8×02 di Game of Thrones quando un'amica mi dice: "Ah, sei qui: che episodio inutile. Non succede niente". Forse l'abbassamento drastico dell'aspettativa ha giocato la sua parte (conta sempre parecchio la disposizione d'animo con cui ci mettiamo in visione). Fatto sta che ho trovato questa puntata commovente: il degno finale emotivo di quel colosso della serialità che è Game of Thrones.
Dell'ottava stagione si è parlato a volontà, più che altro per criticarla. Tuttavia la 8×03, di cui in parte parlerò in questo articolo, in quanto naturale prosecuzione della 8×02, ha riscosso diversi consensi.
Il motivo per cui A Knight of the Seven Kingdoms – passata perlopiù in sordina – abbia, a mio modesto parere, un così importante significato è del tutto banale: l'incontro di due tòpoi letterari (il ritorno a casa, la notte pericolosa).
Con ritorno a casa intendiamo un concetto più ampio di quello sotteso dal significato letterale, valido tuttavia per alcuni personaggi. Gli Stark tornano a casa, sì, ma in qualche modo ci tornano anche tutti gli altri e noi con loro: è a Grande Inverno che inizia l'epico racconto de Il Trono di Spade e la "casa" è il luogo del ri-incontro degli affetti, del ritrovamento di chi ti sta a cuore e ha permesso la tua crescita personale, la tua evoluzione interiore, e questo avviene per tutti i personaggi. Nell'episodio seguente, infatti, Brandon dice a Theon: "Tutto quello che hai fatto ti ha condotto fin qui. Al tuo posto. A casa".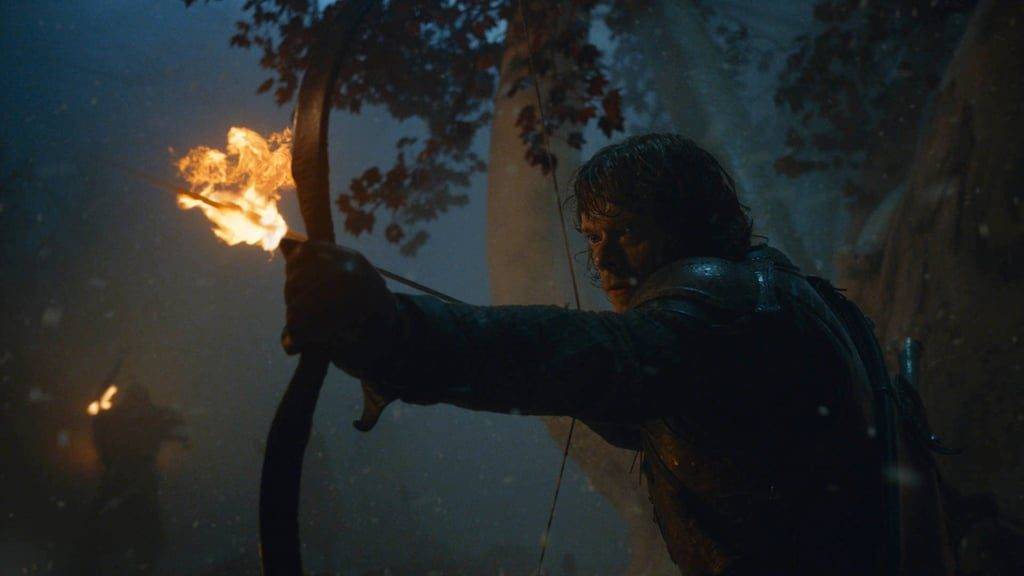 Per quanto riguarda la notte pericolosa, si dovrebbe piuttosto definire l'attesa della notte pericolosa. Non a caso il terzo episodio s'intitola The Long Night. L'incontro di questi due temi eterni altro non fa che suggerirci l'atmosfera, il sentimento palpabile quasi (difficile da crearsi in un'opera la cui fruizione è meramente visiva) su cui si dipanano gli eventi.
In questo secondo episodio dell'ultima stagione i personaggi più importanti si rincontrano e trascorrono insieme – e noi con loro – la possibile ultima notte.
E non ci riferiamo solo ai vivi. Grazie alla presenza di Bran ci siamo proprio tutti: anche i personaggi ormai morti. E, grazie agli Estranei, anche i morti-non-morti. Insomma: tutti.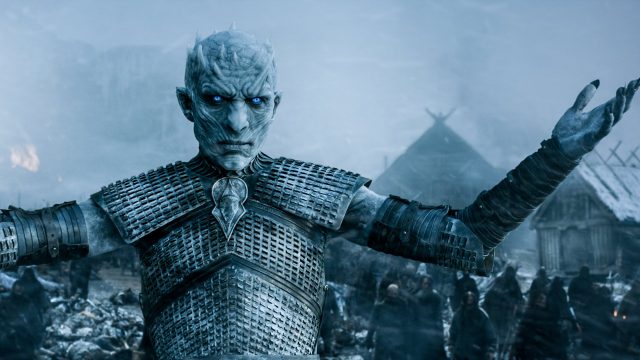 A Knight of the Seven Kingdoms è un cerchio che si chiude: la dolce sensazione di chi torna a casa. Il cerchio si chiude sì, ma nessuno è rimasto quel che era in questi lunghi otto anni. Si può parlare di ritorno solo mentendo, poiché non si è più gli stessi quando si torna. Grande Inverno non è più lo stesso: i passi dei Greyjoy e dei Bolton rimbombano ancora da una pietra all'altra. Tutto ciò che è successo in quelle mura è divenuto ormai memoria: il Nord non dimentica.
Game of Thrones è stato l'appuntamento fisso, la narrazione di sottofondo alla vita quotidiana di molti di noi: qualcuno per otto lunghi anni, qualcun altro per mesi filati. Tornare lì, vederli tutti insieme finalmente, fianco a fianco, sempre uguali a se stessi seppur cambiati, evoluti, è stata proprio una bella emozione.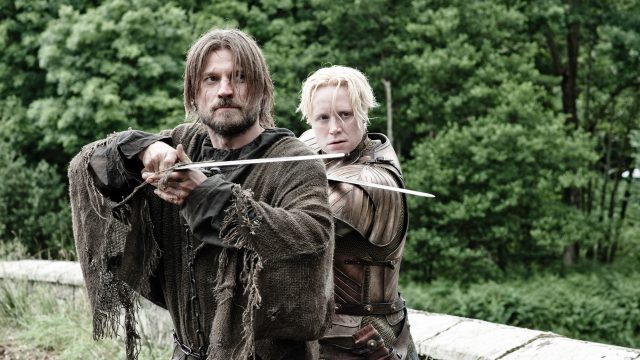 Brienne e Jaime, Jaime e Bran, Arya e il Mastino, il Mastino e Brienne, Brienne e Arya, Arya e Gendry, Podrick e Tyrion, Tyrion e Jaime, Sansa e Tyrion, Lyanna e Jorah, e tutti gli Stark.
Ora, rileggete lentamente questo elenco. Ogni volta che incontrate una virgola fermatevi e pensate alle storie che legano queste coppie e gruppi di personaggi. Riguardateli ridere, piangere, affrontarsi. Ripensate a che attimi ci hanno regalato, a quanto tempo è passato, a come si sono evoluti.
Ed eccoli di nuovo lì, insieme, pronti a fare i conti con i propri spettri, pronti a specchiarsi in occhi che tanto tempo prima li avevano scorti, scandagliati nel profondo e ora li ritrovano identici e mutati.
Game of Thrones non finisce di certo con queste due puntate, ma molto si compie: Brienne diventa Cavaliere. Persino i personaggi minori – ma abnormi – come Lyanna Mormont assurgono all'Olimpo della serialità. Lei, femmineo Davide capace di sconfiggere un non-morto Golia e distruggerlo, si imprime con ancora maggiore forza nella mente di noi spettatori.
La scena, giustamente criticata, di Arya che uccide il Night King è frettolosa e forse mal gestita, ma ci dà una lettura precisa del riferimento letterario su cui si modella Arya. Il parallelismo con Ulisse si compie del tutto nel finale: la giovane vuole scoprire cosa ci sia più a Ovest di Westeros, oltre le colonne d'Ercole di quel fantastico mondo che è Game of Thrones. Qui il riferimento allo stratagemma usato contro Polifemo è sottile.
Finalmente Arya è Nessuno e si sa: Nessuno può sconfiggere la Morte.
Questa lotta tra Vita e Morte, questo umano rincontrarsi, riconoscersi e stringersi è la degna fine de Il Trono di Spade, quella filosofica.
Alla 8×06 resta l'uomo contro l'uomo e il peso di un finale di stagione così atteso, ma quel che conta davvero è che, per una volta, quella volta, eravamo tutti a Grande Inverno.