Come ogni martedì tornano le nostre pagelle.
Una puntata di transizione che ha messo le basi per le guerre a venire. Certo, D&D ci avevano un pochino viziato recentemente: morti epiche ogni puntata, spargimenti di sangue vari, perfino qualche gioia. L'unica costante sono stati i pipponi del catechismo dell'Alto Passero, quelli non smettono mai di farmi rigirare gli occhi così tanto da costringermi a fare una radiografia al cervello. 
Ma se seguite Game of Thrones esclusivamente per tette e sangue avete bisogno di rivedere decisamente le vostre priorità.
Oltre la Barriera:
Meera continua a trascinare il corpo inerme di Bran nella neve, un pochino come quando, dopo una festa loca, l'amico sobrio deve riportare a casa quello ubriachissimo. Ed è tutto un: "No non vomitare in macchina, dai alzati ti prego, questo non è coma etilico è solo sonno". A questa scenetta aggiungete un esercito di scheletri armati che vi rincorre e il gioco è fatto.
L'arrivo di un misterioso e "assolutamente irriconoscibile" losco figuro salva i due compagni di viaggio usando una palla infuocata con un uncino. Mosse da kung fu che manco su Kill Bill.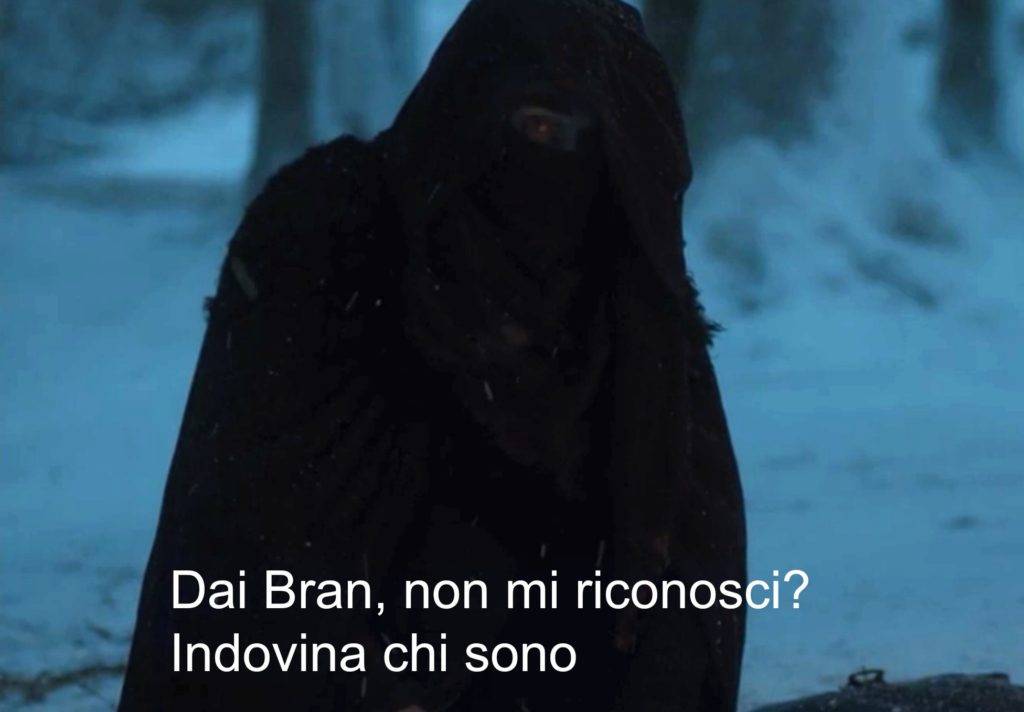 Dopo aver parlato per mezz'ora con questo cavaliere Bran dimostra ancora una volta la sua brillante perspicacia.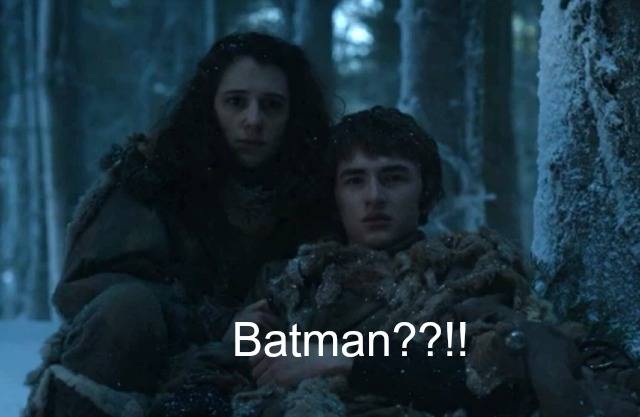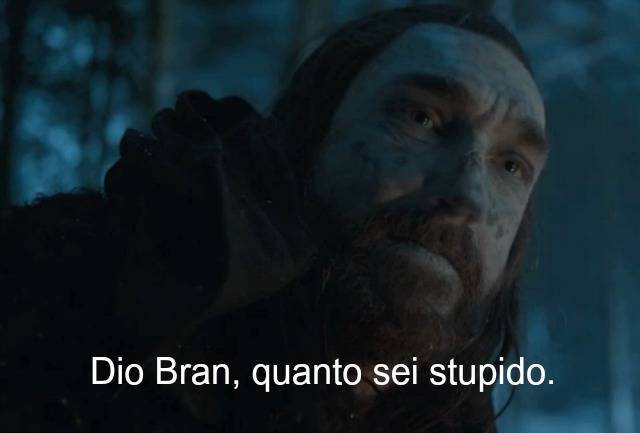 Alle parole "zio Benjen" un urlo si leva da al di là della Barriera, è Jon Snow che dice:
"Ah no, col cazzo che mi fregate un'altra volta. Tocco blu non gioco più."
L'ultima Stark reunion ci è costata Hodor e Summer, che prezzo pagheremo questa volta? Sospetto il povero Rickon.
Altri due punti interessanti della scena: le visioni di Bran, che analizzeremo con calma in un prossimo articolo, e la storia della "resurrezione" di Benjen.
A quanto pare questo Vetro di Drago è un pochino come l'olio di cocco, lo si può usare un po' per tutto: trasformare la gente in White Walkers, nutrire i capelli, salvare le persone che si stanno trasformando in White Walkers, ungere le padelle per cucinare i pancake.
Bran è totalmente entrato nel giro della droga forte: 6
Zio Benjen è venuto a portargli dvd pseudo educativi tipo Requiem for a Dream e Trainspotting: 9
Meera ha capito che se si vuole sopravvivere in questa serie bisogna farsi notare il meno possibile: 7
D&D ridono e fanno le pernacchie con la bocca a tutte le dichiarazioni di Martin riguardo a Benjen/Coldhands: 5
Alle Torri Gemelle: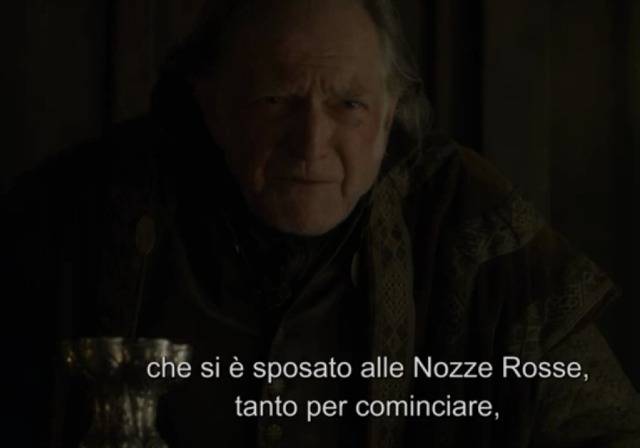 A quanto pare in tre stagioni Walder Frey non si è mai alzato dal tavolo, e lì si parla ancora delle Nozze Rosse come fosse successo ieri. Avete presente l'amico che si palesa con "Ehi ho scoperto una nuova canzone fighissima" e ti propina I Gotta Feeling dei Black Eyed Peas come fosse ancora il 2009? Ecco, quello è Walder Frey.
Scopriamo  inoltre che Edmure, dopo l'esperienza a Outlander, è ancora vivo e vegeto.
Qualcuno porti Walder ad una festa e gli ricordi che questo è il 2016: 2
Ad Approdo del Re:
Come previsto Margaery ha un piano per fregare tutti. Peccato che questo piano faccia diventare Approdo del Re una monarchia vaticana, ma insomma… l'importante è l'obiettivo, non i mezzi giusto?
Tommen è in quella fase dell'adolescenza dove scegliere tra potersi fare Natalie Dormer e obbedire alla mamma diventa un'impresa piuttosto semplice.
Punti a favore di questa scena: le espressioni di nonna Tyrell, Mace è la cosa più inutile sulla faccia dell'universo ma continua a tirarsela, Jaime che sale per le scale e guadagna mille punti al gioco "chi è il più gnocco di GoT".
Punti negativi: l'ennesimo pippone dell'Alto Passero, basta vi prego basta, qualcuno lo uccida velocemente.
Jaime e Cersei meditano vendetta con un bacio appassionato, ma che è sta roba, Il Segreto? Questo è Game of Thrones, non vogliamo solo bacetti suvvia.
Jaime intanto sperimenta per l'ennesima volta le sconvenienti conseguenze di una progenie nata da incesto: sono tutti scemi forte.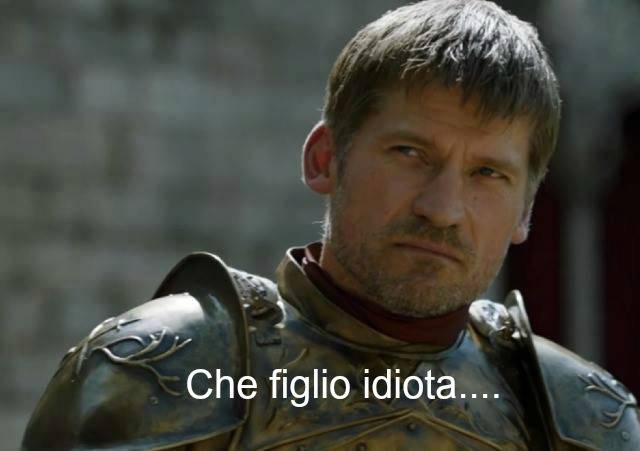 Speriamo che a Riverrrun ci sia un incontro/scontro tra lui, Brienne e Tormund #Ihaveadream
Margaery ha causato un lutto nazionale tra gli uomini di tutto il mondo sfuggendo alla Walk of Shame: 10
Tommen ha decisamente smesso di giocare con i gattini, ora solo preghiere e gattine: 3
Jaime si rende conto che tutta la sua vita è un immenso palmface: 7 di consolazione
Al Collina del Corno:
Gilly e Sam arrivano, dopo un lunghissimo ed estenuante viaggio nel quale il piccolo Sam è cresciuto di almeno 3 anni, a casa Tarly. Li accolgono mamma Tarly e la sorellina, aka Debbie Gallagher.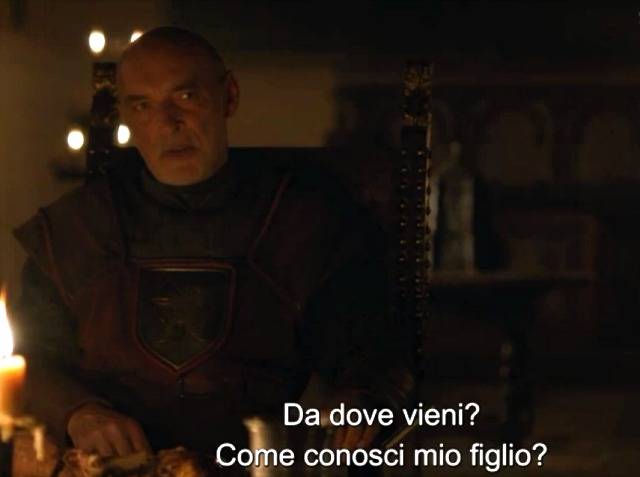 Purtroppo scopriamo ben presto che il caro e dolcissimo papà del ragazzo è un Salvini al contrario: il fatto che suo figlio abbia portato a casa una ragazza del Nord proprio non gli va giù, perché quelli là non pagano le tasse, ci rubano i soldi e il lavoro, vengono al Sud pensando di poter sposare i nostri figli e crescere i bastardi come lord. Le solite cose da xenofobi insomma.
Sam resta muto durante tutta la cena mentre viene continuamente smerdato dal padre, viene perfino costretto a partire subito per Vecchia Città e saluta Gilly e il piccolo Sam per l'ultima volta.
Gilly lo guarda scandalizzata, innanzitutto perché lei di padri merdosi ne sa a pacchi, ma anche perché sperava in una botticella d'addio.
Per fortuna Sam si dà una svegliata e ruba la cosa più preziosa del padre: no, non la sua cravatta verde ma Veleno del Cuore, la preziosissima spada di famiglia in acciaio di Valyria.
Gilly partecipa ad una puntata di "Ma come ti vesti?!": 8, gli outfit di Cassie ci piacevano di più
Papà Randyll Tarly ha buttato via le orecchiette portate da Gilly: -2000
Ci manca solo che Dickon dichiari la sua passione per il dick per far venire un infarto a Randyll: 9
Ad Essos: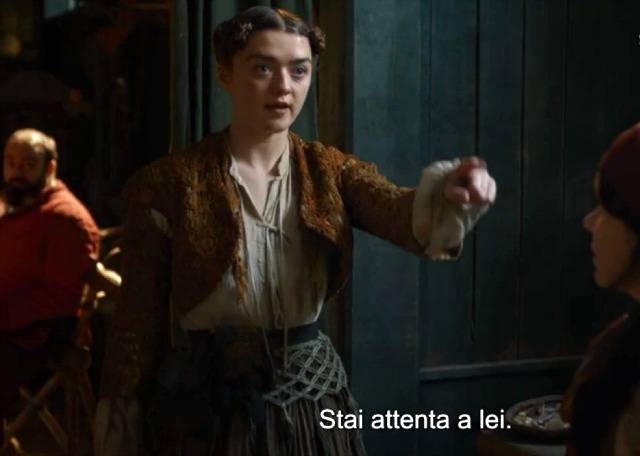 Arya molla tutto: non sarà mai in grado di diventare No One. Paradossalmente lo capisce parlando con Lady Crane riguardo a Cersei: incredibilmente comprende che la sua più acerrima nemica non è tanto diversa da se stessa, entrambe vivono per vendicare l'uccisione dei propri cari. In realtà si è fatta solo corrompere dai complimenti per le sue sopracciglia, ma vabbè.
Non ha finito il suo allenamento ma ha acquisito abbastanza competenze da poter cancellare altri nomi dalla sua lista. I grandi protagonisti non finiscono mai il loro allenamento con il Maestro, che sia Yoda o Jaqen.
Recupera Ago e si prepara a fare i bagagli, ma naturalmente quella simpaticona dell'Orfana è già pronta a stroncare la sua fuga sul nascere. Ne vedremo delle belle.
Probabilmente entro la fine della stagione vedremo Arya tornare a Westeros, potremmo perfino gioire  per una Nymeria/Arya reunion? Yes pleaseee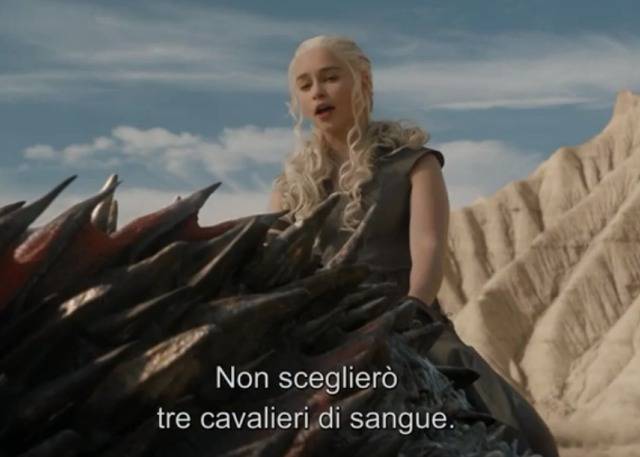 Dany intanto continua a cavalcare con il suo nuovo Khalasar, ma la strada per Meeren è ancora molto lunga. Lei perciò con la scusa di fare uno dei suoi soliti discorsi di incoraggiamento alla Braveheart va a prendere Drogon e ciaone a tutti quei poracci col cavallo.
Se siete contenti di rivedere Drogon vi ricordo che DUE LUPI sono morti per risparmiare sul CGI e farcelo vedere. A me brucia ancora.
Arya is the new Skywalker: 8
Dany è come il primo degli amici che prende la patente, adorazione e speranza in un passaggio: 7
Daario sperava di diventare Blood of my blood ma Dany è troppo democratica: 6, poraccio
Premio scemo del villaggio: Tommen
Premio muori male: Walder Frey
Miglior nuovo personaggio: Randyll Tarly, cattivo, ma un bel personaggio
Premio spaccaculi: Benjen
Premio non ce la faccio a farcela (neanche per sbaglio): Edmure
E in queste Pagelle c'è anche un piccolo extra…
Premio per il megafusto della puntata: Jaime
Ringraziamo i nostri partner di  Game of Thrones – Italy, Game Of Thrones fans page -ITA- , Game of Thrones ITALIA , L'immane disgusto di Varys nei confronti dell'umanità. Team Sansa, Il trono di spade