Non so voi, ma ho preso l'esasperata posticipazione dell'ultima stagione di Game of Thrones (di cui finora abbiamo solo stills e spot) come un tradimento. All'inizio la lunga assenza era stata giustificata dagli autori come una necessità di tempo per dare ai fan un degno, spettacolare commiato. Poi hanno ghigliottinato gli episodi: non più dieci, non più sette, ma sei. Ripeto, sei soli episodi. In compenso, ci hanno promesso che le puntate avrebbero avuto la lunghezza di un film. Ma la reale durata prevista ammonta dai 60 agli 80 minuti. Sicuramente un tempo molto più ampio rispetto alla media, ma comunque non eguagliabile a un lungometraggio. No, non si fa così. Quindi, a tutti i rancorosi smaniosi come me offro per ripicca un recap dei peggiori episodi di Game of Thrones. Benioff e Weiss, ve la siete cercata. 
Le Serpi delle Sabbie – S5E6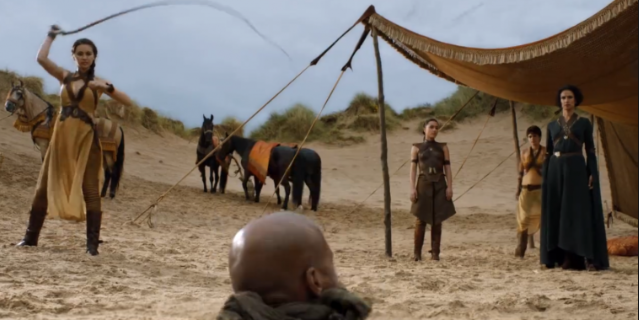 Per quanto gustose le scene di Arya nella Casa del Bianco e del Nero siano, il resto dell'episodio è all'insegna di peripezie rocambolesche e stupri gratuiti. Bronn e Jaime arrivano senza alcun piano, in pieno stile Totò e Peppino a Milano, nella tanto decantata Dorne. Il regno si riduce a deserto, deserto e ancora deserto. Ah, c'è anche un palazzo con un cortile che dovrebbe traboccare acqua che nemmeno l'Eufrate. Ci avevano narrato di una sorta di giardino pensile di Babilonia, ma abbiamo solo un paio di vasche. Per carità, gli zampilli d'acqua sono comunque meglio coreografati dello scontro tra le guardie reali, il duo Bronn-Jaime e le Serpi, ma pur sempre pozze rimangono.
A proposito delle figlie illegittime di Oberin: nonostante siano state trasposte su schermo come una copia bellico-fantasy delle Kardashian, loro ci credono. E pure tanto.
Ma sono le uniche a prendersi sul serio. Per concludere al meglio un episodio che pensavamo non potesse peggiorare ulteriormente, D&D decidono di piazzare un bello stupro. Ci eravamo già resi conto di quanto sadico fosse Ramsay. Ma adottando la scelta di una violenza grafica e sterile ai fini della trama, ora sappiamo che gli autori di Game of Thrones non sono da meno.