Stanotte durante il 53° Super Bowl, l'evento sportivo americano per antonomasia, abbiamo potuto ammirare i trailer di alcune delle più importanti uscite televisive e cinematografiche del 2019. Quello che non ci aspettavamo di vedere era qualcosa su Game of Thrones. Il problema è che quello che abbiamo visto, era sì tanto, ma non è piaciuto per nulla. E non solo a noi. Sui social, Twitter in primis, si è scatenato un putiferio. Riepiloghiamo i fatti.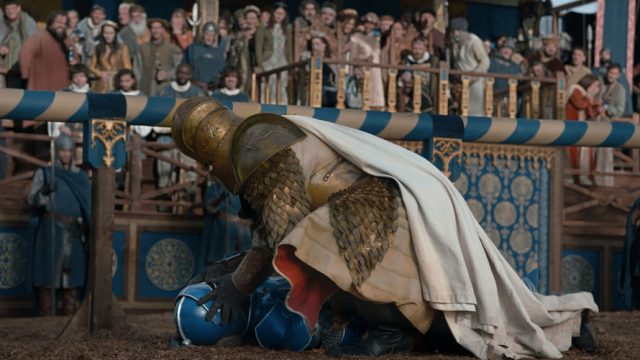 HBO ha deciso di non presentare un trailer di Game of Thrones. Ha deciso invece di produrre uno spot di sessanta secondi mettendo a disposizione la bellezza di 25 personalità che fanno capo al progetto Game of Thrones. Lo spot è per l'azienda Bud Light. Per chi non lo sapesse, Bud Light, da anni monopolizza gli spot pubblicitari del Super Bowl con un seguito enorme. I suoi spot per questo evento raccontano le vicende di un mondo medioevale che ben si sposa con il nostro Game of Thrones. La collaborazione deve essere parsa naturale.
Lo spot inizia in modo classico. Come gli altri spot della Bud Light si vedono i personaggi tipici di questo brand, King (il Re) e Bud Knight (il cavaliere Bud) apprestarsi a un torneo cavalleresco. La gioiosa situazione però sfocia presto nel caos. Arriva infatti un minaccioso personaggio ben noto ai fan di Game of Thrones: la Montagna (Hafþór Júlíus Björnsson). Ovviamente sconfigge il paladino del regno di "Dilly Dilly" in una scena che ricorda la morte di Oberyn Martell, la Vipera Rossa, in Game of Thrones.
HBO per questo spot di sessanta secondi ha messo a disposizione oltre all'attore Hafþór Júlíus Björnsson anche la regia di David Nutter, l'uomo che aveva diretto, tra gli altri, lo straordinario episodio The Red Wedding (Le Nozze Rosse). In più come sceneggiatori gli showrunner David Benioff e D.B. Weiss. La prima metà dello spot invece è stata affidata, come sempre in questi anni, alla direzione di Spencer Riviera (della Bud Light).
HBO per dare il via alla nuova campagna di lancio dell'ultima e conclusiva stagione di Game of Thrones, denominata #ForTheThrone, ha voluto approfittare di un palcoscenico globale come il Super Bowl e la partnership di un colosso americano come Bud Light. Purtroppo come avete potuto vedere dal video dello spot il risultato finale non è stato all'altezza delle aspettative enormi del pubblico e subito dopo la conclusione dello stesso sui social si è scatenata una critica davvero feroce.
Da un lato le aspettative enormi degli spettatori chiedevano di più alla HBO. Dall'altro c'è stata la sensazione che le paure di delusione del pubblico per la qualità stessa dell'ultima stagione si siano drammaticamente concretizzate (molti, infatti, su Twitter hanno lamentato proprio questo). Non ci resta ora che aspettare i prossimi passaggi della nuova campagna di lancio della HBO e sperare che l'ultima stagione di Game of Thrones possa offrire molto di più di quello che abbiamo visto questa notte.