Attenzione: evitate la lettura se non volete imbattervi in spoiler sulla 1×06 di Game of Thrones
La guerra sta arrivando. É dalla seconda puntata che Game of Thrones cova una battaglia sempre più vicina all'esplosione e nella 1×06 il vaso si riempie quasi fino all'orlo (che ne dite, è questa la puntata che ci ha fatto definitivamente perdere la testa?). Quello che ci aspetta è solo la goccia che lo farà traboccare.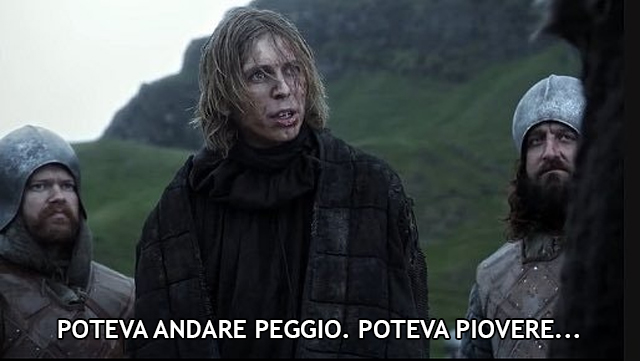 Una puntata importante in cui vediamo il Primo Cavaliere e il Re negoziare, mediare, reagire ai recenti avvenimenti: Robert deve in qualche modo puntire Ned perchè sua moglie ha rapito Tyrion, deve inoltre punire Jaime, fratello della moglie, per aver attaccato Ed. Rob, combattuto sapendo di dover difendere la famiglia della moglie e sapendo di non poter perdere un amico e consigliere come Ned, cerca di risolvere il tutto con la sua solita diplomazia: molla un ceffone in faccia a Cersei, che esprime l'evidente irritazione per non essere nata uomo, e dicendo chiaramente cosa fare all'amico: far liberare Tyrion e fare pace con Jaime. 
Nella stessa puntata Rob prenderà una decisione che gli costerà sangue. Decide di partire a caccia lasciando Ned al comando. Ned, non solo inizia ad abusare del suo potere continuando a mettersi contro i Lannister ma cerca di mandare via le figlie, in attesa della guerra che sta per esplodere e proprio grazie ai loro bisticci, arriva a capire il segreto della dinastia Lannister e Baratheon, divise nettamente e semplicemente dal loro colore di capelli.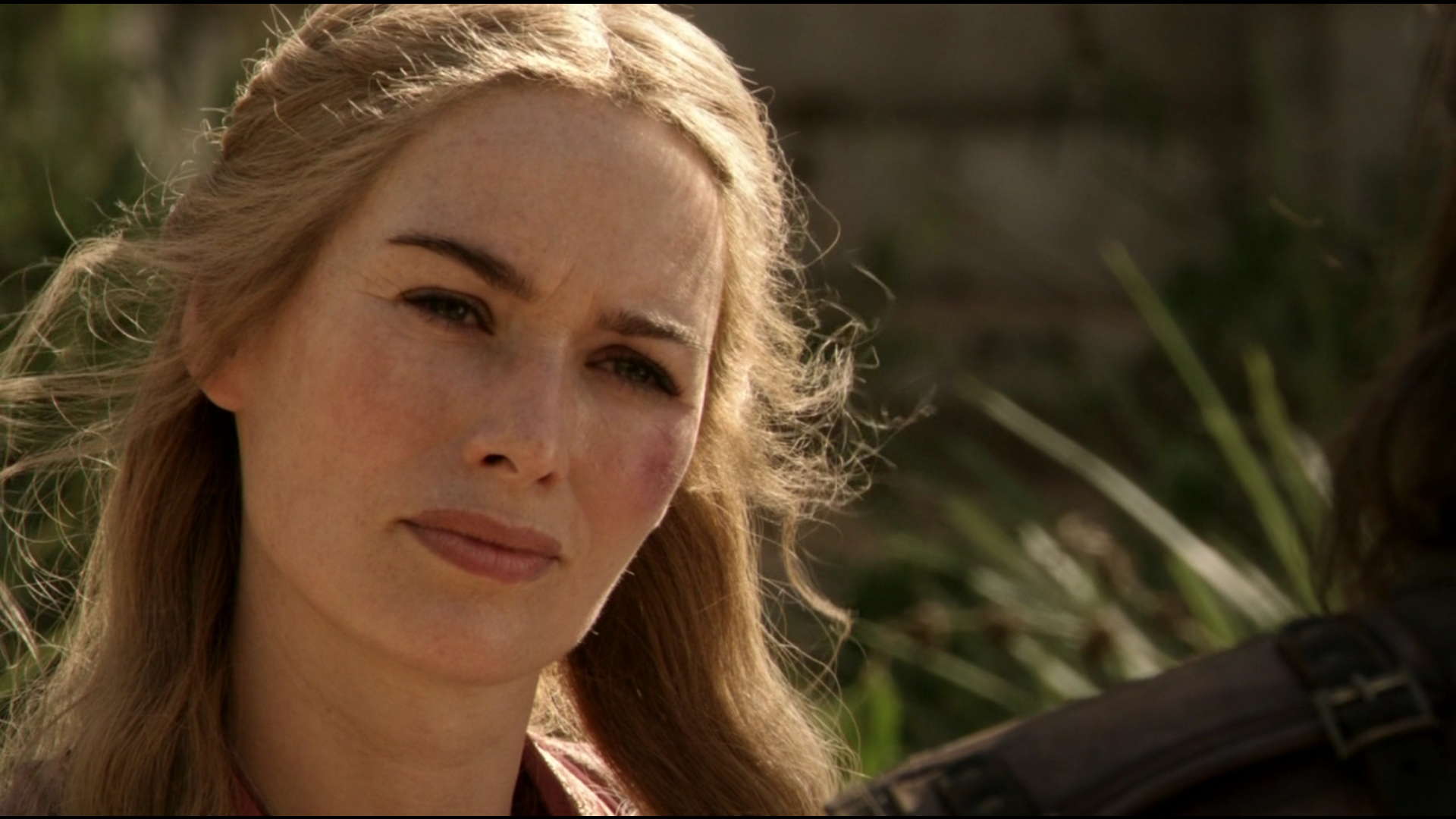 É un momento importante per la Serie e anche per le vite dei personaggi coinvolti in questa storyline perché da questo momento la loro vita inizierà a cambiare il proprio valore e la morte diventerà il loro unico dio (come insegna Sirio ad Arya). Ma non tutti riusciranno a dirle "Non oggi!".
A Nido dell'Aquila si svolge un'altra situazione interessante in cui si capiscono i caratteri dei personaggi e si stringono nuove importanti alleanze.
Tyrion, prigioniero di Cathlyn Stark, è "rinchiuso" nelle celle del cielo in attesa del suo processo. In questa puntata vediamo alcuni importanti elementi del carattere di Tyrion, che impareremo ad approfondire sempre di più con l'andare avanti di Game of Thrones. Più precisamente, tira fuori due importanti, fondamentali, lati. Prima di tutto vediamo Tyrion mostrarci le sue doti di oratore esemplare. Troviamo un perfetto esempio di come lui sappia rigirare i discorsi per ottenere quello che vuole, con astuzia e furbizia.
La seconda parte di sé che tira fuori è quella di Lannister senza la quale la prima non esisterebbe. L'orgoglio, la fierezza e la determinazione di una famiglia che non si piega davanti a nessuno e che sa sempre prendersi quello che gli spetta e anche di più. Durante il processo per combattimento, entra in gioco il personaggio di Bronn, unico cavaliere disposto a battersi per la vita di Tyrion, che riesce a salvare (per Tyrion una giornata come tante).
Il motivo per cui Bronn decide di difendere Tyrion è legato sicuramente al compenso che sapeva di poter ottenere da uno come lui. Bronn, come scopriremo più avanti, vuole essere un cavaliere, ricco, con un bel castello e una bella moglie, e questo è il primo passo per ottenere ciò che vuole.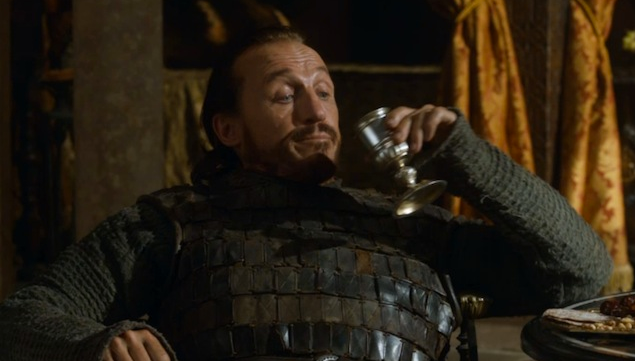 Direi che in questa puntata vediamo vari personaggi subire delle trasformazioni che li porteranno a crescere definitivamente. Abbiamo Arya, che impara a combattere nonostante la guerra che porta dentro, una guerra che accrescerà sempre di più con il passare del tempo, e che richiede uno stoicismo esemplare viste le future battaglie che affronterà. Abbiamo Robb che, solo alla guida di Grande inverno, si ritrova, durante uno scontro con dei bruti che volevano uccidere suo fratello, a capire il valore dei legami e soprattutto il valore di essere al comando di qualcosa. Tutte queste lezioni sono fondamentali per lo sviluppo di questi personaggi. In questa puntata si piantono quindi i semi per gli sviluppi futuri sia caratteriali che narrativi.
Ma il personaggio che, in questa puntata e in Game of Thrones in generale, è cresciuto di più e che ha attraversato un cambiamento evidente, chiaro e intrascurabile non può che essere Daenerys. Daenerys affronta una questione molto importante, una questione che è stata trascurata e accettata per moltissimo tempo. Viserys non è un drago, non è adatto a regnare e non se lo merita. Daenerys dimostra in questa puntata di essere diventata una vera Khaleesi, non solo mangiando il cuore di cavallo, come comandano le tradizioni dothrake, ma anche mostrando un atteggiamento radicalmente cambiato dalle prime puntate. Se prima era una dolce principessina orfana e impaurita dal mondo, ora è una regina fiera di sedere al fianco del suo Khal e di star per dare alla luce lo stallone che cavalcherà il mondo.
Durante la celebrazione, Daenerys si mostra orgogliosamente integrata nel mondo dei dothraki, dimostra loro di voler far parte della comunità e riesce a farsi amare e adorare. Allo stesso tempo Drogo si mostra fiero di quello che ha fatto Daenerys, fiero delle sua parole e di averla come regina. Lo è così tanto che durante i festeggiamenti arriva a fare quello che la moglie da sola non sarebbe mai riuscita. Vyseris, geloso del successo della sorella decide di scappare con le uova di drago: lui non ha ne il carisma, ne la determinazione di un Targaryen e l'unico modo per farsi obbedire è pagare. Dopo che Ser Jorah lo riesce a fermare si ubriaca e minaccia Daenerys, davanti ai dothraki chiedendo quello che crede gli spetti: una corona.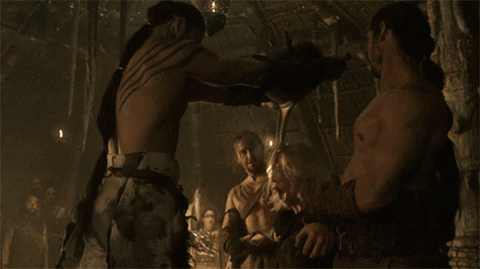 Drogo accetta di dargli ciò che merita, una corona d'oro… furo…. in testa. Questo atto definisce una volta per tutte il rapporto fra Drogo e Daenerys: lei ha abbracciato ufficialmente la cultura del marito, adattandosi alla vita fra i dothraki e facendola sua, Drogo, con questo atto, sposa la causa della moglie, non a parole ma con un gesto netto e inequivocabile che segna l'inizio del successo di Daenerys.