Game of Thrones non è una Serie Tv, sono TANTE Serie Tv incastrate una dentro l'altra, tipo i classici pagliacci nella 500 o i partecipanti di una di quelle cene eleganti che si facevano tra Arcore e Macherio qualche tempo fa.
Abbiamo visto la Spy Story, il Thriller più o meno psicologico, un tocco di Horror e una spruzzata di Sitcom. Nella sesta puntata della prima stagione, però, arrivano anche il Legal Drama e la Soap Opera.
In pratica, il Settimo Cielo per tutte le massaie che si guardano Forum in attesa che inizi Beautiful.
Ok, forse non è esattamente il Tv Show ideale da guardare con tua nonna, tua madre e decisamente tua sorella, però Game of Thrones sta evidentemente cercando di piacere a tutti.
Manca solo qualche draghetto per ammiccare anche ai più piccini, poi siamo a posto.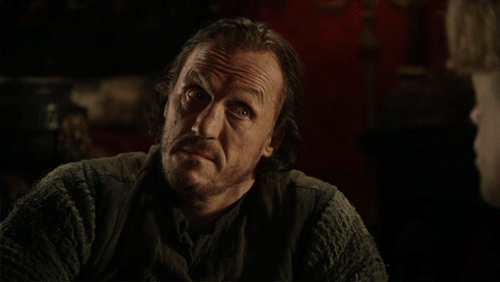 Bon, adesso bando alle ciance che nella 1×06 di cose ne sono successe parecchie. Per la prima volta dalla partenza di questo viaggio (iniziato all'incirca qui) il materiale raccolto è talmente vasto che ho dovuto cestinare alcune battute che mi suonavano carine, e che avevo appuntato durante la visione.
Tranquilli, considerando il mio umorismo non è che vi siate persi molto.
LE PAGELLE DELLA 1×06 DI GAME OF THRONES
THE HANGOVER – VOTO 7
Ned si risveglia dai postumi dei bagordi con Jaime Lannister giusto in tempo per assistere all'ennesima crisi coniugale.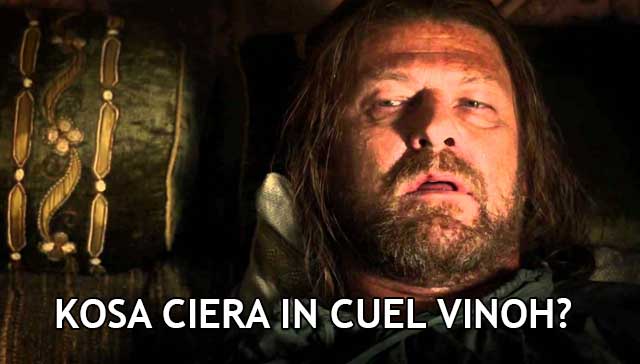 Anche lui ci mette del suo, riuscendo a discutere nonostante sia mezzo morto. I metodi spicci del buon King Robert, comunque, celebrano dignitosamente la appena trascorsa giornata contro la violenza sulle donne.
Nota a margine, ma in questo posto c'è vino ovunque?
Hai una delusione amorosa? VINOH!
Ti hanno infilato una picca nella coscia? VINOH!
Hai voglia di vino? VINOH!
È finito il vino? VINOH!
Tuo fr.. VINOH!
VINOH? VINOH!
Anche andare a caccia col Re non deve essere la cosa più divertente del mondo. Possiamo lo stesso ammirare come a qualsiasi latitudine, quattro uomini da soli parleranno sempre e poi sempre delle stesse cose.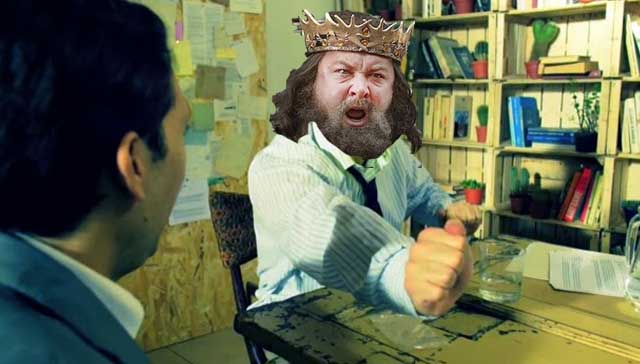 Mentre il Boss è a divertirsi nel bosco, Ned (nel frattempo tornato Primo Cavaliere dopo le dimissioni, dalla serie che le poltrone non si mollano mai anche se ti infilzano il posteriore) deve sorbirsi le lamentele di un contadino nei confronti di un gruppo di Ultras di Castel Granito.
Ned la tocca pianissimo, revocando alla Montagna i titoli, gli onori, le terre, i Credits alla fine del film che appena girato e un paio di Grammy.
E le sue figlie?
Arya porta la giustifica per il ritardo a lezione. Syrio si dimostra comprensivo e le insegna una preziosa lezione di vita.
C'è solo una cosa che puoi dire alla morte: "Non in questa puntata, Martin. Per favore."
Sansa riceve un regalo improvviso da parte del suo amato promesso sposo. Il quale avrà qualcosa da farsi perdonare. Avrà.
Piano con le accuse, però. Del resto, chi non è mai sceso nel patetico con la speranza di tirare un limone?!?
SEPTA SCHIFATA DALLE MOINE DI JOFFREY – VOTO 9
A SANSA SERVIREBBE IL METODO TYRION – VOTO 10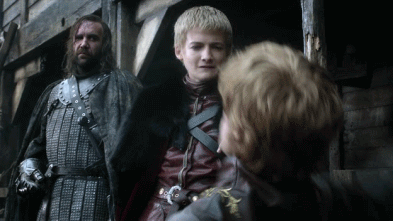 NED SCOPRE CHE JOFFREY È UN LANNISTER, E CHE EYNOR È FINKLE – VOTO 8
FATTI UN GIRO NEL QUARTIERE – VOTO 7
Robb porta il giovane Bran ai parchetti comunali, nonostante tutti i maniaci che ci sono in giro al giorno d'oggi. Infatti, dopo poco viene fermato da alcuni brutti ceffi con la classica scusa.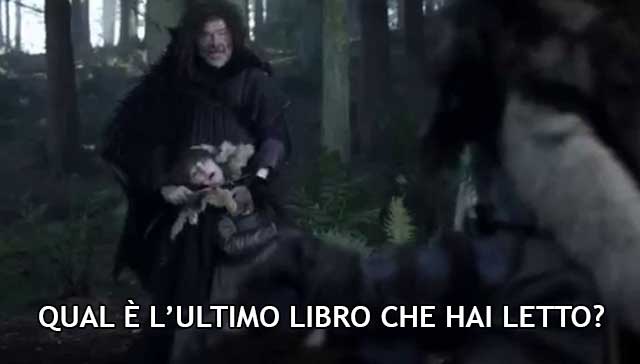 Come nelle migliori periferie degradate, alla fine è sempre il fratello maggiore a dover far brutto per tirarlo fuori dai guai. Con l'aiuto di suo cuggino. E siamo a quota 3 volte in cui Bran poteva e ragionevolmente sarebbe dovuto crepare in 6 puntate. Buona media, roba che neanche i personaggi di Bruce Willis a cavallo tra gli anni '80 e '90.
Anche Theon però ha qualche problema, che non definirei esattamente di cuore. Oddio, un organo è coinvolto, ma un pochino più giù geograficamente parlando. Fatto sta che è costretto a spronare il cavallo al galoppo a perdifiato per raggiungere la bella Ros in partenza verso Approdo del Re, ed avere una romantica ultima visione delle sue pubenda.
Grazie a Dio, rispetto a quello di Game of Thrones viviamo in un mondo dove è possibile inviare nudes per messaggio.
ROS DI COGNOME FA "SOLO"? – VOTO V (EPISODIO)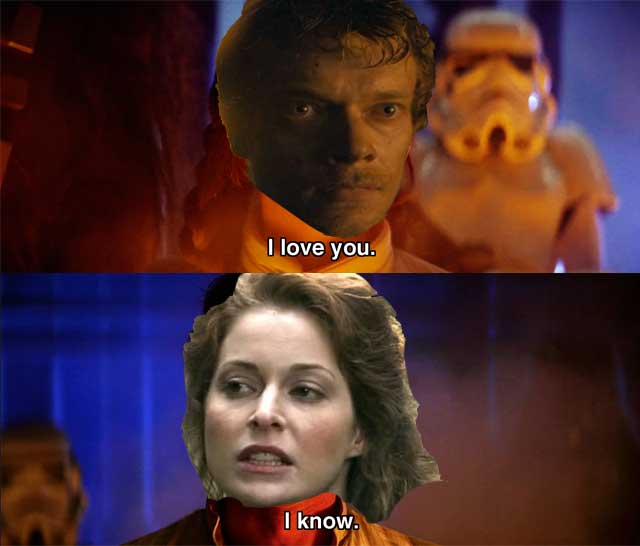 CHIEDERE A THEON COSA FARE DI UNA DONNA È COME CHIEDERE A UN VENTENNE COSA HA INTENZIONE DI FARE AD AMSTERDAM – VOTO 6
LA PACATA DISCREZIONE DI HODOR NELL'ENTRARE NELLE ALTRUI CAMERE – VOTO 4 (INFARTI)
I FRATELLI SONO GLI AMICI CHE NON TI SCEGLI – VOTO 5
Tyrion si confessa come mai ha fatto in tutta la sua vita. Parla a ruota libera, si alleggerisce di ogni singolo peso che gravava sulla sua coscienza come neanche in una sagace intervista con Maurizio Costanzo. Era lui quel pomeriggio a Dallas, era lui quelle notti a Whitechapel, è apparso lui a quei tre pastorelli in Portogallo.
Ma no, non c'entra nulla con i tentativi di omicidio di Bran.
Solo due considerazioni:
Non andrò mai a cena a casa sua e
COSA DIAVOLO HA FATTO DENTRO AD UN BORDELLO CON UN ASINO E UN NIDO DI API?!?
In ogni caso, per scagionarsi sceglie il processo per direttissima. Nel senso che se il suo campione vince la sfida è direttamente salvo, se invece la perde è direttamente al livello del mare.
In un angolo, un altro signore non molto alto e con degli strani capelli mugugna:
"Cribbio, l'avessi saputo prima ci mandavo l'Ibrahimovic dalla Boccassini"
(Ndr, grazie al prepotente ritorno sulle scene del Cavaliere, questa boutade e quella sulle cene eleganti sembrano meno stantie di quello che effettivamente sono. Meno male che Silvio c'è)
Bronn si offre di battersi al posto del Lannister, e con un'agile tattica spedisce il fedele servitore della famiglia Arryn a fare compagnia al fertilizzante della valle.
A Vaes Dothrak, intanto, si studiano i principi della termodinamica. Daenerys si gusta una prelibata grigliata di sassi, rendendo inutile il set da barbecue che le hanno regalato per il matrimonio.
Spicca anche l'arguzia della nostra Khaleesi preferita: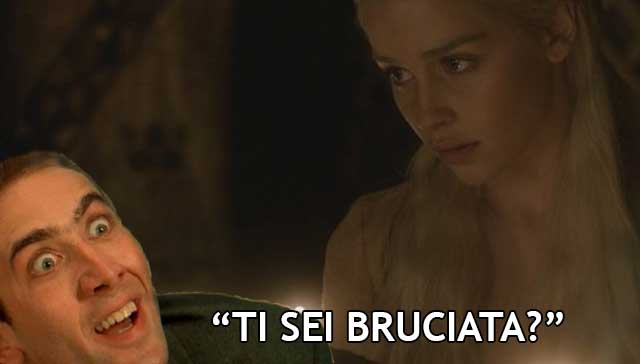 La cottura della carne, comunque non sembra essere il suo forte. Si mangia un cuore di cavallo con un buon Chianti, per celebrare la futura nascita dello Stallone che cavalcherà il Mondo.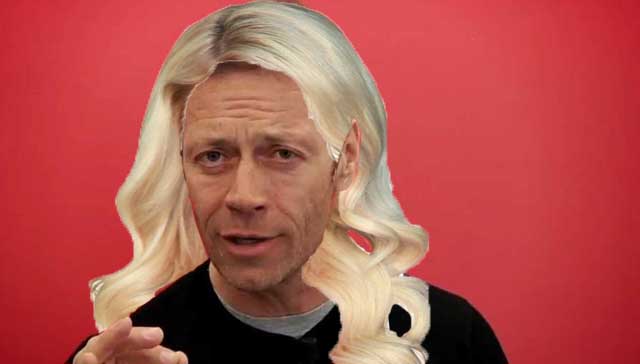 Pur essendo un maschio, però, l'erede non è detto che sia un drago. E gli ultimi esempi non sono eccessivamente confortanti. Il piccolo Viserys inizia ad essere decisamente geloso delle attenzioni rivolte alla sorella minore. Adolescenza is Coming.
Dopodiché, credo che in Game of Thrones non ne sentirete mai più parlare…
NESSUNO HA MAI DETTO "RICCO" COME UN PAGELLISTA DI HOS – VOTO 1
UN PRINCIPE CAVALCA DENTRO DAENERYS. SAPESSI LA NOVITÀ – VOTO 3
La citazione della settimana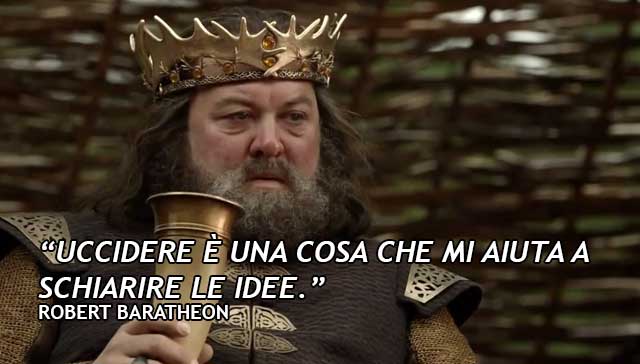 Le previsioni del Gufo con Tre Occhi
Dopo ogni episodio elargiremo profezie sui destini dei protagonisti di Game of Thrones. I quali potranno tranquillamente risponderci, se sono capaci di scrivere sulla tastiera con una mano sola…
Fossi in Beric Dondarrion non andrei alla caccia della Montagna. È un uomo pericolosissimo, e la vita è solo una…
La battuta di caccia servirà al Re per ricaricare le pile. Un po' di cinghiale non ha mai fatto male a nessuno.
Senza Viserys di mezzo, strada spianata per il figlio di Dany alla successione al Trono.