# #
Su Game of Thrones abbiamo sbagliato tutto. Me ne assumo la responsabilità, anche io al pari dei miei colleghi ho contribuito ad alimentare false piste e strade sbagliate in direzione del Trono di Spade. Faccio un mea culpa pubblico e mi scuso con tutti gli affezionati lettori, ma prima di ogni altra cosa ricapitolo le puntate precedenti.
Inizialmente, avevamo pensato che per il Trono di Spade servisse una mente affilata, un interlocutore brillante capace di tenere testa alle sottili allusioni di Peter Baelish e alle arguzie mentali di Tyrion Lannister. Qualcuno con pochi peli sulla lingua, dalla risposta (al commento social) pronta e abituato a trattare con le teste coronate (delle grandissime teste coronate, a volte).
In pratica, pensavamo a lui.
Niente da fare, uno così serve dall'altra parte della barricata, a denunciare le malefatte e non a rendersi complice.
Il secondo candidato, al contrario, conservava tutta la purezza d'animo di chi è dedito anima e corpo nel donare generosamente conoscenza e cultura alle menti inferiori. Un illuminato, con la Storia nel sangue e un fascino indiscutibile. Eravamo convinti che avrebbe finalmente portato erudizione all'interno della capitale, posto fine ai secoli bui con il piacere della scoperta.
Credevamo molto in lui.
Anche in questo caso, respinti con perdite. Non si può ingabbiare un cittadino del mondo in pochi metri quadrati, costringere un esploratore a stare tutti i giorni abbarbicato su una scomoda sedia di metallo. Sarebbe stato ingiusto, scorretto, infinitamente sbagliato.
A quel punto è arrivata l'illuminazione. Perché in giro c'è una persona abituata da anni a stare sempre seduta, dirigendo con sapiente armonia il traffico di parole proveniente da soggettoni non sempre facili da addomesticare. Uno in grado di conversare con i potenti, ma di sapere allo stesso tempo ascoltare le storie degli umili.
Una persona sensibile, che ha scritto canzoni e poesie, e che saprebbe ammutolire con i suoi discorsi anche i contendenti più infervorati.
# #
Per la bellezza delle parole? No, macché.
Per il tono appassionato? Nemmeno.
# #
Per la saggezza del suo pensiero? Ma non scherziamo…
E allora perché? Perché non si capirebbe un caz
POCO, SI CAPIREBBE POCO. In ogni caso lui è il cavallo su cui puntare, senza contare che, rispetto ai suoi avversari, porterebbe in dote una First Lady di Acciaio.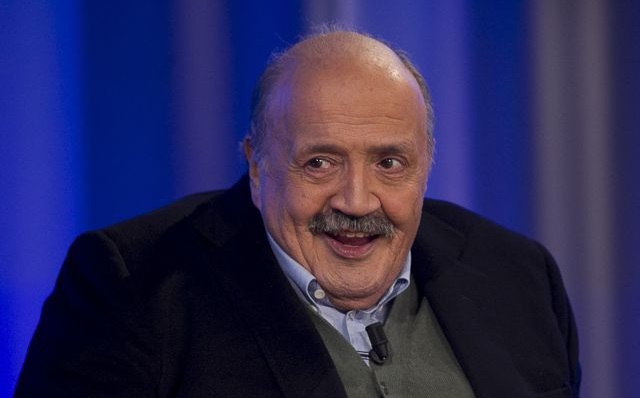 Ladies and Gentlemen, dallo studio 1 di Hall of Series vi presentiamo il Maurizio Costanzo Thrones
25 MOTIVI PER CUI MAURIZIO COSTANZO
È PERFETTO PER IL TRONO DI SPADE
1) Se fosse condannato a morte, manderebbe in crisi il boia Ilyn Payne.
2) Il popolo avrebbe finalmente ciò di cui ha bisogno: un governante che parli come mangia. Anzi, in questo caso che parli come se stesse mangiando.
3) Sposterebbe la sala del Trono di Spade al teatro Parioli, con la corte che almeno non dovrebbe stare in piedi sulla balconata.
4) Perché nel concilio ristretto che vorrei, Sgarbi dà della "Capra! Capra! Capra ignorante! Capra!" a Ditocorto (riferendosi al pizzetto).
5) Ah, immaginate anche solo per un momento il buon Vittorio immerso in una disputa verbale con Olenna Tyrell. Roba da farci una stagione minimo.
6) Perché Varys è un Platinette con meno sbatta nel truccarsi.
7) La sigla suonata dall'orchestra di Demo Morselli avrebbe tutto un altro perché.
8) Fervente animalista, dichiarerebbe guerra a Daenerys per maltrattamenti su Viserion e Rhaegal.
9) Fermerebbe gli Estranei con un perentorio "State bboni!"
10) Riuscirebbe a carpire dichiarazioni interessanti anche intervistando Hodor.