SPOILER ALERT – IN QUESTO ARTICOLO SONO PRESENTI SPOILER SULLE PRIME SEI STAGIONI DI GAME OF THRONES
La settima stagione di Game of Thrones è alle porte, e noi tutti sappiamo che quest'anno sarà all'insegna del potere femminile.
Cersei è sul Trono di Spade più che decisa a volerselo tenere ancora per un po'. Arya Stark ha cominciato a gustarsi la sua vendetta, consapevole che di nomi da spuntare ce ne sono parecchi. Sansa dal canto suo ha salvato la pelle al nostro bastardo preferito, aspettandosi quanto meno un riconoscimento.
Tuttavia colei che più di tutte racchiude in sé la potenza femminile di Game of Thrones è la nostra Daenerys Targaryen, che sta reclutando sotto il fuoco e il sangue svariati esemplari femminili dai desideri piuttosto ambiziosi.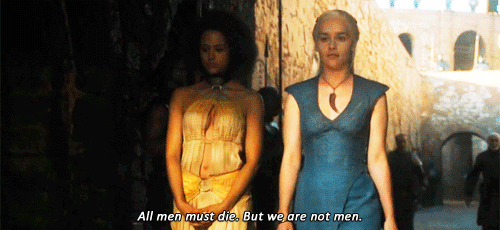 Tuttavia in quante sono cadute lungo il tragitto? Quante donne per amore, follia, giustizia o semplice stupidità sono rimaste indietro?
Eccovi di seguito una breve rassegna di quelle donne che nell'arco di questi sette anni sono cresciute, cambiate, hanno imparato cos'è il dolore e da esso sono state temprate, almeno per coloro che sono riuscite a sopravvivere.
#1 Margaery Tyrell e Olenna Tyrell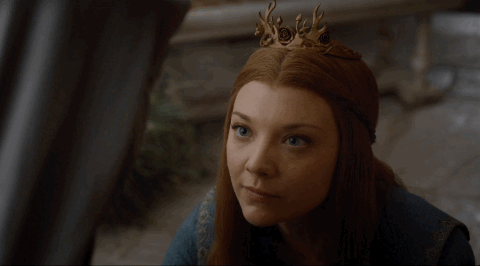 La dipartita di Margaery è stata traumatica, inaspettata e assolutamente ingiusta. L'abbiamo conosciuta sotto un abito di ambiguità. Forse parlo solo per me, ma in principio non mi convinceva: la vedevo come una donna davvero molto ambiziosa e disposta a tutto pur di raggiungere i suoi scopi.
La vedevo come un altro volto di Cersei Lannister: mi sbagliavo.
Nelle confidenze tra lei e Sansa mi sono resa conto quanto quella donna fosse sì ambiziosa, ma profondamente pura di cuore. Lei voleva il giusto in un mondo sbagliato. Margaery confessandosi con Sansa mostrava la propria consapevolezza del ruolo che avrebbe ricoperto ed al fianco di quel re che avrebbe di lì a poco sposato.
«Sono le madri che educano i figli» aveva detto, e quindi poco le importava se avrebbe dovuto sposare un crudele se questo le avrebbe permesso di diventare quella regina giusta di cui il Continente Occidentale aveva bisogno. Così come accettava Renley, accettò anche Joffrey, ma grazie alla nonna più cazzuta che esista non avrebbe dovuto sopportare quel ragazzino crudele per molto.
Il suo terzo marito non avrebbe avuto una sorte molto più fortunata, ma quanto meno avrebbe avuto il tempo di godere delle grazie di sua moglie.
Margaery si è rivelata essere una donna forte anche nel suo momento peggiore, abbandonata in quella cella senza più alcuna speranza. Imparò a usare la sua astuzia anche contro quei fanatici e salvando se stessa e quel che rimaneva di suo fratello.
Lei sapeva che cosa sarebbe accaduto al tempio. Lei conosceva Cersei e sapeva che niente e nessuno avrebbero potuto fermarla. Ma come la Cassandra dell'Iliade, anche Margaery li avrebbe avvisati invano, e come la profetessa mai creduta, anche lei sapeva che la sua fine sarebbe arrivata.
La mela non cade lontano dall'albero, ed evidentemente nella famiglia Tyrell sono le donne a portare i pantaloni.
Nonna Olenna è una delle donne più forti rappresentate in Game of Thrones, nonostante venga spesso sottovalutata. Fin dal primo momento si guadagna la nostra stima nel suo modo di tener testa ai Leoni, e soprattutto per il fatto che ci libera di quel (meglio che non lo scrivo) Joffrey "Baratheon".
Tuttavia è alla fine che vediamo la più grande forza di una donna disperata.
Olenna Tyrell ha perso tutto, ha perso la sua famiglia e il suo nome. Ha perso la sua rosa, ma non ha perso se stessa. È sopravvissuta e in quanto tale non ha più niente da perdere. Vuole vendetta, vuole distruggere coloro che l'hanno distrutta, e otterrà la sua vendetta.
Nel fuoco e nel sangue.