Sono passati mesi dalla magistrale chiusura della sesta stagione, ma ancora, ammettetelo, avvertite quel caos di emozioni, quelle sinestesie incontrollabili che si sono sprigionate dagli ultimi eventi a cui abbiamo assistito inermi: il ritorno di un eroe (o dell'eroe, se vogliamo considerarlo il soggetto di un complesso, ingegnoso e vastissimo Schema di Propp), la nascita del Re della Notte e dunque dei "leggendari" Estranei di cui è guida, le origini del soprannome del tanto compianto mezzogigante Wylis, cioè Hodor, il totale (?) avverarsi della sentenziosa profezia annunciata dalla strega Maggy alla giovane Cersei e, per finire, la grande rivelazione.
Sì, di rivelazione parliamo con certezza, perchè si tratta di una teoria che vive da circa 20 anni e che non aveva mai trovato conferma fino ad ora. Ovviamente avete ben compreso di cosa sto parlando: R+L=J. Una semplice somma che, nella sublime transizione (ormai resa famosa nei social attraverso una gif) offerta dalla HBO, raggiunge livelli epici. Scatta dunque l'epifania di un'intera generazione, le forti sensazioni seguono un climax ascendente per poi esplodere in grida di gioia, in risate di agognata soddisfazione o, ancora, in pianti di pura emozione.
Questi sono i misteri più arcani fino ad ora risolti, ma come sappiamo il "gioco dei troni" offre una vasta landa di enigmi ancora inesplorati, immobili nei loro recessi, pronti ad essere scoperti.
Proviamo dunque a parlarne insieme, iniziando con qualcosa di semplice, per poi salire fino alla vetta, all'apice di questa fantastica epopea che è Game of Thrones. Unica avvertenza: spoiler certi e potenziali senza fine.
1. Che ne è stato di Syrio Forel?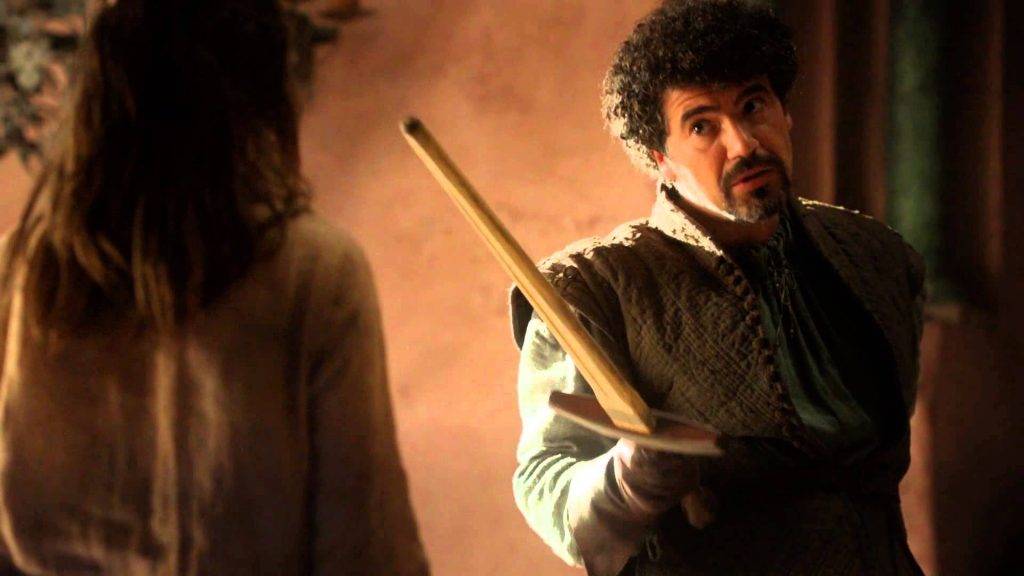 Partiamo con dei piccoli quesiti nati da tempo che ancora non hanno ottenuto risposta e, come detto, giusto per scaldare la materia grigia, con qualcosa di concreto. Secondo questo ordine potremmo chiederci: "Che fine ha fatto Syrio Forel?". Per chi lo avesse accantonato nel dimenticatoio, Syrio Forel è la Prima Spada di Braavos e lo conosciamo nella prima stagione come il maestro di scherma di Arya Stark ad Approdo del Re. All'arrivo di cinque guardie Lannister capeggiate da Ser Meryn Trant, il braavosiano affronta il gruppo armato con abilità uscendone illeso e, prima di concentrarsi su Ser Meryn, invita Arya ad allontanarsi senza di lui. "La Prima Spada di Braavos non scappa" è la spiegazione. Qui ci inganna l'assenza di un narratore onnisciente, che possa osservare e dire/raffigurare tutto, ed è qui che nasce il mistero: vediamo solo fin quando Arya può vedere, per quanto riguarda le sorti del maestro. E la sua ultima visione è quella di un Syrio in seria difficoltà, la cui spada da allenamento viene spezzata dalla ferocia del cavaliere. Poi il buio, che da circa 5 anni non è ancora stato illuminato.
La sua morte, dunque, non è mai stata mostrata sullo schermo e questo ha fatto strada alle ipotesi che sia riuscito a sopravvivere allo scontro. A favore di questa teoria possiamo considerare il fatto che non ci sia stata alcuna conferma dalla produzione riguardo alla sua morte, come invece è avvenuto per Stannis nonostante non si fosse vista la lama di Brienne recidergli la testa.
Uno sviluppo interessante della teoria vuole che Jaqen H'ghar e Syrio siano in realtà la stessa persona, se consideriamo che il primo personaggio è apparso per la prima volta mentre era prigioniero (nonostante le sue incredibili capacità furtive e combattive), è un braavosiano e inoltre dimostra nell'immediato un particolare legame con Arya.
Si tratta di un enigma del tutto aperto che le fantasiose, seppur ben congegnate, ipotesi dei fans complicano ulteriormente. Vi lascio con le parole dell'attore che impersona Syrio Forel, Miltos Yerolemou :
"Certo che vorrei ritornare in Game of Thrones. Le persone mi chiedono sempre -E' morto realmente?-, e la situazione è che non si può sapere. Ho le mie teorie e Dave Benioff e Dan Weiss le loro, e questa è la situazione. Non so davvero se Syrio sia morto oppure no ma anche se lo sapessi, non ve lo direi! E' la parte divertente non sapere mai".