«Sarai regina… fino a quando non verrà un'altra regina, più giovane e più bella di te, a distruggerti e a portarti via ciò che avrai di più caro.»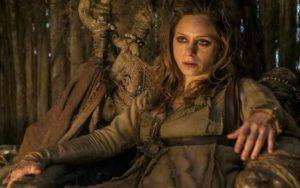 Cersei era giovane, ambiziosa ed infatuata del principe Raeghar, come tutte dopotutto, ma quelle tre risposte di Maggy la Rana l'avrebbero perseguitata fino alla fine dei suoi giorni.
Cersei Lannister voleva sposare il principe Raeghar, e si ritrovò moglie del re usurpatore Robert Baratheon. Era stato un matrimonio politico in cui lei riponeva grandi speranze, tutte infrante fin dalla prima notte di nozze, quando l'uomo che aveva sperato d'amare pronunciò, immerso nell'ebbrezza, il nome "Lyanna".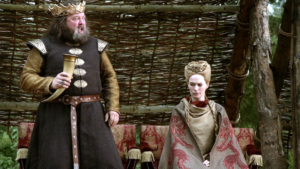 La leonessa di Castel Granito incarna a pieno titolo il concetto di forza e orgoglio, ma la vita le avrebbe dimostrato che certe profezie non si possono ignorare.
Tre figli frutto dell'incesto con il grande amore di tutta la sua vita, tre sudari dorati.
Molto diversa però è stata la reazione alle tre morti: la disperazione e la furia per la fine del primogenito, della cui follia e crudeltà era ormai pienamente consapevole, per quanto l'avesse amato con tutta la forza di cui una madre è capace; la profonda tristezza per la morte di Myrcella, creatura innocente e buona, forse più simile al padre che alla madre, che non a caso esala l'ultimo respiro proprio tra le braccia di Jaime; ed infine una reazione glaciale alla morte di Re Tommen, troppo debole per quel trono tanto scomodo, e profondamente solo nel momento della sua morte, così, forse, come lo era stato per tutta la sua vita.
Questa è stata la dimostrazione più tangibile del cambiamento avvenuto nel personaggio: in sei stagioni abbiamo visto Cersei trasformarsi completamente e le conseguenze non tarderanno a manifestarsi.
In principio lo scopo della regina non era regnare, quanto piuttosto avere il potere di proteggere la sua famiglia, a partire dalla condanna a Ned Stark, la grande molla che innescò il fantomatico gioco del trono.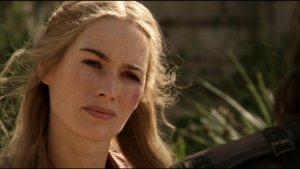 Ma la madre, dopo la morte di Joffrey, si trasforma lentamente nel Guerriero, assetato di vendetta nei confronti di quel fratello che non solo le ha portato via Joanna Lannister, ma anche il primo figlio e il padre.
Ma la strada è ancora lunga, e tappa fondamentale è il cammino della vergogna: "the walk of shame" ha cambiato radicalmente l'animo di Cersei, e da madre l'ha trasformata in regina.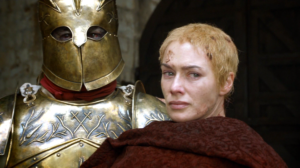 Tommen forse non era il figlio che si sarebbe aspettata, nel vedere la sua inettitudine alcuni potrebbero aver sentito la mancanza dello spietato Joffrey, sicuramente l'ha sentita la regina che senza più farsi nessuno scrupolo, senza preoccuparsi più delle conseguenze delle sue azioni, in primis la sofferenza che avrebbe provocato al figlio, mette in atto la sua tremenda vendetta.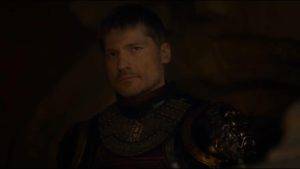 E in quello sguardo sadico e in quel ghigno malefico ha iniziato quell'opera che Jaime aveva impedito al re folle: "Bruciateli tutti". Ed è proprio nello sguardo di Jaime che leggiamo la condanna della nuova regina: un finale di stagione eccezionale senza alcun dubbio, ma ancor di più un finale di episodio che cambia un'epoca in Game of Thrones.
Sul trono di spade siede una regina che ha perso completamente quell'umanità che l'aveva contraddistinta per tutta la vita, un'umanità forse un po' perversa, contestabile e che spesso abbiamo odiato, ma che in un qualche modo riuscivamo a comprendere: una madre per i propri figli è disposta a fare qualunque cosa, anche la più abietta, ma una donna assetata di potere, privata di qualunque scrupolo e con una corona sulla testa può essere di una rilevanza catastrofica.
Cersei ha varcato il punto di non ritorno, ha raggiunto la sua catarsi definitiva cambiando completamente la sua natura, perdendo se stessa: non è più l'amore a guidarla, ma il piacere e la sete di potere, e adesso i punti di domanda sono tanti, il come rimane un'incognita, ma la sensazione che la fine si avvicini si fa sempre più concreta.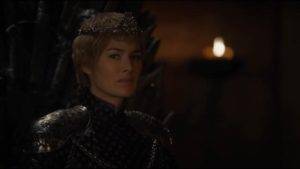 Daenerys sta finalmente arrivando, e non dimentichiamoci di quella visione che la vede nella sala del trono immersa nella cenere (o forse era neve?) e la nuova regina degli Andali e dei Primi Uomini ha ancora a disposizione una cospicua scorta di Alto Fuoco, ma c'è molto di più:nei libri la profezia non si limita a predire la fine del ruolo di regina di Cersei per la venuta di un'altra regina più giovane e più bella, ma anche a predirne la morte per mano del fratello minore, e per quanto il principale indiziato sia di sicuro Tyrion, che godrebbe profondamente dalla fine della sorella, non possiamo dimenticarci che anche lo stesso Sterminatore di Re è minore di Cersei, anche se di pochi minuti, e in quello sguardo finale non possiamo non leggere la profonda incrinatura che si è venuta a creare nel legame tra i due gemelli, la disperazione e l'inesorabile condanna.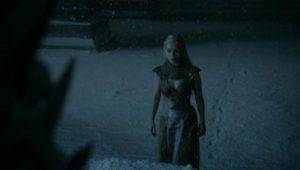 Al gioco del trono o si vince o si muore e la regina ha fatto la sua mossa scegliendo la violenza: ha vinto, ma l'inverno è arrivato.