3) L'arrivo di Tywin Lannister, 2×09
Alla fine della citata battaglia, a risolverne in maniera definitiva le sorti arriva l'armata di Tywin Lannister. L'epicità è data dalla graduale e rallentata esposizione dell'arrivo dei Lannister: prima si vedono solo zoccoli di cavalli, poi si intravedono vessilli, nel frattempo parte la musica "Rains of Castamere". Tywin che entra nella Sala del Trono affermando "We have won" (abbiamo vinto) chiude una puntata mozzafiato.
4) Esercito di non morti, 2×10
Lo segnalo come uno dei momenti più epici (anche più della nota scena del Re della Notte che trasforma tutti i cadaveri in sue reclute davanti a Jon Snow nella quinta stagione) perchè per la prima volta si ammira la potenzialità degli Estranei. Sam, seminato dai compagni, si nasconde dietro un sasso e osserva prima gli Estranei a cavallo, poi l'incredibile numero di non morti al loro seguito. Il silenzio in questo caso è perfetto: così si chiude la stagione.
5) Daenerys trucida i padroni di Astapor, 3×04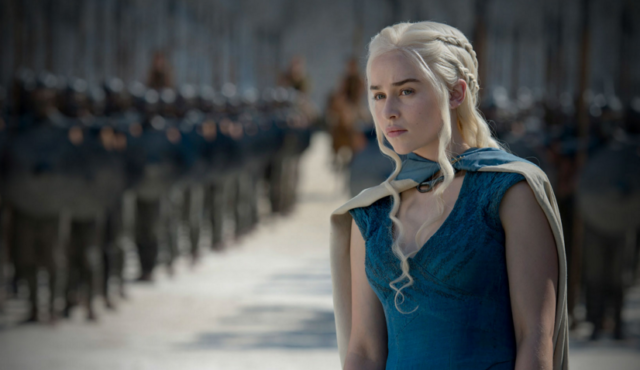 Alla ricerca di un esercito, Daenerys arriva alla Baia degli Schiavisti e la sua prima tappa è Astapor, sede del padrone di 8000 Immacolati. Costui, che per molte conversazioni l'ha insultata credendo che non parlasse il Valeryano, crede di aver realmente ottenuto lo scambio Immacolati-Drogon: non sa che Daenerys ha altri piani. Con la tipica colonna sonora "Dracarys", il drago uccide il padrone e la Targaryen ordina agli Immacolati di uccidere tutti i padroni. Elettrizzante.
6) Daenerys acclamata dal popolo di Yunkai, 3×10
Il personaggio di Daenerys è proprio "Badass", non c'è niente da fare. Dopo aver liberato anche Yunkai dalla schiavitù, prima di entrare in città viene letteralmente assalita da tutti gli ex schiavi di Yunkai: con una musica che incalza sempre di più, si leva alto il coro "Myhsa" (che significa Madre) da parte del popolo, che la solleva in alto in una sequenza fotograficamente e scenograficamente perfetta; a tutto ciò si accompagna il volo dei tre draghetti nel cielo, sempre più grandi.