E così, dopo solo un mese di puro divertimento, anche la seconda stagione di Galavant è giunta alla fine.
Dovete credermi, ne sento già la mancanza. Ma devo ringraziare i produttori, perchè di certo mi hanno fatto passare un mese indimenticabile.
Riassumere una stagione del genere è piuttosto difficile, ma credo che la giusta sintesi sia: più azione, più nonsense e, soprattutto, più musical. A dirla tutta, inizialmente avevo qualche dubbio: i produttori sarebbero riusciti a replicare il successo della prima stagione? E' inevitabile pensarlo, visto che molte serie cominciano a decadere dopo una singola stagione. Lasciatemi dire che per Galavant non è assolutamente stato così! Al contrario, la seconda stagione è stato un vero exploit, con quell'insieme di comicità un po' nonsense, canzoni divertenti e romantiche, e tanti, tantissimi riferimenti al mondo del musical.
Vogliamo parlare di Today we rise e It's a good day to die? Questi momenti Les Miseràbles in versione telefilm mi hanno fatto letteralmente morire! Per non parlare di Finally, chiaramente ispirato a Grease, e I don't like you, prima catfight del telefilm (ci sono volute due stagioni ma alla fine ce l'abbiamo fatta! YEAH!).
Insomma, Galavant season 2 è riuscito a dare ancora una volta il meglio di sè, sia musicalmente che nella trama. La storia è divertente e tenera allo stesso tempo, e siamo riusciti, ancora una volta, ad essere trasportati in una splendida sinergia di generi musicali diversi. Voglio dire, come dimenticare l'intervento della principessa Jubilee?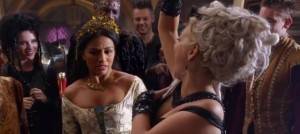 Non solo. Questa stagione di Galavant verrà sicuramente ricordata per i diversi riferimenti telefilmici proposti al suo interno, soprattutto quelli relativi a Game of Thrones. Dalla prima puntata all'ultima è stato un susseguirsi di citazioni o riferimenti al regno di Westeros: prima gli Estranei, poi re Richard che è convinto di possedere un vero drago, e per finire la mitica battuta
Oh please, this isn't game of thrones!
E non meno importante l'inserimento di guest star, prima tra tutti LEI:
Una strepitosa Kylie Minogue, nelle vesti di proprietaria di una locanda gay nel bel mezzo di una foresta, ha dato inizio alla stagione con una performance divertentissima sullo stile di Priscilla – La regina del deserto.
Possiamo guardarla da tutte le angolazioni, ma arriveremo sempre alla stessa conclusione: Galavant è riuscito a presentare una storia divertente e innovativa, per niente scontata o banale. E' riuscito a catturare lo spettatore in ogni momento, con la musica, le risate, e con alcuni suoi momenti strappalacrime… Come il primo duetto tra Isabella e Galavant, relativo al loro primo bacio: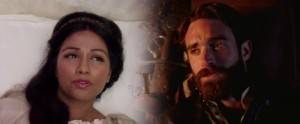 E' esattamente quel tipo di comedy di cui senti la mancanza, nel momento in cui la stagione finisce, e per la quale speri con tutto il tuo cuore che ci sia un rinnovo. Io per prima lo spero ardentemente! Insomma, voi non siete curiosi di vedere Madalena alle prese con le arti oscure e Gareth che accompagnato da Sid la cerca per salvarla? Io dico che ci troveremmo di fronte a qualcosa di estremamente epico e divertente… Voi no?
Ho già dato in precedenza motivi sul perchè cominciare a guardare questa serie, e oggi come un mese fa vi rinnovo la proposta! Non posso offrire grandi motivazioni perchè si tratta per lo più di una questione di genere: o piace o non piace… E a me personalmente piace moltissimo! Vi invito seriamente a cominciare Galavant, e vi assicuro che non smetterete più di cantare, per niente al mondo! E poi, quale modo migliore per capire perchè una serie ha successo se non vedendola?
Teniamo quindi le dita incrociate per il nostro eroe preferito, per la principessa più tosta che si sia mai vista, per il re ingenuo e per tutti gli altri personaggi del divertentissimo Galavant!
Noi vi aspettiamo qui con ansia, non deludeteci!