Sono passati venticinque anni dall'uscita di Friends che con i suoi 236 episodi ha segnato un'epoca e dettato regole nuove, valide ancora oggi, per la creazione di una comedy di successo. Potremmo stare ore a tessere le sue lodi, perché a ogni rewatch della serie è normale rinvenire ragioni in più per amarla. Potremmo addirittura dire che Friends è una di quelle poche serie tv in grado di sgombrare completamente i pensieri e costringerci a ridere anche quando non vorremmo.
Potremmo dire che ogni comedy nata dopo quella di Kauffman e Crane ha attinto a piene mani dal loro lavoro ma che nonostante tutto Friends rimane inimitabile. Potremmo parlarvi di quanto sia stata progressista, avanguardista e coraggiosa a trattare temi che sono controversi ancora oggi, figuriamoci vent'anni fa. Potremmo. Ma non oggi.
Oggi parliamo di 5 occasioni in cui Friends ha commesso degli errori.
Perché tutto ciò che è prodotto dell'umano ingegno è fallibile, e Friends non è da meno. Iniziamo la nostra lista parlandovi di un primo incontro un po' confuso…
1) Il primo incontro tra Rachel e Chandler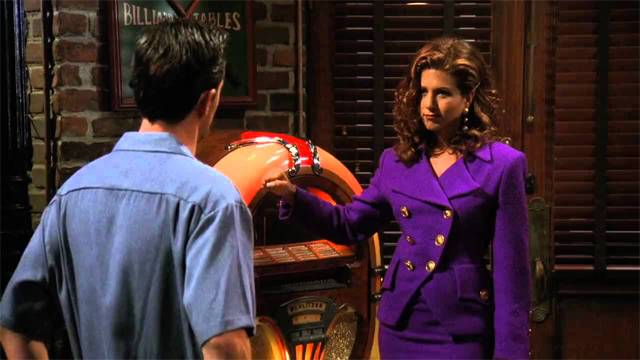 La verità sul primo incontro tra Rachel e Chandler rimarrà sempre un mistero per i fan di Friends. È corretto dire che i due si siano visti per la prima volta in ben tre occasioni.
La prima volta che assistiamo al loro incontro è nel pilot di Friends, nella scena in cui Rachel entra trafelata al Central Perk vestita da sposa. Ma abbiamo altre due versioni del loro incontro: una nell'episodio The One with the Flashback (3×06) e un'altra in The One with All the Thanksgivings (5×08).
Nell'episodio della terza stagione vediamo un flashback avvenuto pochi anni prima della "fuga dall'altare" di Rachel, in cui lei è seduta in un locale con delle amiche e Chandler, poco distante, gioca a biliardo. Il nostro Bing punta subito la bella Green e tenta un approccio davvero goffo. Rachel lo silura e torna a parlare di Barry con le sue amiche mentre Chandler riprende la sua partita a biliardo.
Nella quinta stagione invece, mediante dei flashback, scopriamo che Rachel e Chandler si conoscevano già da anni. Durante una festa del Ringraziamento in casa Geller infatti, Ross si era fatto accompagnare dall'amico del college Chandler Bing, mentre Monica aveva chiesto a Rachel di trascorrere la festa insieme alla sua famiglia.
I quattro Friends avrebbero trascorso insieme la festa americana per eccellenza ben prima che le loro vite si intrecciassero una volta per tutte.