Alcuni nuovi dettagli, provenienti direttamente dalla terza stagione di Daredevil, potrebbero aver svelato la reale età di Matt Murdock.
Daredevil 3 è stato rilasciato in blocco il 19 ottobre sulla piattaforma streaming Netflix.
Dall'ultima ondata di nuovi episodi, spuntano interessanti dettagli sulla vita di Matt Murdock e alcuni gustosi easter egg. L'età del diavolo rosso non era ancora stata rivelata dall'interprete Charlie Cox e neanche dagli showrunner. Ma un spettatore ha commentato su Reddit di aver svelato l'arcano in modo molto semplice.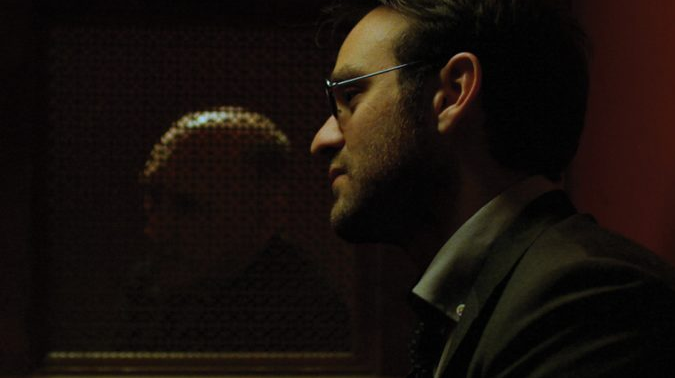 Attenzione: le righe seguenti contengono spoiler sulla terza stagione.
Attraverso vari flashback è venuto a galla che Suor Maggie, la donna che accudisce Matt dopo l'evento in The Defenders, è la madre biologica dell'eroe. Inizialmente giovane donna sul cammino per prendere i voti, si innamorò del padre di Matt tanto da lasciare la via per divenire suora. Ciò ha però portato la donna ad avere dei dubbi sulle sue scelte e a soffrire successivamente di depressione post parto. Tale crollo emotivo l'ha fatta tornare tra le braccia della religione, lasciando però il piccolo Matt alle cure del padre.
È qui arriva la rivelazione dell'età di Matt. La donna è diventata suora subito dopo aver partorito, dicendo di avere i voti da ormai 30 anni. Tenendo conto del periodo prematuro in cui la donna ritorna nel mondo cattolico, si può ragionevolmente presumere che l'età dello stesso Matt sia di 30 anni, o poco più giovane.
Svelato il mistero, vi parliamo anche dei vari easter egg trovati nella terza stagione di Daredevil.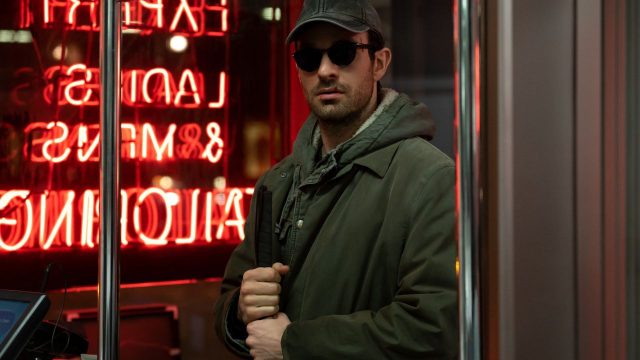 Il primo fra tutti si trova proprio nel riepilogo iniziale della puntata ed è raccontato sulle riconoscibili note di piano del brano Leaving Earth, una traccia della colonna sonora di Mass Effect 3. Il secondo easter egg si trova invece nella palestra abbandonata dove Matt era solito allenarsi. Durante una delle ultime puntate, attaccato al muro si trova un poster di un incontro che riporta i nomi di Parker e Miles. Decisamente due nomi non scelti a caso.
Per non parlare del poster dove appare il nome "Carl Creer" accanto a quello del padre di Murdock. Questo nome potrà non dirvi niente, ma nell'universo fumettistico appartiene al villain Absorbing Man (l'Uomo Assorbente), che abbiamo già visto in tv in Agents of S.H.I.E.L.D..
Alcuni riferimenti ad Avengers e Agents of S.H.I.E.L.D. sono ben chiari in alcuni quadri sulla parete dell'ufficio di Karen.
Lo stesso Felix Manning, il nuovo tirapiedi di Kingpin, è un chiaro riferimento all'uomo che nei fumetti di Earth-616 commissiona un costume uguale a quello di Daredevil da dare poi a un prescelto di Fisk per screditare l'immagine del Diavolo Rosso. Inoltre, nei fumetti, Felix viene ucciso dallo stesso scagnozzo che indossa la falsa tuta. Per dire.
Altre piccole citazioni prese direttamente dai fumetti sono il completo bianco di Wilson Fisk e Foggy che si candida in politica, cosa che nei fumetti avviene fin da subito.
Una citazione dall'esterno che rimanda invece alla serie tv è possibile trovarla nel nuovo gioco PS4 Marvel's Spider-Man. Qui abbiamo un rimando allo studio di avvocato attraverso uno degli oggetti collezionabili sparsi nel quartiere di Hell's Kitchen.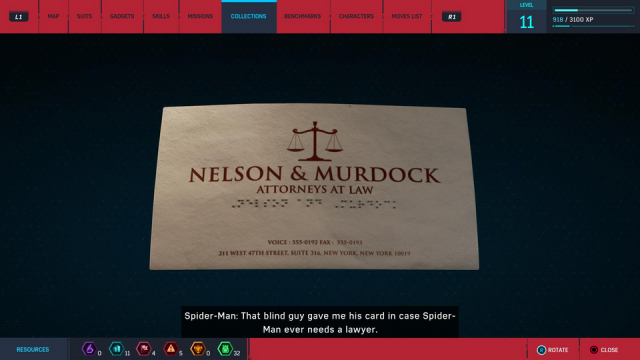 Un altro easter egg si può trovare nel poster promozionale di Daredevil 3, quello dove Matt è con le braccia alzate. Se strizzate bene gli occhi, in alto a sinistra si intravede un palazzo molto familiare: la Avengers Tower del MCU.
Se analizzato attentamente, il personaggio Melvin Potter si rivela essere addirittura Gladiator.
Lo si nota dalla maglia che indossa sotto la giacca, che ha il particolare stemma verde, oppure dalle luci che rimandano inspiegabilmente al colore giallo (legato al suo costume sui fumetti) e alle armi che usa quando combatte contro Matt.
Per quanto riguarda il personaggio di Dex, meglio noto come Bullseye, a fine stagione si vede disteso su un lettino ospedaliero mentre tentano di sistemargli la schiena, danneggiata dallo scontro con Fisk. Ebbene, uno di quei dottori è Kenji Oyama, noto nel panorama fumettistico come Lord Dark Wind, colui che ha scoperto come legare l'adamantio al corpo di un umano. Questo progetto si sviluppò per la sua ossessione di avere dei super soldati. Quindi, quello a cui assistiamo è l'inserimento di adamantio nella schiena di Bullseye per potenziarlo.
Molti nuovi elementi sono stati silenziosamente aggiunti in questa stagione, citando non pochi particolari dell'universo Marvel e creando ancora più hype per la successiva stagione.