Come sappiamo, il personaggio interpretato dall'attore Jon Bernthal, The Punisher, è apparso sui nostri teleschermi per la prima volta nel corso della seconda stagione della Serie Tv Daredevil.
Successivamente, il vigilante fuori dagli schemi tradizionali, ha avuto una Serie tutta dedicata a lui; grazie alle eccezionali recensioni e per l'apprezzamento del pubblico, The Punisher si è guadagnato il rinnovo per un'altra stagione.
Tutto ciò, ovviamente, ha portato i fan delle Serie Marvel, trasmesse su Netflix, a domandarsi: vedremo mai Frank Castle collaborare con gli altri Defenders?
Ebbene, questa domanda se la sono posti in tanti.
A rispondere e dare la sua opinione in merito è stato proprio Jon Bernthal, durante il panel dedicato a The Punisher all'ACE Comic Con.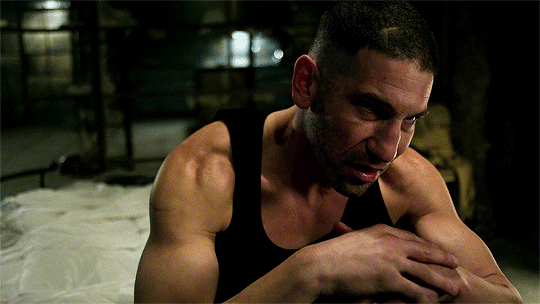 Avendo Bernthal collaborato da subito con l'attore Charlie Cox, interprete del Diavolo di Hell's Kitchen, la domanda è sorta spontanea: sarebbe contento di avere Daredevil in The Punisher?
Sai, io adoro Charlie Cox. Ho già lavorato con lui e lavorerei ancora con lui su qualsiasi cosa in un batter d'occhio. Lui è la ragione per cui sto facendo questo. Mi ha coinvolto in tutto ciò e la sua performance in Daredevil è ciò che mi ha spinto a farlo.
E per quanto riguarda un possibile crossover con gli altri vigilanti?
A parte questo, tutti loro sono fantastici. Personalmente sono un grande fan di Krysten Ritter. E' sensazionale e mi piacerebbe molto lavorare anche con lei.
Inoltre, Bernthal ha ricordato di una scena nella quale Karen e Frank parlano proprio del personaggio di Murdock – scena che, successivamente, è stata eliminata dal prodotto finale.
Ad ogni modo, essendo tutte le Serie Televisive ambientate nelle strade di New York, in un modo o nell'altro, è possibile che le strade dei nostri vigilanti s'incontrino.
E voi, cosa ne pensate? Sareste entusiasti di un possibile incontro fra The Punisher e i Defenders? O preferireste il contrario?