# #
Netflix quando vuole sorprenderci non si tira affatto indietro ed è così che in una casuale sera di dicembre la sua pagina Facebook viene ravvivata da un teaser che annuncia la data di uscita della terza parte di Chilling Adventures of Sabrina.
# #
Il video inizia e ciò che vediamo è il buio più assoluto illuminato soltanto da un fascio di fumo che avvolge una figura sconosciuta. Un solo colore predominante: il rosso, come il mantello che si erge da quella nebbia (che ricorda moltissimo quello delle ancelle di The Handmaid's Tale )dal quale vediamo spuntare un caschetto biondo, ci pare di riconoscerlo ma non ne siamo sicuri.
'Welcome to Hell' – Benvenuti all'inferno
E tutto ci sembra improvvisamente più chiaro: Sabrina!
# #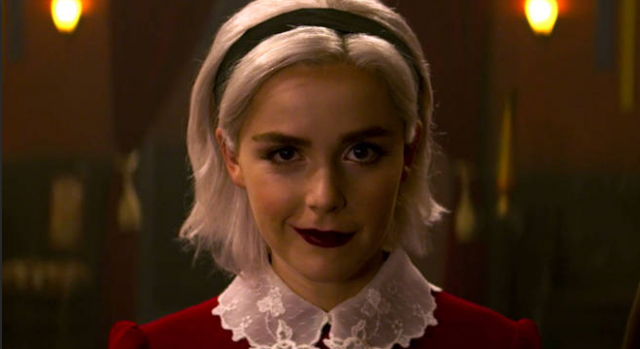 Lo schermo si fa rosso sangue e una scritta compare dallo sfondo: 24 gennaio 2020, ecco la tanto e attesa data di uscita della terza parte di The Chilling Adventures of Sabrina.
Il già annunciato viaggio di Sabrina nel mondo degli inferi si fa ora una certezza. Come molti di voi ricorderanno infatti la seconda stagione si concluse proprio dalla caduta di Nicholas Scratch – mago oscuro e amante di Sabrina nell'inferno – reo di averla salvata dalla furia di Satana in persona.
Quel 'Welcome to Hell' non può dunque che apparire come un evidente richiamo a quelle che saranno le terrificanti avventure di Sabrina in questa terza parte della serie, viaggetto all'inferno incluso.
Con una quarta parte già confermata e in fase di riprese, la terza stagione di Chilling Adventures of Sabrina, arriva finalmente il 24 gennaio 2020, dopo aver tanto sperato il suo arrivo già dal 31 ottobre 2019, data metaforicamente più vicina al mondo di Sabrina.
Ma ne siamo certi, queste nuove terrificanti avventure varranno la sua attesa.
In un gennaio sicuramente ricco di attesissimi ritorni, da Bojack Horseman a Sex Education, aggiungiamo un posto anche per Sabrina, che ci sorprenderà con nuove e terrificanti avventure, dentro e fuori il mondo degli inferi.