Serie come Chilling Adventures of Sabrina, 13 Reasons Why, ma anche Game of Thrones, hanno saputo creare personaggi indimenticabili per i talentuosi attori adolescenti che popolano il panorama seriale. Molti di loro, come le sorelle Stark, si sono accaparrati un posto eterno nella memoria dei fan grazie a ruoli iconici in show di immenso successo. Ma questo non significa che da quel ruolo in poi saranno in grado di centrarne molti altri. Vedi il caso di Katherine Langford, che dopo la fortunata performance in 13 Reasons Why fatica a trovare un ruolo altrettanto intenso con cui misurarsi.
Nel caso della giovane e promettente Kiernan Shipka però le cose sono diverse. Forse non ha ancora avuto modo di accaparrarsi una storia splendidamente raccontata come quella di Arya Stark, ma con una paio di ruoli in serie prestigiose si è imposta all'attenzione della critica e si è anche fatta amare dal pubblico più delle sue colleghe coetanee.
Vincendo la lotteria seriale con la strega Sabrina Spellman, ha avuto accesso diretto al cuore e alla compagnia di orde di adolescenti fan della serie. Ma per quanto il ruolo in sé aiuti, senza la sua performance e la sua attitudine a saper bucare lo schermo non ci sarebbe stato lo stesso risultato.
Gli esordi in Mad Men
Già con il ruolo della giovane Sally Draper, Kiernan Shipka ha fatto capire subito di cosa poteva essere capace. Inizialmente la figlia di Betty e Don doveva essere puramente marginale, una delle "vittime" delle sleali e infedeli abitudini Don Draper.
La recitazione di Kiernan però, nonostante la sua tenera età, ha conferito al ruolo così tanto spessore da invogliare la produzione non solo a confermarla come personaggio fisso nella serie ma anche ad attribuirle delle sottotrame tutte sue così da permettere al suo personaggio di evolversi nello show.
Complice una fisionomia e un'espressività che colpiscono e restano impresse, oltre che a uno spiccato talento, Kiernan ha poi sbaragliato la concorrenza per il ruolo da protagonista in Chilling Adventures of Sabrina.
La serie tratta dai fumetti di Roberto Aguirre-Sacasa e Robert Hack, spin-off di Riverdale, racconta la storia già nota al grande pubblico della streghetta liceale che deve destreggiarsi tra arti magiche e problemi adolescenziali in chiave più dark e sexy.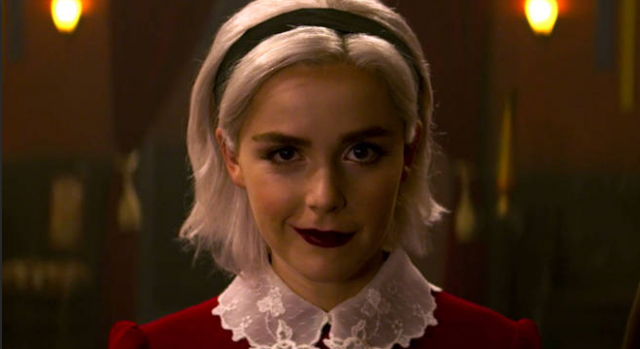 La prodigiosa interprete ha la faccia e l'attitudine giusta per dare a questa nuova Sabrina la verve e il sex appeal appropriato. In un periodo storico in cui il #MeToo e il femminismo condizionano nel bene e nel male trame e personaggi, la Sabrina della Shipka convince tutti. Appassionata, sexy e sfrontata, ma anche determinata, sicura di sé e combattiva.
Ciliegina sulla torta, dopo questi due ruoli azzeccati, anche la giusta esposizione sui social della giovane attrice classe 1999, ammiccante sì ma mai eccessiva. Spiritosa e alla moda sa calibrare bene la giusta dose di vita privata da offrire ai suoi fan, mantenendo però il giusto riserbo per non rischiare di diventare la solita starlette sovraesposta.
Molte foto con i protagonisti maschili della serie (che potrebbero far pensare a qualche amore nato sul set, cosa sempre gradita ai fan) ma mai niente di fraintendibile o di poco autentico.
Ad aiutare la carriera della ragazza anche il sodalizio con la piattaforma Netflix che l'ha voluta come protagonista in due delle sue produzioni nell'anno passato: Let It Snow, commedia natalizia a stampo adolescenziale, e l'horror The Silence accanto a Stanley Tucci.
Nella carriera della Shipka un tassello importante è anche racchiuso nel mondo del doppiaggio nei film di animazione giapponese. Potrete infatti ascoltare la sua voce ne La leggenda di Korra, Quando c'era Marnie e Sofia la principessa.
Kiernan ha sicuramente tutte le carte in regola per avere un prolifico futuro nel cinema e in tv dal momento che oltre al talento sembra capace di capire quali sono i ruoli migliori con cui sedurre pubblico e critica, puntando su progetti vari ed efficaci.
LEGGI ANCHE – 7 curiosità su Kiernan Shipka, la protagonista di Chilling Adventures of Sabrina