Non è facile trovare una comedy che abbia tutto, ma Brooklyn Nine-Nine è una di queste. Comicità e arguzia, diversità e rappresentazione, rilevanza e attualità: insieme ai suoi personaggi e alle magnifiche aperture a freddo, questi elementi hanno creato il successo del 99° distretto. Nel corso degli anni lo show della NBC si è affermato nel panorama della serialità, dimostrando una qualità costante, se non addirittura crescente. Con la sua settima stagione (di cui vi abbiamo parlato in questo articolo), questa straordinaria commedia è riuscita a riconfermarsi ancora una volta. Un'impresa per nulla facile, soprattutto a distanza di ben sette anni dal suo esordio.
Dan Goor e Michael Schur hanno creato un'universo coinvolgente ed esilarante, che ha fatto della ripetitività uno dei suoi punti di forza. Un espediente pericoloso per altri show, ma non per questo gioiellino in cui funziona perfettamente. Il ripresentarsi di certe situazioni non stufa, ma aiuta anzi a familiarizzare con i protagonisti e il contesto in cui vivono. Attraverso le avventure di Jake e della squadra, la serie ci ha abituato gradualmente ai suoi schemi fissi, una formula che si è dimostrata vincente ed efficace.
Quello che poteva essere un limite si è trasformato in una delle migliori risorse di Brooklyn Nine-Nine.
La sua schematicità ha ovviamente creato dei punti fermi, in cui però è possibile riscontrare un gran dinamismo. Ne sono un esempio le comparse di Doug Judy: brevi ma intense, spingono i protagonisti verso le peripezie più disparate. Lo stesso vale anche per i finali di stagione in cui Jake finisce nei guai, tanto imprevedibili quanto necessari per l'avanzamento della storia. Una menzione d'onore va fatta anche ai frenetici Jimmy Jabs Games, che abbiamo rivisto con piacere nell'ultima stagione.
Ma l'appuntamento che tutti gli spettatori attendono con ansia è sicuramente l'episodio di Halloween. La ricorrenza annuale accende il lato competitivo dei personaggi, disposti a tutto pur di vincere il titolo di fantastico detective/genio. Lo schema delle rapine si ripete ogni stagione, ma le dinamiche proposte sono sempre diverse e assolutamente creative. Questi episodi sono costruiti talmente bene da trasformarli in dei veri e propri racconti all'interno del racconto. I piani sono elaborati e complicati, e le terze parti coinvolte danno quel pizzico di follia che rende il tutto ancor più divertente.
La ripresa di certi scenari si alterna poi a ricorrenti inside jokes: gli improbabili titoli di sex tape e le stramberie culinarie di Boyle. L'amore di Terry per lo yogurt, così come l'odio di Holt per la sua nemesi, Madeline Wuntch. Il passato di Rosa, che continua tuttora a far sorgere domande, e le follie di Pimento, sempre più alienato dalla realtà. Questi piccoli momenti e i riferimenti alla pop culture sono ciò che ci avvicinano alla cerchia del 99° distretto, facendoci sentire così parte di questa stravagante famiglia.
All'interno dello schema fisso, anche i personaggi sono dinamici.
Per quanto la loro caratterizzazione sembri intrappolata nello status quo, i componenti della squadra non sono assolutamente statici. I protagonisti progrediscono tanto nella carriera quanto nella loro vita personale. La loro evoluzione è sfumata e silenziosa, ma anche netta.
Prendiamo per esempio l'impassibile Capitano Holt: quando lo conosciamo sembra un uomo severo, rigoroso e rispettoso delle regole. Ma piano piano la squadra riuscirà a far calare le sue difese, rivelando le sue stranezze e vulnerabilità. Anche la trasformazione di Jake è a dir poco considerevole: all'inizio della storia è un detective talentuoso, ma anche estremamente immaturo. Col passare del tempo crescerà, imparando dai suoi sbagli e accettando i consigli altrui. Il fan numero uno di Die Hard matura, senza però perdere la sua adorabile leggerezza.
I personaggi sono senza dubbio l'anima della show. Ogni membro della squadra è definito dalla sua personalità, non dall'etnia, genere o sessualità. Anche se in svantaggio numerico, le protagoniste femminili sono forti e inarrestabili. Non vivono all'ombra delle controparti maschili, ma hanno le loro ambizioni e sogni. Sempre pronte a sostenersi a vicenda, danno un ottimo esempio di ciò che significa essere scaltri e perseveranti. Allo stesso modo, gli uomini non sono stereotipati. Privi di qualsiasi traccia di mascolinità tossica, non hanno paura di mostrare interessi tipicamente femminili o le loro debolezze. Inoltre, le relazioni che legano i protagonisti sono state dipinte con assoluto realismo, permettendoci di immedesimarci in esse: amicizie solide, coppie che non funzionano, matrimoni felici e storie d'amore semplici e genuine.
Brooklyn Nine-Nine è una comedy che va al di là della semplice commedia.
La serie alterna battute vivaci a importanti questioni sociali e razziali. Il coming out di Rosa e la profilazione razziale di Terry hanno portato alla luce tematiche attuali e scottanti. Anche se toccati da un pizzico di humour, i temi sono sempre stati trattati con rispetto e onestà, educando lo spettatore su problematiche reali come la brutalità della polizia, il razzismo dilagante e la discriminazione di genere.
Brooklyn Nine-Nine non solo riesce a far divertire, ma anche a far riflettere. Grazie all'ottima scrittura ci ha proposto un ventaglio colorato di temi diversi e personaggi sfaccettati, passando con grazia da battute demenziali a momenti di suspense e sconforto. Non è mai eccessivamente drammatica, ma sempre genuina, rinvigorente e piacevole. I dialoghi sono arguti e funzionano grazie all'interazione fra personalità uniche, nelle quali ci si può identificare.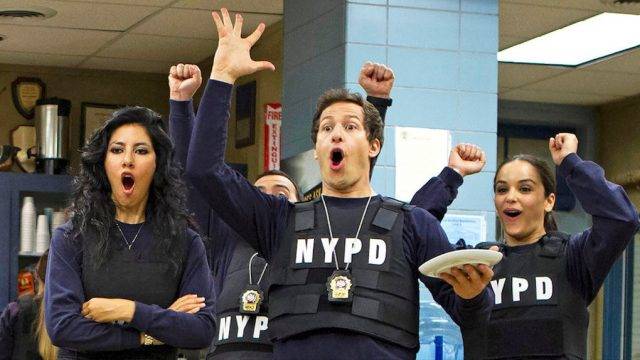 Alla luce di tutto questo, è chiaro quanto la ripetitività non abbia mai penalizzato questo meraviglioso show, che si trasforma ed evolve in continuazione. La serie ha dimostrato una rara versatilità, raggiungendo un pubblico ampio ed eterogeneo. All'altezza di capisaldi come Parks and Recreation e The Office, questa fenomenale gemma non ha niente da invidiare ai suoi predecessori, affermandosi così come una delle migliori comedy in circolazione.
Se non l'avete ancora vista, datele una chance. Siamo sicuri che non ve ne pentirete.