Breaking Bad è finita da otto anni. Non volevamo che finisse, ma è successo. Fortunatamente è arrivato a consolarci il suo spin-off, Better Call Saul (che sta tornando con la sesta stagione) e nel 2019 ci siamo distratti con El Camino – Il film di Breaking Bad, disponibile su Netflix. Però, se dopo gli innumerevoli rewatch – che non volevate fare, ma avete fatto per controllare un dettaglio che vi era sfuggito – ancora non riuscite a uscire dal tunnel in cui Vince Gilligan vi ha lasciati e continuate a rivivere i 30 disagi che solo un vero fan di Walter White può capire, arriviamo in vostro soccorso con qualche valida alternativa. Abbiamo recuperato, tra le tante uscite negli ultimi anni, 5 serie tv non molto seguite in Italia che potrebbero farvi dimenticare per qualche istante di Jesse Pinkman, Albuquerque e la Blue Sky.
Queste 5 serie tv non sono molto simili a Breaking Bad, ma hanno delle caratteristiche che provocano una certa dipendenza.
1) Power
Iniziamo la disintossicazione da Breaking Bad con una serie uscita nel 2014 composta da sei stagioni, per un totale di 63 episodi che superano anche l'ora ciascuno. La serie è stata creata da Courtney Kemp Agboh – che ha lavorato anche a The Good Wife – ed è prodotta dal rapper Curtis Jackson, meglio conosciuto come 50 Cent. Si tratta di un thriller in piena regola caratterizzato da un ottimo equilibrio tra azione e dramma e garantisce un intrattenimento avvincente che vi terrà con il fiato sospeso. Se l'avete persa, potete ancora recuperarla su Starz.
La trama ruota intorno alle vicende di James "Ghost" St. Patrick (Omari Hardwick), proprietario di un nightclub alla moda di New York e boss della droga. Un uomo ambizioso, attratto dal potere, ma al contrario di Walter White la sua parabola sembra essere l'opposto. Infatti Ghost è pienamente coinvolto nella vita criminale della città e sente il bisogno di uscirne. Vorrebbe abbandonare i traffici illeciti per dedicarsi a una vita alla luce del sole, sogna di affermarsi come imprenditore e magari essere riconosciuto per i suoi meriti. Ma come è facile intuire, uscire dal giro non sarà per niente facile. Power è anche una storia di amicizia e di fiducia, un dramma che crea dipendenza e tiene incollati allo schermo grazie a uno stile peculiare, una colonna sonora caratteristica e a un cast di tutto rispetto. Negli USA ha ottenuto un ottimo successo di pubblico mentre in Italia non ha avuto il risalto che merita. Finita la serie, troverete anche il suo spin-off pronto ad attendervi.
2) Animal Kingdom
Ecco un'altra serie che potrebbe creare dipendenza e che trovate sia su Starz che su Infinity. Uscita nel 2016, questa gangster story si compone di 4 stagioni – ancora in produzione – ed è sviluppata da Jonathan Lisco; tra i suoi lavori ricordiamo Southland. La serie drammatica firmata TNT è tratta dall'omonimo film australiano del 2010 diretto da David Michôd, il quale è anche il co-produttore. La storia narra le sfortunate vicende del diciassettenne Joshua, interpretato da Finn Cole, il Michael Gray di Peaky Blinders. Dopo la morte della madre, il ragazzo si trasferisce in California dalla nonna e dagli zii, i Cody: una famiglia criminale capeggiata da Smurf (Ellen Barkin), una matriarca manipolativa e disturbata.
Molti hanno notato un impianto simile a Sons of Anarchy mentre con Breaking Bad potrebbe condividere la stessa escalation di follia criminale. Al centro della vicenda dai toni crime c'è un legame familiare morboso, la corruzione e lo spaccio, ma soprattutto Animal Kingdom è una storia di sopraffazione e di lotta per l'affermazione di sé nel branco o meglio, come suggerisce il titolo, nel regno animale. Lo show è avvincente, intenso e ben scritto. Certo, siamo lontani dalle scariche di adrenalina che abbiamo vissuto in Breaking Bad. Il drama non è perfetto e presenta qualche difetto, ma è l'intrattenimento ideale se siete in cerca di una serie nichilista e borderline, piena di azioni meschine e bassezze morali.
3) The Path
Se il ricordo di Jesse Pinkman non vuole proprio andare via, vi suggeriamo la visione di questa serie tv creata da Jessica Goldberg per Hulu che vede protagonista proprio l'attore Aaron Paul. Questa volta l'ex studente di Walter White veste i panni di Eddie Lane, un uomo tormentato con un passato di droga che si converte al Meyerismo. Si tratta di un culto fittizio fondato dal Dr. Steven Meyer, detto il Guardiano della Luce, e guidato da Cal Roberts (l'attore Hugh Dancy), un leader tanto carismatico quanto pericoloso che seduce le persone in difficoltà promettendo di liberarle dal dolore e di condurle verso la felicità.
Ben presto Eddie sarà colpito dai dubbi e inizierà a mettere in discussione la natura del movimento stesso che dietro ai riti e alle regole cela segreti e finalità economiche. Si tratta di una serie inquietante e provocatoria che porta sul piccolo schermo le dinamiche delle sette pseudo-religiose come Scientology. The Path tiene incollati al divano e divora la nostra curiosità con una narrazione esasperante e cupa. Grazie alla bravura degli attori – nel cast troviamo anche l'attrice Michelle Monaghan nei panni di Sarah Lane, la moglie di Eddie – e allo sviluppo della trama caratterizzata da succosi intrighi e tanta suspense, la serie tv di 3 stagioni vi accompagnerà lungo un percorso alla scoperta dell'animo umano, spesso tormentato dall'angoscia.
4) The Stranger
Una miniserie britannica di genere thriller basata sull'omonimo romanzo dello scrittore Harlan Coben e disponibile su Netflix. La realtà non è mai come sembra e la serie è sviluppata intorno a questa interessante premessa: cosa succederebbe se i nostri segreti più oscuri venissero rivelati da uno sconosciuto? L'esistenza di Adam Price (Richard Armitage, meglio conosciuto come Thorin in The Hobbit: The Battle of the Five Armies), un felice padre di famiglia, viene stravolta dopo l'incontro con una persona sconosciuta che gli rivela un segreto sul conto di sua moglie, Corinne (Dervla Kirwan). A partire da questo momento, l'equilibrio fin troppo idilliaco nel quale Adam viveva con la sua famiglia precipita in un clima fatto di pericoli, di tradimenti e di menzogne. Un loop di eventi innescato da una piccola bugia che porterà alla luce dei segreti sempre più grandi fino a generare delle situazioni impreviste e agghiaccianti.
Nel cast troviamo anche la bravissima Siobhan Finneran (la Signora O'Brien di Downton Abbey), nei panni di una detective, e l'attore inglese Paul Kaye, lo stravagante psichiatra di After Life. Si tratta di una serie del 2020 composta da una sola stagione – 8 episodi di circa un'ora – ideale per trascorrere un weekend all'insegna del binge watching perché presenta una trama intrigante fitta di colpi di scena. Quindi, se amate le storie intrise di mistero, twist inaspettati, accenti britannici e personaggi ben caratterizzati, come alternativa al vuoto incolmabile in cui vi ha lasciato Breaking Bad, vi consigliamo di dare un'occasione a The Stranger.
5) Justified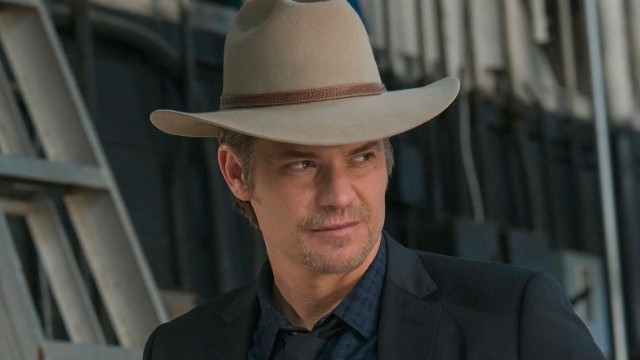 Una serie tv di 6 stagioni prodotta dal 2010 al 2015 che per qualche misteriosa ragione, in Italia, è passata in secondo piano. Eppure non ha nulla da invidiare alle serie considerate dei cult irrinunciabili, come la nostra amatissima Breaking Bad. Il cast, già di per sé una garanzia, vede protagonisti Timothy Olyphant, Deadwood e Fargo, e Walton Goggins, che probabilmente avete visto in Sons of Anarchy e in qualche film di Tarantino. Le vicende sono incentrate sul Marshal Raylan Givens, un personaggio letterario nato dalla fantasia dello scrittore Elmore Leonard. Si tratta di uno sceriffo moderno, un uomo dall'atteggiamento ruvido e spigoloso che viene inviato nella sua città natale nella contea di Harlan, in Kentucky, per far rispettare la Legge, ma si ritroverà a ricorre a metodi per niente legali.
La sua visione personalistica della giustizia lo renderà ben presto sia un bersaglio della malavita che una minaccia per i suoi superiori dello United States Marshals Service. L'ambientazione western, rivisitata in chiave moderna, assicura alla storia un sapore intrigante, soprattutto grazie ai toni umoristici lievemente cinici, ai dialoghi serrati e a dei personaggi ben strutturati. La serie è stata creata da Graham Yost, uno sceneggiatore canadese coinvolto in progetti come Sneaky Pete o Band of Brothers, e presenta una sceneggiatura complessa che vede al centro della vicenda delle situazioni adrenaliniche, un'ondata di violenza cieca e dei poliziotti decisamente anticonformisti. Se l'avete persa, e se i western moderni dai toni drammatici vi appassionano, non vi resta che correre a divorarla su TIMvision.
Si tratta di 5 serie poco note che potrebbero aiutarvi a colmare il vuoto lascito da Breaking Bad.
Sappiamo che la serie firmata da Vince Gilligan rappresenta per molti di noi un unicum impossibile da eguagliare, ma bisogna pur andare avanti. (S)fortunatamente per noi series addicted il panorama seriale diventa ogni giorno più vasto e aspetta solo di essere esplorato.