Quei momenti in cui vorresti possedere la profondità di pensiero di un Seneca, l'oratoria di un Cicerone, il pragmatismo di Sallustio… ma non si può, perché sono inarrivabili. BReaking BAd sposa proprio il concetto di perfezione inarrivabile, la vetta più difficile da scalare. Perché se è vero che la perfezione non esiste, va però dato atto che Breaking Bad è l'opera televisiva seriale per eccellenza, qualcosa di unico ed incredibile. Non vi liberete MAI dai ricordi delle vostre esperienze più felici, dal valore inestimabile dei vostri libri preferiti, dalle vostre passioni, dai vostri amori e non vi liberete MAI di Breaking Bad. Mai.
Breaking Bad insegna che basta una scintilla per cambiare, un istante che stravolge un'intera esistenza. È la concezione della Chimica stessa: crescita, decadimento e trasformazione, i veri fan di Br Bad lo sanno ormai a memoria. Tutto scorre, e siamo in continua trasformazione, ma sono solo le "Reazioni sbagliate" che provocano le "esplosioni"; quegli eventi unici e rari che cambiano per sempre un'esistenza.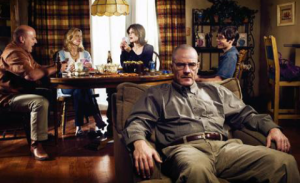 Tre fattori portano W.White (B.Cranston) a trasformarsi: la poco felice scoperta del cancro, la trattativa con Jesse Pinkman e la necessità di guadagno. Questo mix non porta certo ogni uomo a tali estreme conseguenze; ma la storia di W.W. è singolare. Walter White è una mente brillante, relegata in una piccola scuola pubblica ad insegnare chimica a ragazzini intenti a sbuffare ed annoiarsi; Walter White è il più intuitivo della Grey Matter Tech. ma ne esce di scena, W.W. è costretto ad arrotondare lo stipendio mensile lavorando in un autolavaggio, Walt ha un figlio disabile e deve prendersene cura e infine, W.W. scopre di avere un cancro inoperabile ai polmoni. Questo racchiude in sintesi, che il rinnovarsi e il mutare, possa scaturire a volte solo dalla tragedia e dallo shock.

Credo sia tutto semplice, il tutto è racchiuso da un concetto universalmente valido: quando la vita ti prende a calci e pugni, quando sai di avere valore e ti trovi in difficoltà impensabili; quando passi una vita intera ad essere una brava persona e a non avere nulla in cambio, esistono due strade: l'eterna sofferenza o la trasformazione. Quel saggio stoico di nome Mike Ehrmantraut ne ha fatto una frase cardine, un concetto chiave: "No Half Measures" diventata una vera e propria filosofia di vita. Nelle scelte più decisive, subentra infatti la responsabilità per ciò che si diventa e per le proprie azioni; non esistono sempre le comode vie del ritorno o la fase del compromesso. Niente mezze misure, con un esiguo margine di sole due scelte.
Il vero problema nell'animo di W.W. è che quando riservi caterve di rancore inesploso e sei in credito verso la giustizia, vuoi "batter cassa" verso la vita. Si innesca quella voglia disperata e ossessiva di riprendersi tutto; tutto ciò che non si ha avuto, tutto ciò che non si è stati; ma lo si vuol fare ottenendo cospicui interessi. La nascita della partnership Pinkman-White trae origine da questo : disperazione, esclusione e voglia di riscatto. L'incontro tra Walt e Pinkman è la reazione di due elementi diversi che riescono a combinarsi alla perfezione; reazione chimica nata nel frangente della durata di una strana e funzionale frase. Come innescare una trattativa diabolica, un'alchimia di intenti :
You Know the business, and I know the chemistry

Jesse Pinkman (Aaron Paul) è il socio in affari più strano e atipico di sempre, è il catalizzatore delle intenzioni di Walt. Le sue compagnie deleterie, le "passioni" autodistruttive per droghe e alcool, la sua lontananza dalla famiglia, creano un perfetto contrasto/reazione" con la pazienza, cultura e attaccamento alla famiglia del suo vecchio prof. White. Due elementi non solo diversi, ma addirittura opposti. Walt e Pinkman sono vere e proprie figure ossimoriche, diventate soci.
La vera ossessione dell'uomo è per l'infinito. L'infinito amore di una donna, l'infinita mole di guadagno, l'infinita voglia di conoscenza. Walter White ha un'infinita conoscenza nella Chimica e per lui la passione e l'amore verso Skyler e Walt jnr. sono infiniti. Il grave problema è che il figlio ha bisogno di attenzioni, la moglie aspetta una bambina e Mister White ha il cancro. L'unica cosa insufficiente in questo contesto sono proprio i soldi. Inizialmente per W.W. non si tratta di avido guadagno, ma di futuro e sopravvivenza della sua famiglia, poi invece sfocia in qualcos'altro. Nel preciso istante in cui W.W. decide di produrre metanfetamine con Jesse forse non sa ancora che nulla sarà più come prima, rischi infiniti e personalità in divenire. Walter White è l'emblema delle intenzioni altruiste perdute in logiche egoistiche. Il protagonista passa dall'essere Walt in famiglia e Mr White nel contesto scolastico, finendo per diventare Heisenberg l'indiscusso numero uno della produzione di meth.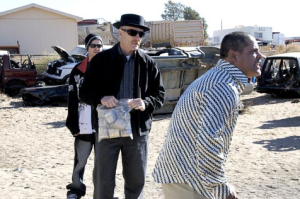 La serie fa capire la dinamica senza via d'uscita del mondo infernale delle droghe. Un mondo ancora più cinico e turpe di quello normale, in cui si entra in contatto con la feccia della società, il mondo delle situazioni violente e delle conoscenze destabilizzanti (Tuco, Crazy8, Todd e Jack). La ricchezza illegale che lotta e deve far attenzione a chiunque, sia  alle indagini della D.E.A. (caro, cognato Hank) e sia alla concorrenza. Nell'illegale sistema lavorativo delle droghe nel corso delle varie fasi di : produzione, distribuzione e riciclaggio non si accettano mai ritardi, vengono respinte le dimissioni e non c'è sempre la libera scelta del personale. Un vero e proprio Inferno senza fine.
Il focus si sposta ora su uno dei personaggi più riusciti, (lo sono tutti in verità) il signor Gustavo Fring, detto Gus, è il Re della distribuzione di metanfetamina, che viene presentato a Jesse e Walt dall'avvocato col fiuto dell'affare, Saul Goodman. Questo personaggio (interpretato da Giancarlo Esposito) fa capire come il vero male non sia il demonio, nè un urlatore che ostenta di essere una divinità; Gus Fring è il male che mantiene una compostezza e una calma tali da poter destabilizzare chiunque. La freddezza e la lucidità calcolatrice, che cammina al nostro fianco, l'infiltrato che si mimetizza nella comune società, (Los Pollos Herm.) il male camaleontico e silenzioso che senza accorgersene controlla le nostre coscienze. Credo che G.F. sia proprio questo, l'opposto esatto di Tuco, il folle e violento spacciatore-consumatore col delirio di onnipotenza. Se Walt ha in mente di dover uccidere Gustavo non pensa ad un semplice omicidio, ma pensa ad un vero e proprio regicidio, Gus è il Re.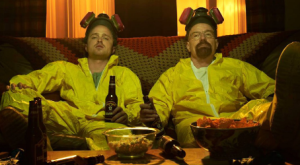 Breaking Bad è anche la forza comunicativa della psicologia cromatica. Il chiaro blu della tranquillità, è riscontrabile come l'unico momento di pura pace di W.W. ovvero la creazione sublime e letale della Blue Sky meth. Il significato del colore blu ritorna ancora prepotente nel testo dell'emozionante canzone finale: Baby Blue dei Goldfinger. Il giallo del camice del chimico: elogio della follia, il giallo è il colore dell' instabilità per eccellenza, nonchè il colore dell' appariscenza dell'oro e della radioattività. Il viola di Marie, borse viola, tende viola, vestiti viola, viola come colore dell'invidia e del tormento di una cleptomane moralista..E poi c'è il verde, il verde simbolo di speranza, la stessa speranza di Walt e Pinkman riposta nel verde colore del "Dio" denaro (o Satana). La logica dei colori si riscontra anche nella stessa Grey Matter tech. che è l'allegoria dell'anonimo grigiore, la coppia che ha sfruttato le capacità geniali ed intuitive di Walt, arricchendosi a dismisura. Il colore è presente anche nei cognomi di Walt e Jesse; i forti contrasti ad impatto usati dall'avvocato Saul, con giacche e cravatte ultra luminose che mirano a confondere e a catturare la clientela (utilizzo dei colori tipico della pianificazione pubblicitaria). I parallelismi cromatici e le dinamiche dei colori sono molteplici, onnipresenti ed hanno tantissimi significati. Altro elemento simbolico che contribuisce ad aumentare un distacco qualititativo rispetto alla media del resto delle serie circolanti.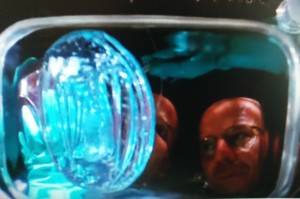 La serie riesce brutalmente in ogni suo intento, ribaltando l'usuale e il classico: far amare chi si dovrebbe odiare, far odiare chi si deve amare. Un'altra mia personale sensazione è che un domani Vince Gilligan da ideatore e creatore della Serie, si ritroverà ad essere un premio, un riconoscimento cinematografico che avrà il suo nome. La storia dei premi Nobel, Pulitzer lo insegna. Breaking Bad è un immenso mosaico in cui ogni evento, ogni attore, ogni sviluppo, ogni dialogo, ogni intreccio, ogni personaggio secondario, ogni simbologia nascosta ed ogni incastro si trova spaventosamente al suo posto. In Br. Bad ogni tassello funziona, anche quando viene posto e confinato su un margine all'apparenza insignificante.

Quante decine di situazioni incredibili si potevano raccontare, quanti altri personaggi  dovevano essere analizzati, quante centinaia di frasi dovevano essere citate, quante espressioni dei volti bisognava descrivere, ma è impossibile !!!. Impossibile come contenere l'oceano in un' ampolla volumetrica. Quest'opera è qualcosa di indescrivibile, unico, e soprattutto infinito, come il processo ciclico di vita e morte.
Breaking Bad è quella terrorizzante, perfetta e sublime sintesi di ogni cosa che ci emoziona e ci distrugge.
 Un saluto agli amici di Breaking Bad – Pagina Italiana !