Ci sono serie che fin dal loro esordio sono state capaci di catalizzare la nostra attenzione. Fin dalle prime battute abbiamo avvertito di essere in presenza del prossimo argomento delle nostre chiacchiere seriali. E poi ci sono altri prodotti che passano in sordina, a cui un'occasione per il successo viene data solo alcuni anni dopo. Soprattutto grazie al loro arrivo nelle piattaforme di servizi streaming. Non è quello che è successo a molti di noi con Boris? Ma quando il momento giusto arriva, ecco che la magia si compie: quella serie che è finita qualche anno fa senza fare troppo scalpore diventa improvvisamente il centro dei discorsi seriali sul web.
Scopriamo allora quali sono quelle serie tv che sono diventate famosissime in Italia solo dopo la loro fine.
1) Boris
Impossibile non partire da lei, quindi, la fuori serie italiana. Che Boris abbia faticato ad arrivare al grande pubblico non è un segreto: il suo esordio su Fox nel 2007 è rimasto limitato a una piccola cerchia di fan. Qualche tempo dopo, il suo arrivo in chiaro sul canale Cielo e il film distribuito il primo aprile 2011 hanno portato Boris oltre i confini della sua nicchia iniziale. Ma la vera esplosione del suo successo è avvenuta grazie a Netflix. Dieci anni dopo il loro debutto, René Ferretti e soci sono arrivati sulla piattaforma e hanno sbaragliato la concorrenza. Come? Perché a noi, la qualità, c'ha rotto er c**o.
2) Sons of Anarchy
La scoperta di Sons of Anarchy in Italia è iniziata nel lontano 7 maggio 2009, quando FX trasmise il primissimo episodio della serie (in onda negli USA dall'anno precedente). Da quel giorno il Sons of Anarchy Motorcycle Club Redwood Original di Kurt Sutter ci ha conquistato piano, ma inesorabilmente.
L'Amleto in motocicletta ha iniziato la sua scalata al successo raccogliendo un ristretto, ma fedelissimo gruppo di adepti.
Ed è arrivata al termine dei suoi 92 episodi nel 2014 con un pubblico che già la eleggeva a punta di diamante della serialità. A distanza di sette anni dalla fine, Sons of Anarchy è presa d'assalto da chi già la considerava un cult e da chi in Italia, invece, deve ancora scoprirne la drammatica e violenta bellezza.
3) Mad Men
Non può mancare in questa lista la rivoluzionaria Mad Men di Matthew Weiner. Nata nel 2007, e conclusasi nel 2014, la serie ha raccontato gli anni '60 senza tralasciare nessun aspetto: l'imperialismo finanziario, le proteste, l'estremo individualismo.
Anche questa serie, come Boris, ha fatto fatica a esplodere in Italia nei primi periodi, passata quasi in sordina tra le programmazioni televisive, pur essendosi guadagnata sin da subito enorme stima tra i fedelissimi della serialità.
Fortunatamente il suo arrivo sulle piattaforme di streaming (prima Netflix dal 2011 e dallo scorso anno Amazon Prime Video) ha permesso a molti altri addicted nostrani di recuperare e ammirare uno dei prodotti più iconici e inarrivabili della serialità.
4) The Office
Sono trascorsi sedici anni dal suo esordio e The Office resta una serie imprescindibile. Se ancora oggi c'è gente che si approccia alle vicende della Dunder Mifflin e ne resta invischiato non c'è da stupirsi. The Office, sia UK sia USA, ha progressivamente costruito un pubblico di estimatori convintissimi e non ha mai smesso di raccogliere nuovi consensi.
Specialmente a partire dallo scorso anno la serie vive una seconda ondata di fama, complice anche la voglia di ritrovare l'atmosfera da ufficio che è mancata a tutti negli ultimi tempi.
5) Arrested Development
La parabola di Arrested Development è quanto di più bizzarro possiamo osservare in questa lista. Esordisce nel 2003 su Fox portando a casa uno scarso risultato fino alla terza stagione nel 2006. Dopo 7 anni Netflix tenta un salto nel buio e la rinnova. Un po' quello che è successo a Boris con Disney+.
Quella di Arrested Development è sempre stata una comicità ricercata e questo l'ha relegata al ruolo di show per pochi eletti, nonostante fosse stata definita dal Guardian la "sit-com più bella di sempre". Ma negli anni successivi è tornata con un impatto potentissimo sul pubblico, che l'ha riscoperta con voracità, tanto da spingere Netflix ad acquistarne i diritti.
Ecco uno di quei casi in cui il passaparola tra i serial addicted è riuscito ad amplificare i pregi di una serie ingiustamente passata in sordina.
6) Community
Se alcune delle serie più valide del panorama internazionale sono riuscite a raggiungere il successo solo anni dopo la loro fine, da questa lista è chiaro che Netflix abbia dato loro la visibilità che meritavano facendole emergere agli occhi del pubblico italiano. Community è un esempio che calza a pennello.
Approdata lo scorso anno in piattaforma, la comedy di Dan Harmon del 2009 è nel pieno della sua seconda giovinezza. Possiamo ufficialmente dire che Community ha perso lo status di serie sconosciuta in Italia ed è entrata, a tutti gli effetti, nell'olimpo delle comedy più amate.
7) Fleabag
Due anni fa, Fleabag rientrava nella nostra lista delle serie che in Italia non guarda nessuno e oggi la ritroviamo sull'altra sponda del fiume, finalmente arrivata alla fama che ha sempre meritato. Al momento della sua messa in onda Fleabag attirò l'attenzione di più di qualcuno in Italia, ma restando in una fascia ristretta di pubblico.
È stato il 2019 a smuovere le acque, anno in cui è arrivata la seconda e ultima stagione e in cui Fleabag è esplosa presso il pubblico italiano, complice anche il grande successo agli Emmy. E ora, finalmente, questo viaggio nell'autocoscienza di una protagonista affascinante e controversa ha tutta la nostra (dovuta) attenzione.
8) Brooklyn Nine-Nine
L'avanzata di questa serie è stata non rapidissima, ma costante. Negli anni il suo irresistibile intrattenimento ha fatto di Brooklyn Nine-Nine un successo mondiale. Per la "seconda vita" della serie, che ha rischiato di essere cancellata alla quinta stagione, la rete NBC ha costituito una salvezza. Dopo l'arrivo su Netflix e, dall'anno scorso, nel palinsesto di Italia 1, quello tzunami di ilarità che è il distretto 99 di New York non ha mai smesso di allargare il suo pubblico.
Come con Boris e le altre comedy qui citate, sembra che l'Italia sia nel pieno della (ri)scoperta della comicità degli ultimi anni.
9) Misfits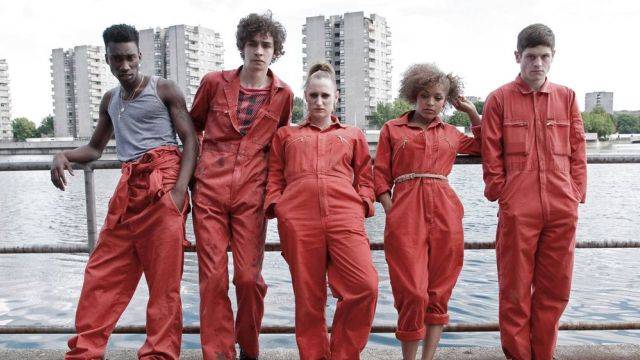 Sarà il sempreverde successo del supereroistico, sarà il fascino del disadattato, ma anche Misfits va annoverata nell'elenco delle serie sulla cresta dell'onda anni dopo dal finale. Prima di molte altre produzioni, la serie ha smantellato lo stereotipo dell'eroe a suon di strafottenza e sregolatezza. E adesso che il successo di serie come The Umbrella Academy gli deve molto, Misfits torna in cima alla lista delle serie viste e riviste degli appassionati di serialità italiani.
10) Orphan Black
Nel 2015, due anni prima della sua conclusione, Italia 2 mandava in onda per la primissima volta nel nostro Paese una serie che ha portato in scena uno dei temi più discussi in ambito bioetico: la clonazione umana. E da quel momento Orphan Black non ha smesso di attirare nuovi spettatori.
A distanza di quattro anni dal finale, la serie che ha consacrato Tatiana Maslany continua ad allargare il bacino di fan italiani, complice come sempre la visibilità garantita dalla presenza nel catalogo Netflix. E il riconoscimento della critica (arrivato con un ritardo un po' imbarazzante) ottenuto dalla strabiliante attrice protagonista.