BoJack Horseman e Rick and Morty hanno segnato l'inizio di un'epoca per le serie animate per adulti
Freschezza, originalità e innumerevoli spunti di riflessione: questi sono i punti di forza delle due serie d'animazione che hanno riscosso consensi e apprezzamenti da parte sia del pubblico che della critica negli ultimi anni. Le immagini volutamente grezze conferiscono a BoJack Horseman e Rick and Morty uno stile unico e bizzarro, ma permettono anche allo spettatore di focalizzare l'attenzione sugli elementi e le tematiche principali. Entrambe le vicende, che tanto si differenziano nei contenuti, mirano a sconvolgerci, a farci pensare, ci prestano delle lenti nuove e disincantate con cui osservare il mondo. E lo fanno attraverso le voci dei rispettivi protagonisti: due individui cinici, egocentrici e anticonformisti, che credono di aver capito tutto della vita, ma hanno ancora parecchia strada da fare.
BoJack e Rick sono degli antieroi che abbiamo imparato a rispettare e odiare al contempo. Da un lato, abbiamo il cavallo antropomorfo e alcolizzato la cui carriera ha visto un brusco declino in seguito alla sitcom di successo Horsin' Around. Con una bella dose di black humor, BoJack Horseman sbircia dietro le quinte della vita delle celebrità, si cala negli abissi del mondo luccicante e opulento delle star, e ne scova il marcio grazie allo sguardo introspettivo, disilluso e insoddisfatto del protagonista. Si tratta di una serie estremamente reale, pur non avendo nulla di reale, proprio come raccontiamo in questo articolo. Rick and Morty, invece, ha un taglio nettamente più scientifico, ma il personaggio di Rick Sanchez, spregevole e malinconico, ci permette di sondare la sfera dell'emotività in un modo tutto nuovo.
BoJack Horseman e Rick Sanchez non saranno delle belle persone, ma sono degli ottimi insegnanti di vita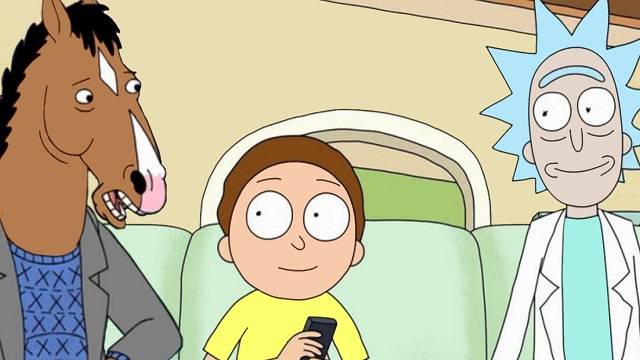 Ok, i due soggetti in questione non sono certo degli esempi di moralità e rettitudine. Non sono altruisti, gentili, e non hanno nemmeno una vaga idea di cosa sia l'educazione. Non hanno cura di se stessi, né dal punto di vista fisico né da quello psicologico, e in realtà si direbbe che non gliene importi praticamente di nulla. Tuttavia, entrambi rappresentano una gigantesca critica alla società insalubre in cui viviamo, una collettività che annulla o emargina, senza mezze misure, e in cui la mediocrità paga più di un pensiero fuori dagli schemi. Così, con una condotta di vita più che discutibile e una serie di ragionamenti contorti e improbabili, BoJack Horseman e Rick Sanchez ci insegnano qualcosa di inestimabile, e lo fanno crescendo insieme a noi.
In queste serie tv nessuno ci racconta la favoletta della buonanotte, nessuno ci illude con un lieto fine che difficilmente potrebbe avverarsi. Anzi. Stare al mondo non è semplice, spesso bisogna cavarsela da soli, e reinventarsi per sopravvivere quando la situazione non volge a nostro favore. In questo senso, Rick e BoJack ci fanno un po' da mentori: non sono delle belle persone, ma non sono neppure cattivi, come chiunque. Invece sono intelligenti, parecchio egoisti ed emotivamente bloccati, con poca fiducia nel mondo e in chi li circonda. Molte volte si ritrovano a dover scegliere tra ciò che è giusto e ciò che è facile, e quasi sempre prendono la decisione che fa loro comodo. Cosa possiamo imparare da simili individui? Facendo molta attenzione, praticamente tutto.
La sfida più grande è quella con noi stessi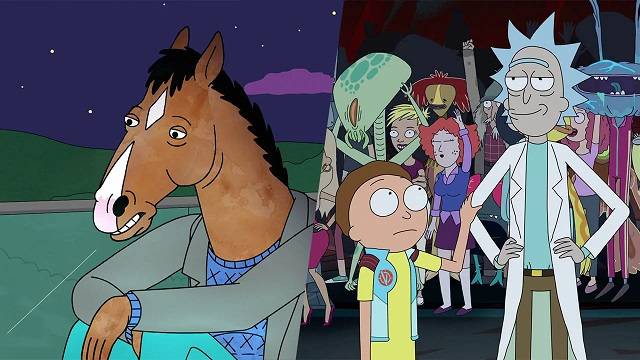 Nel quotidiano, ci sono moltissime verità che fatichiamo ad accettare, o anche solo a prendere in considerazione. Il fatto di avere dei limiti, ad esempio, e che non tutto ciò che desideriamo ci sarà sempre servito su un piatto d'argento. Certi traguardi dobbiamo conquistarli lottando con tutte le nostre forze, e per farlo dobbiamo ammettere di non essere perfetti, di poter sempre migliorare. Sotto questo aspetto, BoJack è molto più auto consapevole di Rick, e si sforza di uscire dal baratro in cui si trova, mentre lo scienziato incolpa gli altri del suo malessere, in quanto esseri "inferiori" e incapaci di raggiungere il suo livello (ma se volete sembrare brillanti quanto lui, potete sempre usare qualche sua citazione).
Le due serie intendono scuotere lo spettatore, invitarlo in modo un po' brusco a guardarsi dentro e a riconoscere tutti quegli atteggiamenti nocivi che lo corrodono e gli impediscono di condurre la vita che vorrebbe. Rick e BoJack si lamentano in continuazione dello stato delle cose, si crogiolano nella loro perenne insoddisfazione, si autocommiserano. In certi momenti, però, entrambi si accorgono che sono in primis le loro azioni e i loro comportamenti a condizionare la realtà in cui vivono.
Proprio in questo consiste la più grande lezione che i due bizzarri personaggi ci possono dare, senza nemmeno rendersene conto: è giusto non chiudere gli occhi di fronte alle difficoltà, analizzandole e ammettendo che la vita non è un giardino fiorito, ma è altrettanto giusto prendere in mano la propria esistenza, cercare di migliorarsi e dare valore alle persone che vogliono accompagnarci in questo percorso. Insomma, anche se il mondo sa essere un luogo terribile e crudele, possiamo cercare di renderlo più accettabile. E anche se Rick e BoJack sono pessimi, potrebbero esserlo un po' meno ogni giorno. Come tutti noi.