Tutto quello che c'è da sapere su Amazon Prime Video
1. Introduzione
Un tempo l'unica piattaforma di streaming che gli spettatori avevano a loro disposizione era Netflix. Il colosso statunitense dell'intrattenimento ha iniziato a regnare incontrastato nel 2005, quando ha deciso di smettere di offrire ai suoi abbonati dei dvd da noleggiare e ha dato loro la possibilità di guardare film in streaming. In questo modo ha realmente rivoluzionato il mondo dell'intrattenimento, mostrando come fosse possibile godere di tanti lungometraggi e programmi tv pagando un prezzo davvero irrisorio.
Ma soprattutto è cambiato il modo di godersi un film o una serie tv: grazie a Netflix è stato possibile guardare un programma televisivo in qualsiasi luogo e anche ad esempio mentre si era in treno. La grande fortuna di questa piattaforma ha spinto tante altre aziende a creare nuovi servizi di streaming che non sono riusciti a replicare il suo successo. Oggi noi addicted abbiamo una scelta molto ampia e possiamo abbonarci a Disney+, Apple+, Hulu o a servizi nostrani come Now TV, RaiPlay e Infinity. L'ultimo arrivato è Quibi che è stato rilasciato qualche settimana fa: questa rivoluzionaria piattaforma permette di guardare dei brevissimi episodi di nemmeno 10 minuti unicamente dal proprio smartphone (leggi qui per saperne di più).
Ma finora il vero grande competitor di Netflix si è rivelato essere Amazon Prime Video, almeno in Italia.
Infatti Amazon Prime Video sta proponendo in questi anni contenuti sempre più interessanti e di qualità.
Merito soprattutto di Jeff Bezos che quattordici anni fa ha creato Amazon Unbox. Dopo una lunga fase embrionale, nel 2011 la piattaforma ha cambiato nome in Amazon Instant Video e ha cominciato a offrire ai suoi abbonati la possibilità di accedere a un catalogo di ben 5000 prodotti televisivi tra film e show vari. Nel 2013 ha cominciato poi a proporre prodotti originali come Alpha House e Betas, ma è stato nell'anno successivo che il servizio di streaming ha fatto il botto cominciando a distribuire produzioni originali di grande qualità come The Man in the High Castle, Mozart in the Jungle e Transparent (che è stata la prima serie di un servizio streaming ad aver vinto un Golden Globe).
Nel 2016 la piattaforma era pronta per essere lanciata in tutto il mondo: è stata rapidamente distribuita in tutti i Paesi tranne che in Siria, Nord Corea e Iran. Da quel momento in poi l'azienda non ha fatto altro che espandersi e arricchire sempre di più i contenuti del suo catalogo, troppo ingiustamente sottovalutato. Per questa ragione Amazon Prime Video sembra essere l'unica antagonista che potrebbe davvero mettere in crisi il successo di Netflix: del resto se le produzioni del colosso dello streaming sono le più popolari, quelle di Prime Video sono quelle che più colpiscono la critica.
I dirigenti di questa piattaforma hanno preferito distribuire un numero minore di serie originali rispetto ai competitor e investire unicamente su ottimi prodotti. Questa scelta è stata molto lungimirante e ha permesso ad Amazon Prime Video di acquistare una grande credibilità. Solo nel 2017 sono stati, infatti, investiti 4,5 miliardi di dollari dalla compagnia di Jeff Bezos. Hanno ampliato il catalogo dei film, hanno iniziato a realizzare anche dei programmi d'intrattenimento. L'ultima novità è stata l'introduzione del servizio Prime Video Store che permette di noleggiare le più recenti e film attesi e vederle comodamente dal proprio divano.
Se volete quindi abbonarvi ad Amazon Prime Video in Italia ecco tutte le informazioni di cui avete bisogno.
2. I Costi di Amazon Prime Video
La piattaforma streaming offre la possibilità di godere gratis di tutte le serie tv che offre per un mese, dopo si potrà scegliere tra due tipologie di abbonamento: quello annuale a 36 euro o quello mensile a 4,99 euro al mese. In Italia, a differenza che in Gran Bretagna e in altri Paesi, non ci si può abbonare solo a Prime Video ma bisogna necessariamente diventare clienti Prime con lo stesso account. Abbonandosi quindi si può godere di diversi vantaggi: le consegne gratuite in 1 giorno lavorativo quando si fa un ordine su Amazon e l'accesso anticipato alle offerte di Amazon. Si può avere inoltre uno spazio di archiviazione illimitato per le foto su Amazon Drive e usufruire anche di Prime Music, Prime Reading e Twitch Prime. Se siete studenti universitari però potete godere di un ottimo sconto: abbonandosi a Prime Student si pagano soltanto 18 euro all'anno.
3. Come ci si abbona su Amazon Prime Video
Per diventare clienti di Amazon Prime Video bisogna collegarsi al sito ufficiale da PC, da mobile o scaricando l'applicazione. Prima di tutto è necessario creare un account Amazon, inserendo i propri dati e indicando una e-mail e una password. Successivamente si deve fornire un metodo di pagamento e l'importo sarà addebitato alla conclusione del periodo di prova. Per abbonarsi a Prime Student e vedere film e serie tv bisogna collegarsi a questa pagina e dimostrare di essere studenti universitari, inserendo l'e-mail istituzionale e l'anno di laurea previsto.
4. Dove si può vedere Amazon Prime Video
Come tutte le altre piattaforme streaming, anche Amazon Prime Video è compatibile con tutti i dispositivi. Si può vedere sia sui dispositivi mobili, come lo smartphone o il tablet dopo aver scaricato l'applicazione, ma anche sulla propria Smart Tv. Inoltre Prime Video attualmente è compatibile con le più famose console come PS4 e Xbox One, ma anche con i lettori Blu-ray compatibili. Si possono poi scaricare ovviamente gli episodi sul proprio dispositivo per poterli guardare comodamente anche quando l'app non è collegata a Internet.
5. Il catalogo completo delle Serie Tv di Amazon Prime Video
Dopo un'attenta ricerca, i maniaci seriali potranno sicuramente apprezzare il ricchissimo catalogo che Amazon Prime Video offre ai suoi abbonati. Tanti sono gli show originali di grande qualità che sono stati molto apprezzati dalla critica e dal pubblico come The Marvelous Mrs. Maisel, Modern Love o Fleabag. Ma c'è anche una vasta scelta tra divertenti comedy, ottimi drama e molti interessanti show fantasy. Coloro che desiderano fare un rewatch delle più amate serie del passato potrà scegliere tra Friends, La Tata, Dawson's Creek o The Office e tante altre. Il catalogo disponibile attualmente dei programmi tv è molto scarno, mentre variegata è l'offerta degli anime. Coloro che cercano una piattaforma di streaming che sia attenta anche ai gusti dei più piccoli non resteranno delusi da Amazon Prime Video che offre sia cartoni che serie dedicate ai bambini. Il catalogo ovviamente è in costante aggiornamento e infatti le nuove uscite di questo mese sono veramente interessanti (leggi qui per sapere quali sono).
Serie Tv drama
This Is Us (2017)
Hanna (2019)
Person of Interest (2012)
Muto (2019)
Lodge 49 (2018)
The Shield (2003)
The Collection (2016)
CSI: Crime Scene Investigation (2011)
American Playboy The Hugh Hefner Story (2017)
Justified (2011)
NCIS (2003)
Damages (2007)
Beat (2018)
L'esercito dimenticato (2020)
La signora in giallo (1985)
Parentood (2010)
Hunters (2020)
Bosch (2014)
L'uomo nell'alto castello (2015)
Tom Clancy's Jack Ryan (2018)
Vikings (2013)
The Purge (2018)
Treadestone (2019)
The Good Doctor (2018)
Mr. Robot (2015)
Downton Abbey (2010)
Grey's Anatomy (2005)
The Widow (2019)
The Terror (2018)
The Mentalist (2009)
Dr. House (2005)
American Gods (2017)
Hunters (2020)
Shameless (2011)
The O.C. (2004)
Desperate Housewives (2005)
McMafia (2018)
StartUp (2016)
Homecoming (2018)
Covert Affairs (2010)
Il Tenente Colombo (1972)
Castle (2009)
Criminal Minds (2005)
Taken (2017)
The Catch (2016)
Leverage – Consulenze Illegali (2008)
Made in Heaven (2019)
Nashville (2013)
The Royals (2015)
Diablo Guardian (2018)
Le Bureau – Sotto Copertura (2017)
Omicidi a Sandhamn (2010)
The Path (2016)
Blue Bloods (2011)
Grantchester (2014)
Flesh and Bone (2015)
Sneaky Pete (2017)
Absentia (2017)
Hand of God
Diario di una squillo perbene (2007)
The Bold Type (2017)
The Good Wife (2009)
Inferno nelle miniere (2018)
Quantico (2015)
Peaky Blinders (2013)
Bates Motel (2013)
Caronte (2020)
Chicago Fire (2012)
Chicago P.D. (2014)
Code Black (2015)
Crash (2008)
Golia (2016)
Hawaii Five-0 (2010)
Into the Badlands (2015)
La fantastica signora Maisel (2017)
The Last Tycoon (2016)
NOS4A2 (2019)
Riverdale (2017)
Scandal (2012)
Secrets and Lies (2015)
The Bridge (2013)
The Good Fight (2017)
The Looming Tower (2018)
The Night Shift (2014)
The Purge (2018)
The Romanoffs (2018)
Fear The Walking Dead (2015)
The Whispers (2015)
Dawson's Creek (1998)
Good Girls Revolt (2016)
Blue Mountain State (2010)
Prison Break (2006)
Doctor Who (2010)
Into the Badlands (2015)
Serie comedy
Anger Management (2012)
Black-ish (2014)
Blue Mountain State (2010)
Community (2009)
Crisis in Six Scenes (2016)
Dietland (2018)
Due uomini e mezzo (2003)
Fleabag (2016)
Forever (2018)
Grown-ish (2018)
How I Met Your Mother (2005)
I Love Dick (2016)
Jean-Claude Van Johnson (2016)
Kevin Can Wait (2016)
Modern Family (2009)
Modern Love (2019)
Mozart in the Jungle (2014)
New Girl (2011)
Patriot (2015)
Psych (2006)
Scrubs (2001)
Superstore (2015)
The Goldbergs (2013)
The Office (2005)
The Tick (2018)
Transparent (2014)
United States of Tara (2009)
Upload (2020)
La Tata (1994)
Piccole Coincidenze (2018)
Friends (1995)
Sposati… con figli (1987)
Casual (2015)
Red Oaks (2015)
Psych (2007)
Weeds (2005)
Ugly Betty (2006)
Serie fantasy e supereroistiche
The Boys (2019)
Good Omens (2019)
Supernatural (2005)
Doom Patrol (2019)
Preacher (2016)
Smallville (2002)
Arrow (2013)
Continuum (2012)
Battlestar Galactica (2005)
Swamp Thing (2019)
Humans (2015)
Carnival Row (2019)
Defiance (2013)
Emerald City (2017)
Future Man (2017)
Heroes (2006)
Tales from the Loop (2020)
Philip K. Dick's Eletric Dreams (2017)
Star Trek: Picard (2020)
Teen Wolf (2011)
The Orville (2017)
The Expanse (2019)
The Originals (2014)
Marvel's Cloak & Dagger (2018)
Serie Tv Italiane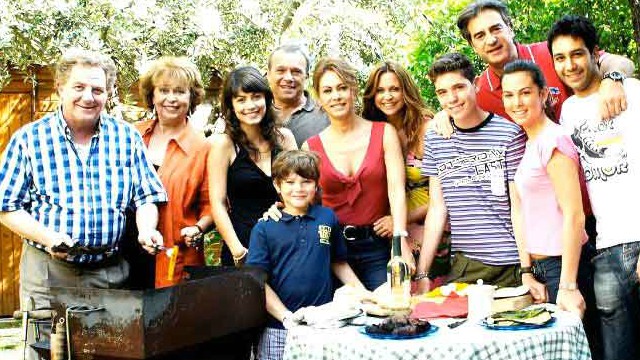 I Cesaroni (2006)
L'allieva (2016)
Rocco Schiavone (2016)
Il cacciatore (2018)
I Medici (2016)
Scatola nera (2019)
Made in Italy (2019)
Un Ciclone in Famiglia (2005)
Serie Tv per bambini e famiglie
Just Add Magic (2016)
Dino Dana (2017)
The Thundermans (2014)
Peppa Pig (2015)
Just Add Magic: Mystery City (2020)
Paw Patrol (2013)
Kung Fu Panda: The Paws of Destiny (2018)
The Stinky & Dirty Show (2016)
Peter Coniglio (2014)
Caillou (1999)
LEGO Ninjago: Masters of Spinjitzu (2011)
Slugterra – Lumache esplosive (2013)
Gormiti (2018)
Chi – Una Dolce Avventura (2017)
Il Piccolo Regno di Ben e Holly (2010)
Creative Galaxy (2014)
GORTIMER GIBBON – La vita a Normal Street (2015)
Perduti a Oz (2017)
L'Ispettore Gadget (1983)
Sam il Pompiere (1987)
Heidi (2015)
Henry Danger (2014)
Wishenpoof (2015)
Octonauts (2011)
Shaun, vita da pecora (2007)
Siamo fatti così – Esplorando il corpo umano (1988)
LEGO Nexo Knights (2016)
44 Gatti (2019)
SpongeBob SquarePants (2001)
Dora L'esploratrice (1999)
Calimero (2015)
Serie Pokémon XY (2014)
Sigmund e i mostri marini (2017)
Pete the Cat (2017)
Zafari (2020)
An American Girl Story (2016)
I Floogals (2017)
Il pericoloso libro delle cose da veri uomini (2018)
Pocoyo (2005)
Alien Games – Petey vs Jaydee (2019)
Petey & Jaydee Go Exploring – Cassetta degli attrezzi (2019)
Esplorare Con Petey e Jaydee (2019)
Serie Tv animate e anime
Futurama (1999)
South Park (1998)
Undone (2019)
L'imbattibile Daitarn 3 (1979)
Vinland Saga (2019)
G.T.O – Great Teacher Onizuka (2002)
Dororo (2019)
Blade of the Immortal (2020)
L'attacco dei Giganti (2013)
Shingeki no Bahamut: Virgin Soul (2017)
Mobile Suit Gundam (1980)
One-Punch Man (2015)
Wotakoi: L'amore è complicato per gli otaku (2018)
Sword Art Online (2012)
Hurricane Polimar (1975)
PSYCHO-PASS ()
Kyashan – Il ragazzo androide (1974)
BANANA FISH (2018)
Tekkaman – Il cavaliere dello spazio (1975)
Morsi Assassini (2018)
BEATLESS (2018)
Inuyashiki L'ultimo eroe (2017)
Star Blazers 2199 (2012)
Tokyo Ghoul (2014)
Kabaneri of The Iron Fortress (2016)
Kiseiju – L'ospite indesiderato (2015)
IRODUKU: Il mondo a colori (2018)
ONIHEI HANKACHOU (2017)
Juliet in collegio (2018)
Inuyasha (2001)
Death Parade (2015)
CODE GEASS – Lelouch of the Rebellion (2007)
Karakuri Circus (2019)
Scum's Wish (2017)
Grand Blue Dreaming (2018)
Fate/stay night: Unlimited Blade Works (2014)
Dopo la Pioggia (2018)
Re:CREATORS (2017)
The Promised Neverland (2019)
Prison School (2015)
I sette sensi della Re'Union (2018)
Pet (2020)
Full Metal Panic! (2002)
Case File N° 221: Kabukicho (2020)
Benvenuti al ballo (2017)
Shin chan Spin-off vol. 1 Aliens vs. Shinnosuke (2016)
Babylon (2020)
Drifters (2016)
Happy Sugar Life (2018)
Altair: Racconti di Battaglia (2017)
I cieli di Escaflowne (1996)
CODE GEASS Akito the Exiled (2016)
Magical Girl Site (2018)
Battery (2016)
Dive!! (2017)
KOKKOKU (2018)
Un calcio volante al Mio Demonio! (2018)
Saekano: come addestrare una ragazza noiosa (2017)
Black Rock Shooter (2012)
Kemono Michi: Rise Up (2019)
The Great Passage (2016)
The Dragon Dentist (2017)
ViVid Strike! (2016)
Yuki Yuna è un'eroina: il capitolo di Washio Sumi/ Capitolo dell'eroina (2017)
Kemurikusa (2019)
Julie, rosa di bosco (1979)
Panda! Go, Panda! (1973)
Programmi TV
Celebrity Hunted: Caccia all'uomo (2020)
The Grand Tour (2016)
Making the Cut (2020)