Dopo l'appuntamento "tranquillo" della settimana scorsa, Agents of S.H.I.E.L.D. preme nuovamente il pedale sull'acceleratore, regalando un episodio ricco di azione e colpi di scena.
La struttura di 5×16 è molto semplice, tre blocchi narrativi paralleli che vedono al loro interno coppie di tre o più protagonisti. Per adeguarci all'episodio la nostra recensione sarà quindi tripartita!
Tempo di redenzione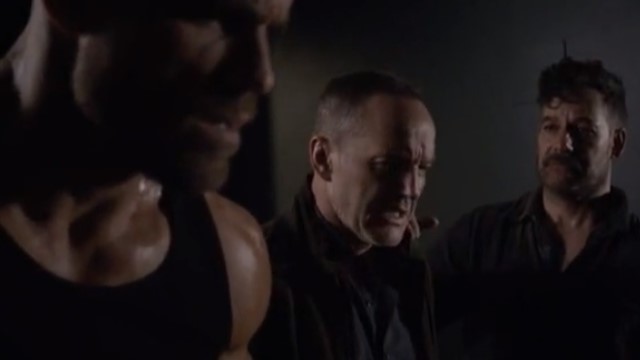 Il primo di questi blocchi è quello che vede protagonista un Phil Coulson ancora prigioniero del generale Hale. Molto importante è la figura di Creel – l'uomo assorbente – che, entrato in contatto col Gravitonio, ne assorbe i "ricordi". Uno spunto davvero interessante e che mostra come la materia aliena, a seguito di 1×03, sia una sorta di essere senziente – e pure vorace, alla luce della scena post credits.
Un trio che gioca sulla "redenzione " di Creel che, accortosi di come Hale lo abbia ingannato, decide di favorire la fuga di Coulson e di Talbot. Questo spot è anche quello più action della puntata, che vede la realizzazione di un breve, ma intensissimo, scontro tra l'uomo assorbente e la giovane Ruby. Davvero divertente è poi il povero generale Talbot in un'inedita versione fuori controllo.
Acquista senso anche il ritorno del giovane Von Strucker. La sua super memoria è la chiave per ricostruire il marchingegno Hydra utile a creare la "distruttrice di mondi".
I fantastici tre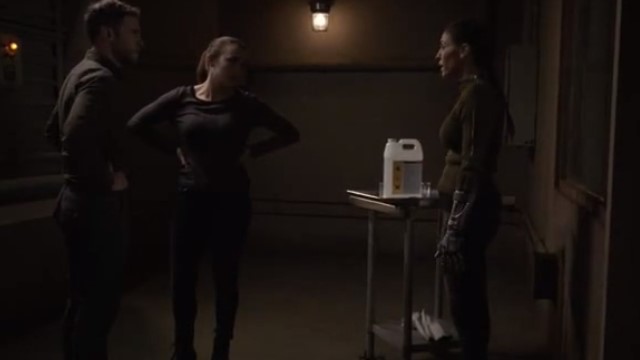 Le cose più interessanti vengono però dal secondo trio, o meglio quartetto, presentato – quello di Fitz/Simmons e Mack/Yo-Yo. Come era già stato per l'inumana, la scoperta di essere destinata a vivere ancora a lungo porta Simmons a prendere una decisione drastica, andare lei stessa a caccia dell'arma Hydra.
Il legame stretto con Yo-Yo è intrigante in quanto basato sulla loro comune convinzione di essere invincibili. Un rapporto al limite della follia che, tuttavia, mostra ancora una volta la forza e la determinazione di Jemma – e la scena dei 4 bicchieri è emblematica. Uniamo a questo mix un Fitz in forma smagliante e stiamo certi che nelle prossime settimane ne avremo delle belle. La curiosità su quello che riuscirà ad ottenere questo piccolo gruppo di "fuggiaschi" è davvero alle stelle.
Il povero Mack, un po' sottotono in questa seconda parte di stagione, fa la figura del fesso, ma è per amore, quindi glielo concediamo.
Who's your mommy?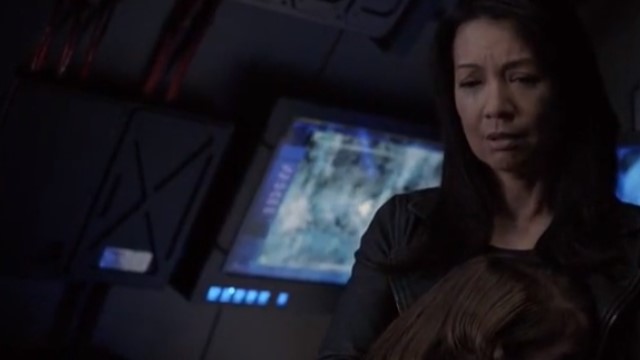 Il terzo terzetto – scusate il gioco di parole – che si viene a formare è quello tra Robin, la madre della bambina e May. Comandanti da una Daisy sempre più preda della propria rabbia, un gruppo di Agents of S.H.I.E.L.D. decide di utilizzare le visioni della piccola veggente per ritrovare il leader rapito.
Questo blocco è quello più emotivo di tutto l'episodio. Robin infatti, viaggiando costantemente con la mente tra passato e futuro, appare silenziosa e scossa per aver visto la propria morte. La riunione con May, colei che la crescerà dopo la distruzione della terra è davvero toccante, e si rivela la chiave per riportare la piccola a uno stato di equilibrio mentale. Abbiamo di nuovo la possibilità di vedere il lato più dolce di Melinda, una sfumatura del suo carattere in grado di toccare il cuore. Di grande intensità è poi la presenza/assenza della madre della bambina, costretta dalle straordinarie abilità della figlia a un ruolo marginale, ma non per questo meno importante. Due figure materne forti, e diverse, si confrontano in questa scena di grande portata emotiva.
Agents of S.H.I.E.L.D. continua dunque la sua cavalcata aggiungendo nuovi tasselli. Struttura a parte – davvero ben riuscita – questo episodio ha il pregio di arricchire la storia di un materiale come il Gravitonio – finora quasi solo un macguffin – andando ad attingere a piene mani dal proprio passato. Capiamo inoltre lo scopo di riportare sugli schermi due vecchi comprimari come Creel e Von Strucker, che si dimostrano fondamentali per gli sviluppi futuri.
L'appuntamento è per la prossima settimana e ricordate, three is the magic number!
Un grande saluto agli amici di Agents of S.H.I.E.L.D. ITALIA!