Da X-Files a The Fall, passando per The Crown fino a Sex Education, la storia del panorama seriale è piena di volti divenuti famosi grazie a un ruolo iconico che però li ha incatenati al personaggio che li ha resi celebri. Gillian Anderson, però, sembra non aver mai avuto questo problema, proprio grazie alle serie appena citate.
Approcciando ruoli nuovi, senza smettere di cavalcare l'onda produttiva del successo televisivo nel corso della sua trentennale carriera, l'attrice ha saputo rimanere sempre sulla cresta dell'onda. Scegliendo progetti variegati che le permettessero di mostrare le molte sfaccettature di cui è composta la sua capacità attoriale.
Il grande pubblico del piccolo schermo è letteralmente cresciuto con lei da quando ne rimase folgorato durante l'inquietante visione di X-Files (che lei stava per mollare), in cui col collega Mulder scandagliava i misteri del paranormale con quel broncio molto sexy che ha turbato più di un adolescente.
Un ruolo carismatico e introspettivo che l'ha fatta entrare di diritto nell'immaginario collettivo ma da cui l'attrice statunitense di adozione britannica ha saputo slegarsi cercando nuovi ruoli con cui misurarsi.
Dimostrando negli ultimi anni una versatilità davvero notevole a cui ha saputo abbinare la giusta riservatezza sulla sua vita privata e familiare, la Anderson ha messo insieme una serie di ruoli complessi che le hanno dato l'occasione di dimostrare la sua poliedricità.
Dalla metodica e solitaria Stella Gibson che ci guida nella caccia ad un Jamie Dornan piuttosto lontano dal Christian Grey dalle 50 sfumature di grigio, fino alla dea delle comunicazioni e dei mass media in American Gods. Senza dimenticare Bedelia du Maurier, nientemeno che la terapeuta di Hannibal Lecter, con il quale instaurerà un rapporto manipolatorio e audace in cui tutta la sua sensuale raffinatezza viene messa in mostra sullo schermo.
Non solo donne sexy, tormentate e volitive, ma anche figure storiche o tratte da opere leggendarie per Gillian Anderson!
Sì perché l'attrice non si è tirata indietro davanti alla proposta di impersonare donne celebri, affrontando quindi anche l'opinione di pubblico e critica circa il paragone con grandi figure femminili.
Basti pensare alla quarta stagione di The Crown a cui Gillian Anderson ha preso parte accettando la sfida di riportare tra noi Margaret Thatcher, il primo ministro donna della storia a cui ha prestato il volto persino Meryl Streep.
Un'interpetazione di cui ha detto:
Ho trovato che quando si deve interpretare un personaggio storico bisogna mettere da parte le proprie opinioni e i preconcetti che si hanno nei suoi riguardi e soprattutto quando si parla di Margaret Thatcher. Questo perché quando i personaggi fanno delle scelte nelle puntate della serie bisogna capire come sono arrivati a quel punto, e nel caso della ministra come si sono sviluppate le sue politiche.
Ruolo per cui è stata scelta proprio dal suo attuale compagno Peter Morgan, scrittore e commediografo dalla cui sua pièce teatrale The Audience è stata tratta The Crown. Compagno con cui dal 2016 intrattiene una felice relazione vissuta rigorosamente in case separate.
La cinquantaduenne attrice e madre di tre figli è sempre stata infatti una fiera difenditrice della propria individualità, la stessa che dopo il successo planetario di X-Files l'ha vista tornare a Londra, la sua città d'infanzia, dove poteva recuperare quella libertà che la fama le aveva tolto.
Fino a quando la decisione di ritornare sul piccolo schermo non le ha puntato nuovamente i riflettori addosso proprio grazie a prodotti inglesi che hanno avuto un enorme successo anche all'estero. Vedi alla voce Sex Education dove, con il ruolo della mamma sessuologa di Otis, si è guadagnata la simpatia anche del pubblico più giovane.
Grazie alla disinibita e ironica Jean Milburn, Gillian ha potuto sfogare la sua vena più comica.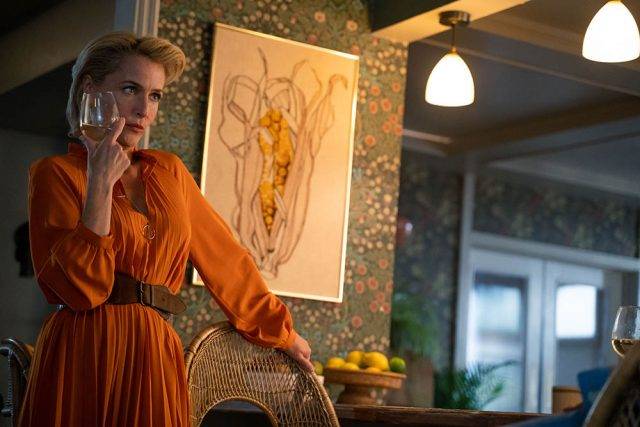 Ruolo che ha considerato una benedizione e che l'ha nuovamente riconsegnata alla fama internazionale. "È passato tanto tempo da quando ho fatto parte di qualcosa di universalmente visto. Mi sembra di essere tornata ai livelli di quando ero molto più giovane".
Insomma, una seconda vita lavorativa quella di Gillian che comunque negli ultimi anni non si è fatta mancare nulla, cimentandosi anche come stilista realizzando l'idea piuttosto bizzarra di una serie di maglioni in cachemire con la sua faccia sopra.
Senza dimenticare altri famosi progetti televisivi tratti dalla narrativa a cui a ha partecipato come Guerra e Pace, Grandi speranze e Moby Dick, inserendo anche una parallela carriera teatrale oltre che al cinema.
Instancabile questa Gillian!